Donald Trump says comments on NFL stars kneeling during national anthem 'not to do with race'
By Sky News
Last Updated: 25/09/17 3:41pm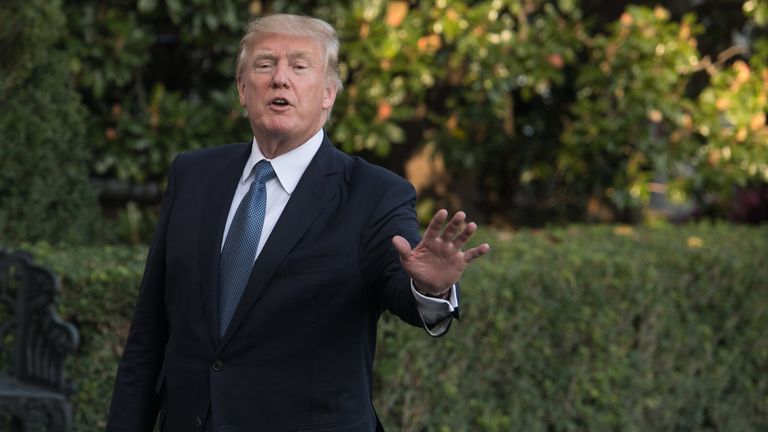 Donald Trump has claimed that his comments on NFL stars kneeling during the US national anthem are "nothing to do with race".
The President urged fans to stop going to games "until players stop disrespecting our flag and country" and tweeted that any players who do kneel should be fired or suspended.
Players have been kneeling during 'The Star-Spangled Banner' at the beginning of NFL games to draw attention to what they say is racism against African-Americans by police.
When asked to confirm whether he thought players who knelt should be fired, he said: "It's very disrespectful to our flag and to our country, so I certainly think the owners should do something about it."
Trump added: "This has nothing to do with race or anything else. This has to do with respect for our country and respect for our flag."
More than 150 players sat, knelt or raised their fists in defiance during the league's 13 games on Sunday - the biggest display of strength of feeling since the protests began when former 49ers QB Colin Kaepernick knelt during the national anthem to protest perceived racial injustice and police brutality in 2016 .
Among those taking part were NFL players at the Wembley Stadium game between the Baltimore Ravens and Jacksonville Jaguars, which was live on Sky Sports. After kneeling during the US national anthem, players stood up for 'God Save The Queen'.
Pittsburgh Steelers' Alejandro Villanueva, who served three tours in Afghanistan with the US Army, stood alone at the end of the tunnel with his hand over his heart as the anthem played before their clash with the Chicago Bears.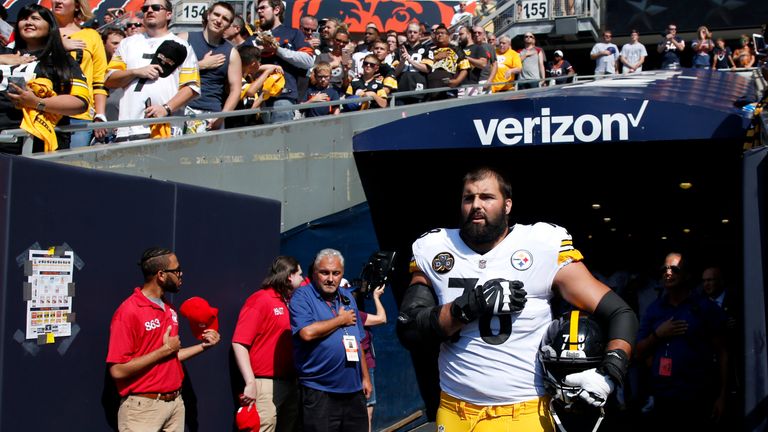 Denver Broncos LB Derek Wolfe, who played against the Buffalo Bills, respects compatriots who decide to protest as it is their "right" but believes a tribute should be made "to the men and women who have given their lives for our freedom".
"I stand because I respect the men who died in real battle so I have the freedom to battle on the field," Wolfe said.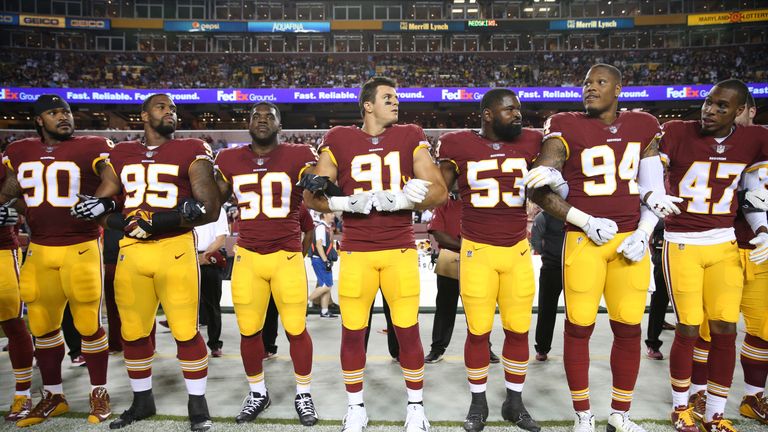 "Paying tribute to the men and women who have given their lives for our freedom is why I stand. But everyone these days likes to find a reason to protest and that's their right. It's America and you are free to speak your mind. I just feel it's disrespectful to the ones who sacrificed their lives and it's maybe the wrong platform.
"But like I said to each their own it's AMERICA! The greatest country in the world and if you don't think we are the greatest country in the world and you reside here, then why do you stay? A lot worse places in the world to call home. Proud to be an American."
In a tweet on Sunday, Mr Trump said: "Standing with locked arms is good, kneeling is not acceptable. Bad Ratings!"
Robert Kraft, chairman of the New England Patriots, also condemned the President's comments and backed the players.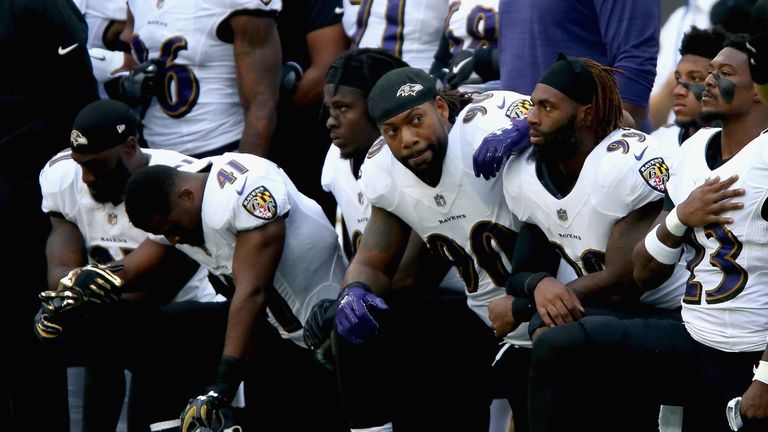 He said: "I am deeply disappointed by the tone of the comments made by the President on Friday. I am proud to be associated with so many players who make such tremendous contributions in positively impacting our communities.
"Our players are intelligent, thoughtful and care deeply about our community and I support their right to peacefully affect social change."
However, Dallas Cowboys owner Jerry Jones claimed the field was "not the place to do anything but honour the flag".