Poll shows growing support for NFL players' protests, despite Donald Trump criticism
US President says he feels 'ashamed' to see players kneeling in protest during national anthem
Last Updated: 27/09/17 12:53pm
A new poll suggests support for those NFL players protesting during the national anthem is growing, despite US President Donald Trump's criticism.
Trump was back in front of the press on Tuesday after a weekend which saw the protests reach unprecedented levels.
Last week, the President said NFL owners should fire players who did not stand for the anthem and backed up his comments with a series of tweets as the protests became front-page news in the States.
The response was seen across the NFL on Sunday after a huge number of franchises released statements of support for their players, and some owners stood arm-in-arm with their squads. Almost 200 players knelt during the anthem on Sunday.
Some teams did not even take to the field, and while reaction inside the stadiums was mixed, an exclusive Reuters/Ipsos opinion poll released on Tuesday shows a majority of Americans disagreeing with the President's suggestion that players should be fired for their actions.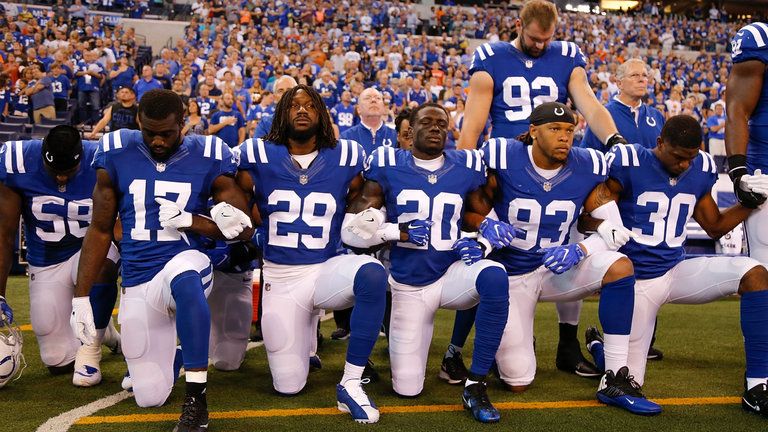 While most who were questioned said they would personally stand during the anthem, the poll found that 57% of respondents did not think players who kneel should be fired.
The poll also revealed that while 85% say they stand in silence for the anthem, and 74% put their hand over their heart, there is less agreement about how professional athletes should behave.
58% of those questioned said that "professional athletes should be required to stand during the national anthem at sporting events", although 40% say they support the stance the players have taken by not standing - up from 28% in a similar Reuters/Ipsos poll last year.
Tellingly, more than half of those questioned do not think the president's comments on "how the NFL and its players conduct themselves during the national anthem" are appropriate.
Former San Francisco 49ers quarterback Colin Kaepernick began the wave of protests in 2016 when he did not stand during the anthem, in order to highlight perceived racial injustice.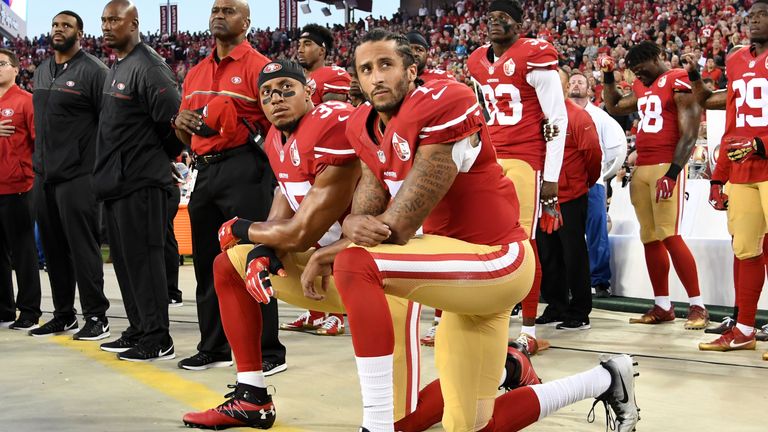 Despite Trump's comments being condemned by numerous sports stars, and the protests showing no sign of easing up, the President reaffirmed his views at his Tuesday briefing in Washington.
"I was ashamed of what was taking place, because to me that was a very important moment," he said.
"I don't think you can disrespect our country, our flag, our national anthem.
"Many people have died and they were fighting for our country, they were fighting for our flag, they were fighting for our national anthem.
"And for people to disrespect that, by kneeling during the playing of our national anthem, I think is disgraceful."
As ever, Trump took to social media to underline his point, following up his press conference comments with a tweet calling for the NFL to take matters into their own hands and not give the players a chance to take the action.
The NFL has all sorts of rules and regulations. The only way out for them is to set a rule that you can't kneel during our National Anthem!

— Donald J. Trump (@realDonaldTrump) September 26, 2017
In the latest round of team reactions, the Carolina Panthers released a statement confirming a group of players met with owner Jerry Richardson to discuss "social issues affecting the league and solutions moving forward".
Julius Peppers was the only player not to take to the field before the Panthers' defeat to New Orleans at the weekend, with the rest of the team standing for 'The Star Spangled Banner'.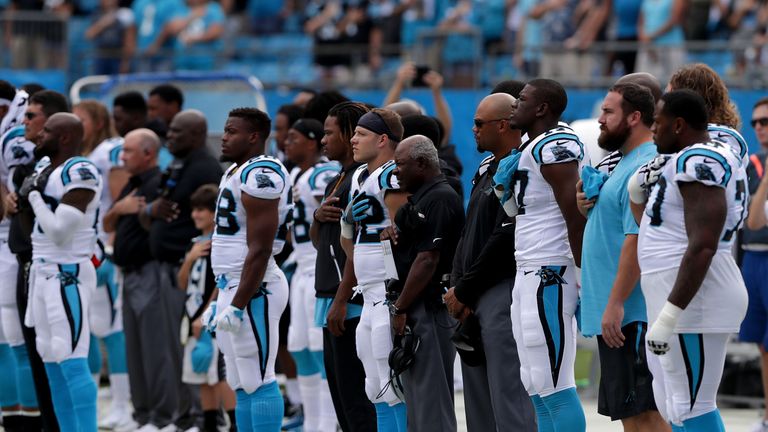 "Mr. Richardson invited captains and other team leaders to his home this afternoon, as he often does," said a statement from the Panthers.
"They discussed social issues affecting the League and solutions moving forward. As always, the conversations between Mr. Richardson and the players will remain private."
Meanwhile, Pittsburgh Steelers coach Mike Tomlin says he doesn't want his team to be left divided after seeing a difficult situation come to a head at the weekend.
Former US Army Ranger and current Steelers offensive tackle Alejandro Villanueva, who served three tours in Afghanistan, admitted on Monday he was left embarrassed having stood alone during the anthem while the rest of the squad remained inside the locker room.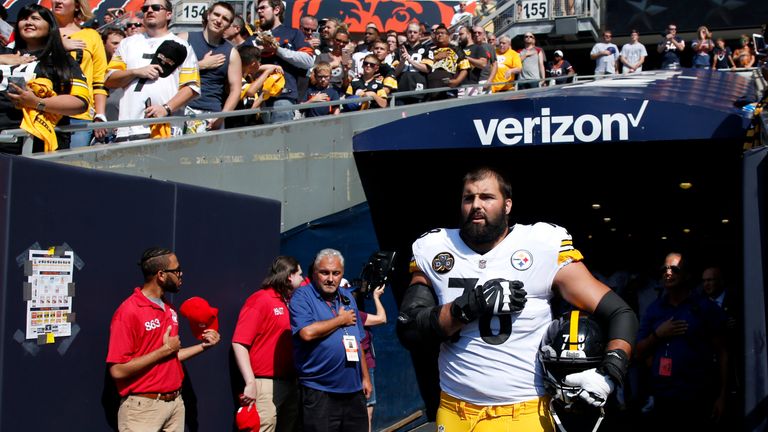 Quarterback Ben Roethlisberger says things could have been handled differently and insists the entire team will be on the field for the anthem when they face Baltimore at the weekend.
For Tomlin, it is about keeping his team together. Speaking at his Tuesday press conference, he said: "In regards to the anthem, these are divisive times.
"I've been very proud that our team has always been a team that has always been very respectful of the anthem. We've had 100 percent participation in the anthem since all of these things started. Obviously, our guys have opinions regarding social injustice and so forth, but they never used that as a platform.
"When we step into a stadium to play, we're there for those reasons. It's also another reason why I believe our group has never participated in anthem demonstrations.
"We have a former serviceman on our team in Villanueva and regardless of how guys have felt in the past, whether they've had a desire to do it or not, the respect for the anthem, the respect that they have for Al as a brother, has made those demonstrations zero. So it's never been an issue for us.
"Last week, some comments were made where that probably would have been breached. There were some guys within our group that felt strongly because of the comments made a week ago.
"We've always had 100 percent participation, so that created an issue for us. In the past, those that had maybe wanted to participate, have not.
"They felt a little differently, and I thought it created an opportunity for the team to discuss. On Saturday night, I told the team whatever it is that you do, you do it together. One-hundred percent participation, or you do nothing. We do business as usual. We won't let divisive times divide us."
The Reuters/Ipsos poll was conducted online in English throughout the United States. It gathered responses from 1,622 people, including 628 Democrats, 583 Republicans and 919 people who watched a football game at least a few times during the season. The poll has a credibility interval, a measure of accuracy, of five percentage points.