Cam Newton threw four touchdowns as the Carolina Panthers powered past the Miami Dolphins in a 45-21 victory on Monday Night Football.
Newton completed 21 of 35 passes for 254 yards. He also rushed for 95 yards on five carries, including a 69-yard burst in the third quarter. Carolina's 45 points were a season high and their 548 total yards marked a franchise record.
Panthers rookie running back Christian McCaffrey scored on a touchdown run and a reception down near the goal line, while wide receiver Devin Funchess hauled in two TD passes.
Running back Jonathan Stewart also picked up a season-high 110 rushing yards on 17 attempts as Carolina racked up more than 200 rushing yards for the second game in a row, a first-time achievement for the franchise.
Miami, the NFL's lowest-scoring team, couldn't keep pace - quarterback Jay Cutler completed 22 of 37 passes for 213 yards, two touchdowns and one costly interception just before half-time.
Trailing only 10-7 with 47 seconds left in the first half, Cutler was intercepted by linebacker Luke Kuechly, before Newton then connected with tight end Ed Dickson for a seven-yard TD at the 19-second mark.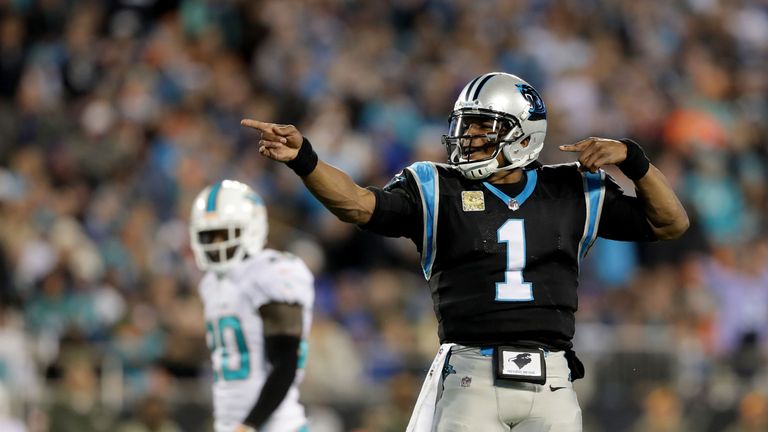 The Panthers then began to pull away in the third quarter, when Funchess scored on a 28-yard screen pass from Newton, followed by Cameron Artis-Payne's 12-yard touchdown run.
The Dolphins showed a bit of life when Kenyan Drake went 66 yards for a touchdown on a third-down run, but McCaffrey's and Funchess' second scores saw Carolina streak ahead once more.
Miami (4-5) tacked on a touchdown to Jarvis Landry late on, but slipped to a third straight defeat, while Carolina (7-3) keep pace with the New Orleans Saints (7-2) atop the NFC South with a win.
Game's key stats
| | | | |
| --- | --- | --- | --- |
| MIAMI | | CAROLINA | |
| Passing | C/A Yds TD Int | Passing | C/A Yds TD Int |
| Jay Cutler | 22/37 213 2 1 | Cam Newton | 21/35 254 4 0 |
| Rushing | Att Yds TD | Rushing | Att Yds TD |
| Kenyan Drake | 7 82 1 | Jonathan Stewart | 17 110 0 |
| Receiving | Rec Yds TD | Receiving | Rec Yds TD |
| Kenny Stills | 5 67 0 | Devin Funchess | 5 92 2 |
| Jarvis Landry | 5 42 1 | Ed Dickson | 3 33 1 |
| Julius Thomas | 2 8 1 | Christian McCaffrey | 3 27 1 |
| Total net yards | 313 | Total net yards | 548 |