Philadelphia Eagles injured QB Carson Wentz calls Super Bowl 'motivation'
Last Updated: 01/02/18 2:00pm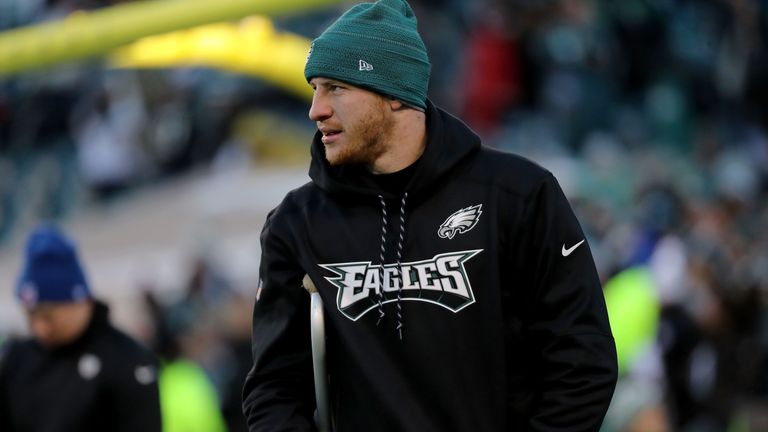 Injured Philadelphia Eagles quarterback Carson Wentz will not play on Sunday, but he called his Super Bowl experience "motivation".
While Eagles starting quarterback Nick Foles was fielding questions about his journey to the Super Bowl, facing Tom Brady, and what it will feel like stepping out onto the turf on Sunday, the man who was 'supposed' to be there opened up about missing the game.
Philadelphia's second-year superstar Carson Wentz, lost to injury during the season, met with the media in Minnesota and explained how he is feeling ahead of watching his team-mates taking the field with a chance to bring the city its first Super Bowl.
"I'm going to use this as a learning opportunity and motivation," said Wentz. "Just being here all week, seeing it all, it will give me an edge to want to be back, without a doubt."
Fans and pundits alike dismissed the Eagles when they lost their 2016 first-round pick, who was firmly in the conversation for NFL MVP before suffering a torn ACL in Week 14.
Wentz had thrown a league-leading 33 touchdowns compared to just seven interceptions, but after tossing his fourth score in just three quarters against the Rams, he left the field. Foles stepped in to secure the 43-35 win, and has since shown the Eagles were not relying on just one man.
But as Wentz spent time talking to reporters, the bittersweet nature of the experience was evident.
He said: "There's real human emotion. Without a doubt.
"I'm as supportive as anybody for this team and for these guys and I'm super excited for them to be here. And especially Nick, just seeing him take over. We're so close, you know, off the field as well and I couldn't be happier for him."
After suffering injuries, players do not have to remain involved with their team. However, the Eagles made an active effort to keep Wentz - and the rest of the stars lost on their tough road to the Super Bowl - in the meetings and on the sidelines.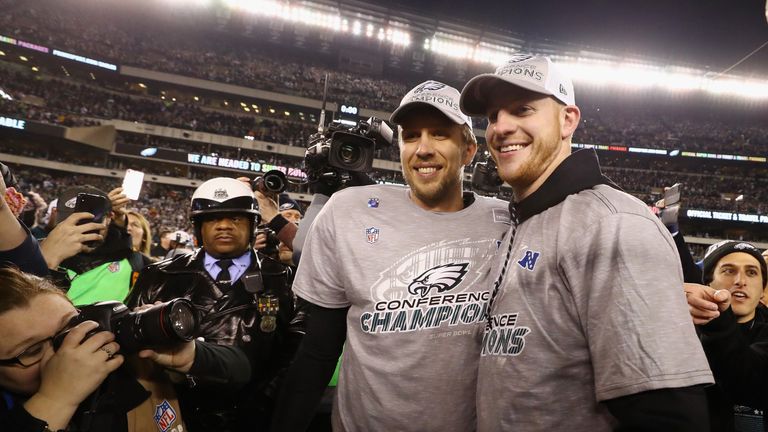 He has a great relationship with Foles and still attends quarterback meetings, contributes to the game plan and can be seen alongside the starter and backup Nate Sudfeld on game days with his headset on.
Foles himself has heaped praise on the 25-year-old, saying "just the way he's handled it has been amazing. His support for this team, for me personally, whether it's in our meeting rooms, at walk-throughs, at practice, during the game, it's been outstanding."
But ultimately, and unsurprisingly, Wentz wishes he was the one leading out the Eagles on Sunday. He went on to say, despite giving his full support, "at the same time there's those real emotions that are human. I don't know many people more competitive than myself and so wanting to be out there is definitely tough."
Wentz will play his crucial backup role one more time this Sunday, as the Eagles will need Foles to be at his best to beat Tom Brady and the New England Patriots. However, Wentz is "confident" he will be back for the start of the 2018 season - back, and more motivated than ever.
Watch Inside The Huddle every day, 6.30pm, on Sky Sports Action with Neil, Jeff and a host of special guests.
@SkySportsNFL are in Minnesota all week - follow us for live video and a flavour of the madness.
For 90 minutes of Super Bowl LII build-up from US Bank Stadium with Josh Norman, join us on Sky Sports Action and Mix from 10pm on Sunday.
Sky Sports Main Event joins us at 11pm and the action kicks off at 11.30pm (GMT), including the half-time show featuring Justin Timberlake.