NFL Challenge: Fantasy analyst Adam Rank's Week Five picks
Falcons and Steelers to pick up points in expected shootout
Last Updated: 03/10/18 3:25pm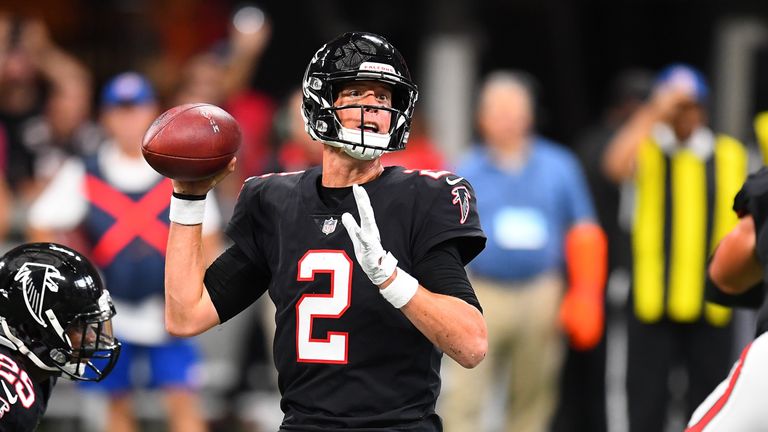 Fantasy analyst expert Adam Rank takes on the NFL Challenge, picking his team for Week Five...
Each week you get to pick a passing offense, rushing attack, defense and special teams unit to pick up points for your team while, on top of that, you can select a quarterback, running back and wide receiver to score additional points. Register to play by clicking here.
Adam Rank: Week Four points
| | |
| --- | --- |
| Total points | 155 |
| Falcons passing offense | 34 |
| Chargers rushing offense | 12 |
| Bears defense | 13 |
| Chiefs special teams | 9 |
| Patrick Mahomes, QB (Captain) | 48 |
| Alvin Kamara, RB | 35 |
| Michael Thomas, WR | 4 |
Patrick Mahomes made us sweat it out a little bit on Tuesday morning, but he pulled through for us. And who wants to let the good times roll and play him once again this week? Well, good luck to you then, because I'm not doing that. The Kansas City Chiefs are playing the Jacksonville Jaguars. And I understand we are living in a world where nothing matters on defense anymore, but it is still enough of a troubling matchup to keep me from pulling the trigger.
And if Mahomes carves up that defense, I might be ready to put him in the Hall of Fame. And here are some Hall of Fame picks for you this week...
Pittsburgh Steelers passing offense
The Steelers have looked out of sorts recently. Typically one of the more prolific offenses in the league, they just can't seem to get it going consistently. It's almost like they are missing one key piece that would help bring it all together. It's definitely a mystery.
All that said, I'm going to go with the Steelers at home against the Atlanta Falcons. I'm not going to use any hocus-pocus stats about home-road splits. Instead, I'm going to base this on the fact the Falcons are without both starting safeties and teams have thrown on them with great success. Andy Dalton just finished with three touchdown passes, which means the last three quarterbacks to play against the Falcons - Dalton, Cam Newton and Drew Brees - have each thrown three TDs against them.
San Francisco 49ers rushing offense
Let's be truthful. I thought about going with the Los Angeles Chargers here because it seemed as obvious as the New Orleans Saints and LA Rams have in recent weeks. But I'm going to go with a contrarian play here and say the 49ers. It's not crazy. Matt Breida entered Week Four as the NFL's leading rusher (he's not anymore). But the point is this matchup. The Cardinals allowed Mike Davis to run all over them last week. Mike Davis! You probably didn't realise he was still in the NFL. Playing behind the Seahawks offensive line, he ran all over the Cardinals. This isn't even a contrarian play for me anymore. This is just the smart play.
Tennessee Titans defense
The Titans are rarely mentioned among the best defenses in the NFL, but they certainly should be. It's like how Zac Efron doesn't get enough credit for his acting chops and people think he just gets by on his looks. But you watch "Greatest Showman" and tell me Zac doesn't act his butt off. I dare you to say that. If you don't agree with me, then it's going to be hard for us to ever be friends.
It's a good defense against a rookie quarterback, in Josh Allen for the Buffalo Bills. There's some risk with the Titans being on the road. The other choice is Jacksonville, who will be on the road in Kansas City. Given the choice of two road squads, I'm leaning rookie. And let me tell you, Efron looked like no rookie next to Hugh Jackman. I'm serious about this.
Houston Texans special teams
The Texans are ranked as one of the top special teams units according to the Football Outsiders. The Dallas Cowboys, who they play Sunday night, are typically at the bottom of the list. I feel pretty good exploiting this matchup.
Matt Ryan, QB, Atlanta Falcons (Captain)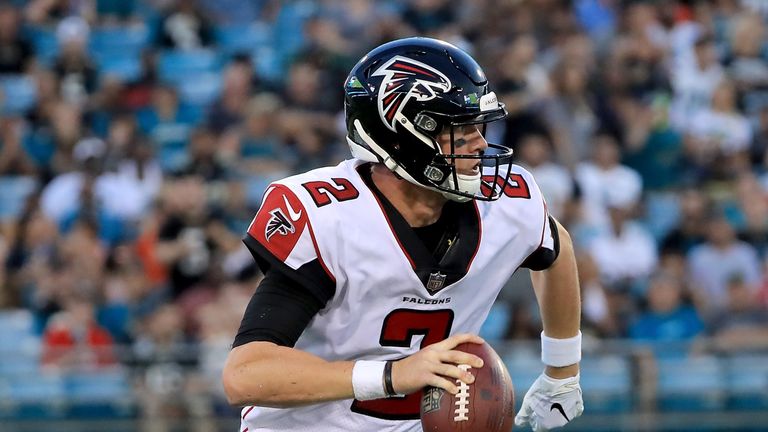 The Falcons and Cincinnati Bengals combined for 73 points in Week Four. I'm of the mind many Falcons games are going to play out similarly because of the problems on defense, as explained earlier. Thankfully, the Falcons have the kind of offense that will respond when their defense is on the ropes. And with Devonta Freeman expected to return in Week Five, the Falcons will be rolling with a full complement of players. So, I'm digging it. Also last week, Joe Flacco finished with 363 passing yards and a pair of touchdowns. That was the Steelers defense's best performance this year. Seriously, the Steelers are in such a way that keeping a dude under 400 passing yards and three touchdowns is considered a successful game. The Steel Curtain is more like Steal Curtain. As in you're stealing fantasy points. All right, that was bad, I'll let myself out.
Also, if you're worried about the Falcons playing outdoors, it's expected to be about 26 degrees. Don't freak out, I did the Fahrenheit-Celsius conversion for you. Your system makes way more sense.
Melvin Gordon, RB, Los Angeles Chargers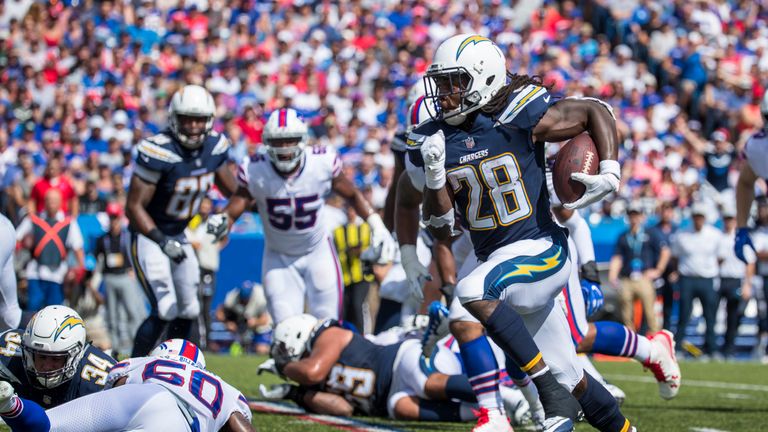 Gordon is going to be a solid play most weeks, and I love him against the Oakland Raiders this week. Oakland allowed 208 rushing yards on the ground last week to Cleveland! Of course, 105 of those yards came on three runs from Nick Chubb. Seriously, what was that Raiders? I mean, it seems like the Raiders are missing just one piece out there on defense that could be the difference between winning and losing, but I just can't put my finger on it.
Julio Jones, WR, Atlanta Falcons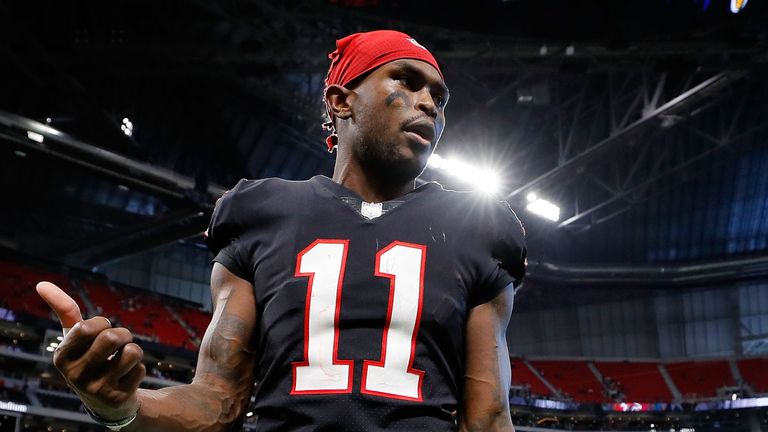 Listen, I love Calvin Ridley, too. And he has the ability to be a league-winner when it comes to season-long leagues. But Jones is going to give you more consistency week-to-week. This is the beauty of Julio. He's never been a huge touchdown scorer. Ridley has more touchdowns in two games than Jones has had in the last three years. I'm obviously kidding, but it did make you pause for a moment and ask, is that right? But here's the rub, Jones has scored double-digit touchdowns only once in his NFL career. And yet, he's been one of the top fantasy receivers in the game. He thrives on volume. He's going to see a lot of targets. This week against the Steelers should be amazing. And look, if you want to go with Ridley as a contrarian play, I'm here for it. If you want to stack the Falcons passing offense as well, then I'm cool with that too.
Click here to register to play NFL Challenge.