2023 NFL Draft: Notre Dame's Michael Mayer is the full package and can join the NFL's elite tight ends
Sky Sports analyses Notre Dame's Michael Mayer, who has asserted himself as the leading tight end in the nation ahead of next April's 2023 NFL Draft; You can watch Mayer and Notre Dame host Clemson live on Sky Sports NFL from 11.30pm this Saturday
Last Updated: 04/11/22 12:37pm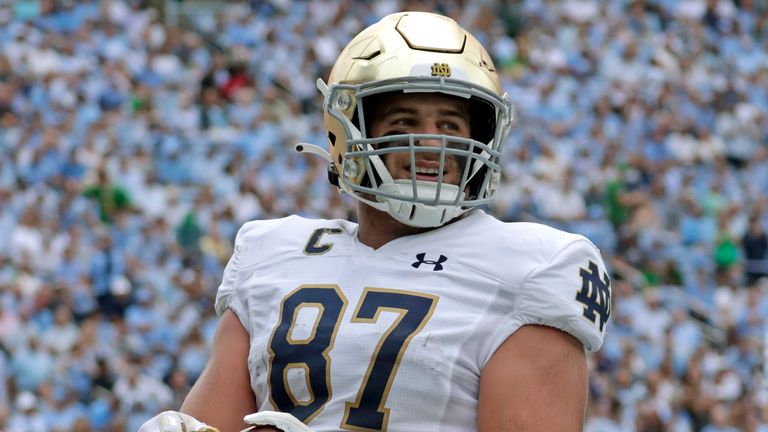 Michael Mayer has got it all, in spades. And the Notre Dame polar bear is primed to bring it as one of the 2023 NFL Draft's certified sure-things and next glossy addition to the league's tight end fraternity.
Notre Dame Stadium would previously salute a chunk gain or touchdown from Mayer by playing the chilling Michael Myers piano theme song from the Halloween horror movies. The premise being ironic fun, the connotations of devastating supremacy being no joke.
He has compiled a convincing case as the premier tight end in the country, eclipsing school records, repaying the faith of an expectation-burdening 'Baby Gronk' nickname and playing his way towards high first-round pick territory come next April.
Just this week he was one of just two tight ends alongside Georgia's Brock Bowers to be named among 20 semi-finalists for the Maxwell Award, recognising the top player in college football. More on Bowers to come at a later date, because the kid is a marvel.
Shape-shifting tight ends that can morph between oversized bully pass-catcher and power run plough remain in trend, the Travis Kelces and George Kittles of the league transforming the financial appreciation of said value while Kyle Pitts and his unicorn horn stand to be the latest model of sought-after behemoths capable of dancing between X, Y and Z roles. Mayer's application checks out.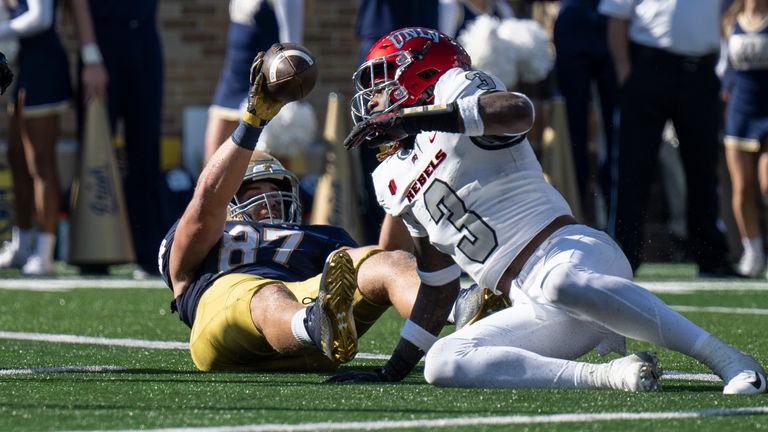 He swaggers into Saturday's clash with Clemson - live on Sky Sports NFL - with 47 catches for 580 yards and six touchdowns through eight games this season having broken Tyler Eifert's record for most receptions by a tight end in Notre Dame history. It continues an ascent that saw him log 42 catches and 450 receiving yards in 2020 to bring up school records for a true freshman tight end, followed by 71 receptions for a single-second school record 840 yards and seven scores as a third-team All-American in 2021.
During last week's 44-21 victory over UNLV he also tied Ken MacAfee for most career touchdown receptions by a Notre Dame tight end with 15, doing so amid a program position-leading fifth career 100-yard receiving game. He is both brute and contortionist, seam occupant and wham blocker, lighthouse and bumper car.
Behind the clamour over his record-tying score was a sharp release from his tight split starting position, a perfectly timed break on his corner route to escape the dropdown safety and a dwarfing reach to haul in the 20-yard strike.
Michael Mayer bio
| | |
| --- | --- |
| Date of birth | June 6, 2001 (Age 21) |
| Hometown | Independence, Kentucky |
| Height | 6'4" 1/2 |
| Weight | 265lbs |
| College | Notre Dame (2020-present) |
| Class | Junior |
It was a nod to the ease at which he stretches for distant TV remotes unlike normal human beings, but not THE headline expose of an elite catch radius in the game. That came by way of a one-handed falling/diving/leaning catch for a gain of 34, Mayer making up extra ground required on his outside release along the seam before swivelling his hips and arching his body around near-faultless man coverage while maintaining enough balance mid-contact and blind-spot concentration to complete an unlikely grab with one paw.
He may not flash as a track star, but there is a freight train momentum to him in full flow that combines with violent hands mid-route and a shock-absorbent frame in making for a mismatch nightmare. And while straight line speed may not jump off the charts, he possesses fluid hips and agile footwork that allows him to make sudden cuts into out-routes and sharp stutter stops on hitch plays.
When it comes to those comebacks and curls he splits the ball and man with shrewd body placement while using natural power to swat, roll and drag defenders for extra yardage, at which point it usually takes two to drag him down.
"The ball is going to (number) 87. He's a really savvy route-runner," said Clemson defensive coordinator Wes Goodwin ahead of their matchup with Mayer and Notre Dame. "He understands how to use his body, leverage and separation. He's physical at the top of the step. We can't let him push off and create that separation. He runs better than you'd think for a big guy. He can stretch the field vertically as well."
As far as third down gimmes go, he has been a dream for Fighting Irish quarterback Drew Pyne. BYU learned as much when he put up 11 catches for 118 yards and two touchdowns against them earlier this season. On a third-and-10 Mayer burst out the traps on a trips right formation and recalled that mid-route physicality by out-wrestling his designated defender on a crossing route before collecting Pyne's pass with two men in tow to move the chains.
He later lined up as a perimeter split end on third-and-six, torpedoing zone coverage on a fake switch route that culminated in a short gain followed by an extra effort spin-and-charge through two defenders for the first down. On third-and-13 he offered up situational awareness and improvisation by freelancing to a secondary route in response to a three-man rush and Pyne's delayed release in the face of drop eight coverage, securing separation as he darted left to right on what adopted the look of a deep-over before making the catch and scurrying for the first down. Once again, without being a flyer, here were the long strides that help give him a knack for getting open.
Another third-and-six in the third quarter saw him back in a trips right look, from which he delivered a sharp release at the snap before using his hands to shrug off a linebacker on an over route and drawing on his catch radius to elongate his arms while tracking the ball over his shoulder to snag his second touchdown of the day. Zone coverage, man coverage - he beats both.
His opening 24-yard score had been less about brawn and more about a subtle but clinical head and body fake to sell a quick out to the sideline before seamlessly transitioning into his fade and filling the space vacated by his teammate Jayden Thomas' post break.
He runs every route, makes every kind of catch and fills every position.
"He's special, man," Notre Dame head coach Marcus Freeman said of Mayer in October. "He is a special football player, but the thing you love about Michael Mayer is that he's the hardest worker. When your best player is your hardest worker, you know what, that's the greatest example you can have for young guys and your entire team."
"He's not a finished product and that's tough to say for the guy that probably holds every record at Notre Dame for a tight end. He's not a finished product, but he understands and he wants to be pushed. That's the thing about Michael Mayer, he's one of those great ones that don't want to be told what he does well, tell me how."
There is a shortage of pressing or obvious blemishes, among the areas for improvement perhaps being Mayer's ability to develop into a more accomplished run blocker at the next level as his physical makeup suggests he could and should. Notre Dame have found some joy using him from fullback as a pull blocker in order to exploit his explosive release with a runway, the speed of which occasionally contributes to engagement not being as clean as he would like as he tries to temper momentum while adjusting his angle. Everything required physically is there, though, and so too the assignment recognition and robustness to disorientate rushers with simple chip blocks.
His footwork is generally impressive and has starred at times in red zone situations when he is granted the opportunity to showcase slick releases or on the multiple occasions he has made tacklers miss with stop-start quickness in the open field. Mayer also navigates traffic underneath on mesh concepts with control that avoids disrupting his route, while the speed at which he can pivot his body has made him a valuable seal blocker in space.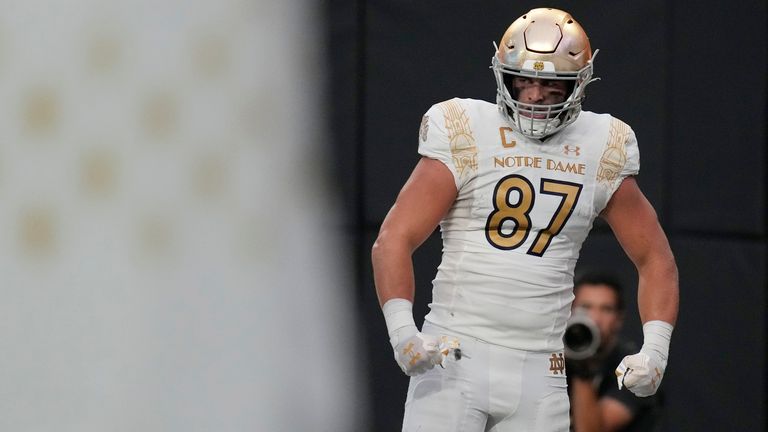 The frame-defying athleticism tends to stand out above all. It was evident against Syracuse on Mayer's 34-yard sideline catch when he stole a yard of separation on his go-route before reading a slightly underthrown pass and simultaneously twisting his body while back-peddling with both eyes on the ball to reel it in as he fell to the ground. He offers much of the opposite, too, in regards to a willingness to step into catches to help out his quarterback, who plays knowing he has the freedom to throw with added altitude such is his tight end's vertical supremacy.
His best catch prior to his sorcery against UNLV might have been in last season's win over Virginia as he reached over Nick Jackson in mid-air and while travelling backwards to gobble up the ball Moss-style. Believe it or not he had been nursing a groin injury for much of the year before that game.
Mayer looms as one of the top prospects on the board let alone the leading tight end, his dominance fittingly-frightening for a man of his name.
He is your ready-made 'Michael's down there somewhere' guarantee, with the complete package to clobber NFL defenses.
Sky Sports NFL is your dedicated channel for NFL coverage through the season - featuring a host of NFL Network programming. Don't forget to follow us on skysports.com/nfl, our Twitter account @SkySportsNFL & Sky Sports - on the go!