Jamie Erdahl: Good Morning Football host talks to Her Huddle about the challenges and highlights from her first year in the job
Jamie Erdahl: "We just really enjoy each other. It's a very easy hang and what you see is what you get, both on TV and in the commercial breaks too"; Her Huddle is a new show to celebrate the stories of women working in and around the NFL - available as a podcast below
Last Updated: 02/02/23 7:01pm
Jamie Erdahl has become a friendly and familiar face, name, voice for the NFL fanatic over the past year, since taking over as the new host of Good Morning Football on July 25.
Erdahl succeeded Kay Adams on the hugely-popular, Emmy award-winning breakfast show, which airs on weekdays at midday in the UK, live on Sky Sports NFL, and she is about to celebrate the conclusion of her first full season in the role.
Appearing on the latest episode of Her Huddle (available as a podcast below), Erdahl spoke of the challenges that have come with the job, but also the huge enjoyment she takes in it.
"It has been such a wild ride - and, frankly, not a lot of it is to do with the show," Erdahl said.
"I moved my family when I first got the job. We moved halfway across the country and we were in a temporary apartment for a while as the show was beginning.
"I was figuring out an entire new set of skills, new people I was working with, a new network. And there were two international trips in the middle of it all, then the playoffs.
"It's exhausting. Peter [Schrager] and Kyle [Brandt] warned Jason [McCourty] and I that by January everyone feels very fried. Right now, we all just kind of have each other's backs."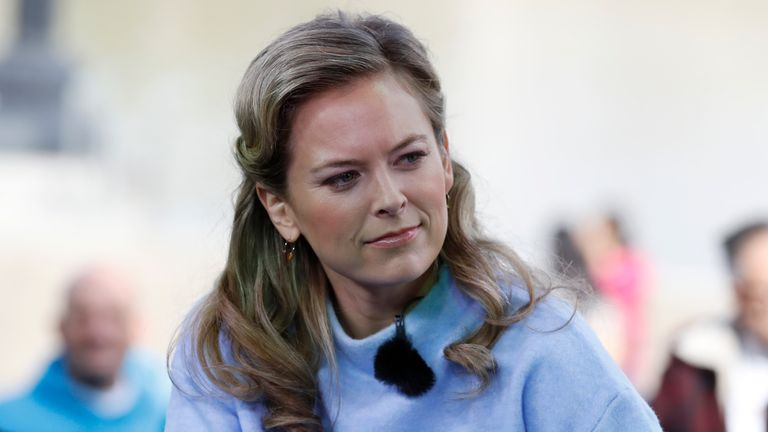 "I know the NFL. I know football. And so when people get after me online, and they do - sometimes it churns me up more so than other times - but I always have to remind myself that 'you know what you're doing'. There is a reason why they hired me."
Jamie Erdahl, Good Morning Football presenter
And it's precisely Schrager and Brandt who Erdahl singled out for praise, with the two hosts who have been with the show since its inception in 2016 helping to make the transition as easy as possible for her and fellow newbie, former Super Bowl winner Jason McCourty.
"Getting to know the guys; I really enjoy Jason, Peter and Kyle every day," Erdahl said, when singling out her highlight of working on the show.
"I'm so happy, looking back on it, that Jason and I started on the same day.
"Peter and Kyle have been on the show for six years, and they could easily have been like the big brothers - 'we know how things are down and this is how it is' - but it was not like that.
"They were like, 'let's make this our show'. We had great times together the four of us, in London and in Germany [for the NFL's International Games in 2022].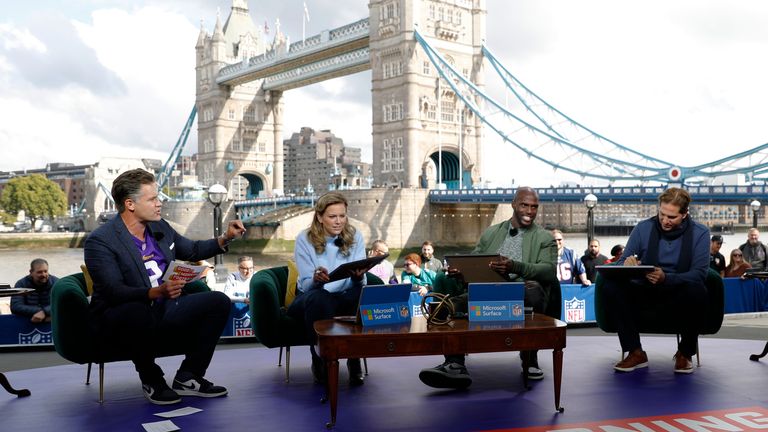 "We just really enjoy each other. It's a very easy hang and what you see is what you get, both on TV and in the commercial breaks too."
Erdahl joined Good Morning Football having previously served as the lead sideline reporter for SEC college football on CBS, while she previously covered the Boston Red Sox in baseball and Boston Bruins in ice hockey.
In terms of making the switch from the sideline to the studio, Erdahl spoke of the obstacles she has encountered.
"I'm still finding my footing and my confidence in that, 'I have this thought and people want to hear it', and having this inherent confidence in that, rather than I'm here because they want to see Nick Saban or Bill Belichick.
"It's such a different way to look at it and that's a skill set in itself."
She added: "I am a very competitive person. I don't like being wrong.
"When you're a sideline reporter, you don't have to make a pick, predictions, and have your name stamped on an opinion.
"On this show, you say things and it lives on, people jump onto it. You have to be okay with the feedback, letting it slide off of you.
"Being uncomfortable in being wrong, and moving on from it, has been one of the biggest challenges. Because I don't like being wrong."
As for any further advice to those looking to follow in her footsteps in the industry, Erdahl added: "I always say, 'do all of the jobs'. Even if it solidifies that, 'I know I don't want to do that'.
"It helps you make life decisions about your path and what you're supposed to do.
"Curiosity. Baseline: how does your camera work? How does the audio work?
"It will make a better broadcaster, and a better person to work around - to be appreciative of what other people do."