Great Britain's 800m runner Jenny Meadows' genetic testing has determined she is prone to tendon injuries
Great Britain's 800m runner Jenny Meadows' genetic testing has determined she is prone to tendon injuries.
Last Updated: 17/03/14 3:22pm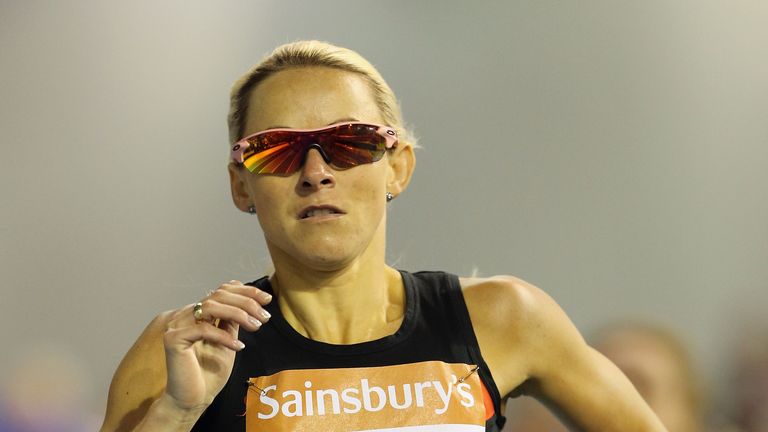 The tests, obtained via a simple mouth swab, disclose an athletes speed and endurance genes as well as determine whether or not they have injury-prone genes and the best nutrition to fit their DNA.
Meadows, 32, is using the DNA information in her training as she targets Commonwealth and European medals this year- and admitted she wishes genetic profiling had been available at the start of her career.
An Achilles injury saw her miss out on the London 2012 Olympics and had she of known she was prone to these injuries Meadows said she could have altered her training.
"I do feel a little bit gutted that the technology has only become available now," Meadows said.
"In the last two years I have had two major injuries, and it was an Achilles injury that kept me out of the London 2012 Olympics.
"The DNA profile does show I am prone to tendon injuries which I didn't really know, so maybe I could have changed things in my training. Instead of going out running on the road maybe I would have done more cross-training or work in the pool."
Meadows also stated that the genetic testing determined that her DNA make-up was perfect for a 800m runner which if she had known at the start of her career could have prevented her from pursuing the 400m as well.
"The thing that really staggered me was to be exactly 50 per cent speed and 50 per cent endurance, which is absolutely perfect for an 800m runner and perhaps if I had known this I would have concentrated on the 800m a few years earlier instead of pursuing 400m as well," Meadows said.
"Nutrition is going to be the big thing for me because I have to admit my nutrition is not the best - I don't particularly like eating large amounts of fruit and vegetables, so I am hoping the genetic profile will give me clearer guidance of what I can and can't eat."
DNAFit is also working with two Barclays Premier League clubs to conduct genetic profiles of their players but Keith Grimaldi, DNAFit's chief scientific officer, said there was no 'Lionel Messi gene' identifiable which suggested a person had a talent for football.
"We are not going to turn a fourth division footballer into a Premiership player but it is going to make small but important differences which could make an impact long term," Grimaldi said.
"When the England team go to Brazil we could know in advance who has a very high risk of sunstroke or sunburn, who has a very low risk, and who is in between. That is useful information and it is far better to know it than not.
"We believe the profiling can help with personalising the training - we look at about 15 genes associated with power and endurance and we see very wide range among footballers.
"Some are fast over short distances while an endurance footballer is able to cover every blade on the pitch. That may be obvious anyway, but it can help tailor training for the individual player."