Jason Kenny surprised by Great Britain's team sprint gold medal ride
By Andy Charles
Last Updated: 12/08/16 6:25pm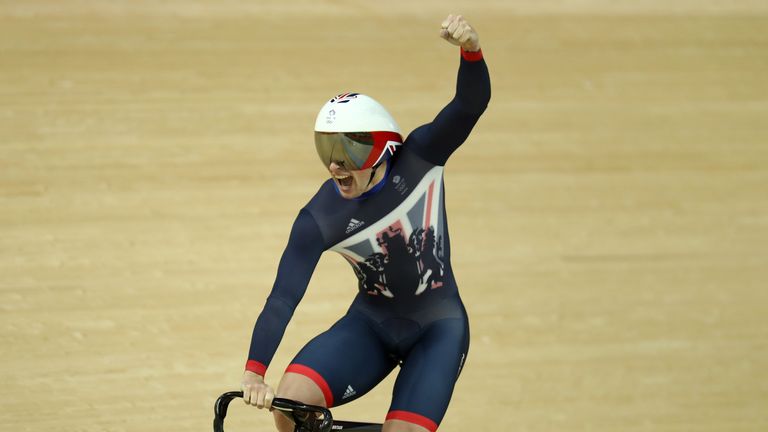 Jason Kenny was in shock after Great Britain secured a third successive gold medal in the Olympic Games team sprint.
The three-man team of Kenny, Philip Hindes and Callum Skinner finished with a flourish in Thursday's final and edged out New Zealand to add to victories in Beijing in 2008 and London four years ago.
But the road to Rio was not a smooth one for the trio with a sixth-place finish at the World Championships in London in March seeing them displaced as favourites by the Kiwis.
And Kenny admitted the quality of their performance in Rio was surprising after they broke the Olympic record for the second time in the day in winning the final in 42.440 seconds.
Kenny, who was winning his fourth Olympic gold, said: "All of it (was surprising) to be honest. We've been going quite well in training. We had a rough idea what we could do.
"We surpassed that in the first ride with the Olympic record. At that point I thought we could get away with it, like we did in London.
"New Zealand came back at us in the second round and set the benchmark.
"We went into the final with nothing to lose. We were the second qualifiers, left it all on the track and unbelievably it was enough."
Britain's men have not won a team sprint world title since 2005 but again managed to find their form at the right time for the Olympics, something Kenny was at a loss to explain.
"It's bizarre," Kenny added. "We get a chance to win the worlds every single year and we get a chance to win the Olympics every four.
"We can't win a bloody worlds to save our lives, but we can win the Olympics every time."