Winter Olympics: LGBT visibility at Pyeongchang 2018 shows progress from Sochi
Rainbow Laces worn by ally Lizzy Yarnold to show support for LGBT inclusion in sport; Sky Sports News reports from Pride House, returning to Winter Games after its absence in Russia in 2014
By Geraint Hughes and Jon Holmes
Last Updated: 15/02/18 11:00am
Sky Sports News reports on the LGBT visibility at the Winter Olympics in Pyeongchang, where Team GB's Lizzy Yarnold is wearing Rainbow Laces.
Yarnold's Winter Olympics challenge begins in earnest when the women's skeleton competition gets underway on Friday. As the flagbearer for Team GB in the Opening Ceremony and one of the country's major medal hopes, she knows she has a platform at these Games - and wearing Rainbow Laces as an ally, to show her support for the Stonewall campaign for LGBT inclusion in sport, is something she's also enthusiastic about.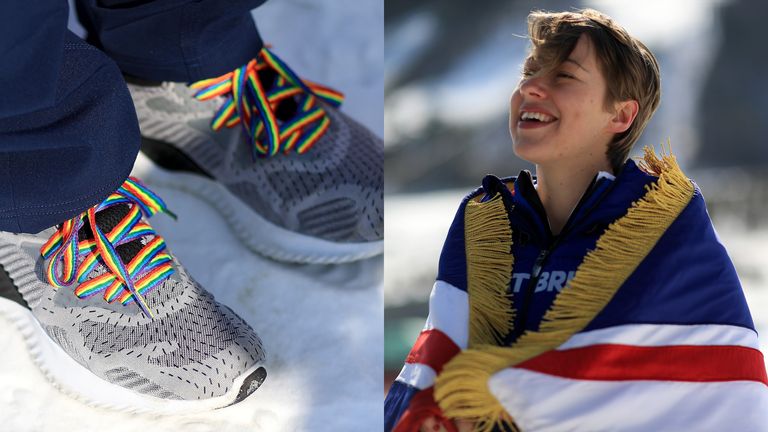 "Changing your laces is a simple thing, but it represents so much," Yarnold told SSN ahead of her big weekend on the track. "This can open up sport and show people that the Olympic movement is open to everyone."
There are almost 3000 athletes from 92 countries competing in South Korea this month, and 15 of them are LGBT and out, according to research by the US website Outsports. Of those 15, medal winners so far are figure skaters Eric Radford and Adam Rippon, from Canada and the USA respectively, who are both openly gay, and speed skater Ireen Wust of the Netherlands, who is dating team-mate Letitia de Jong.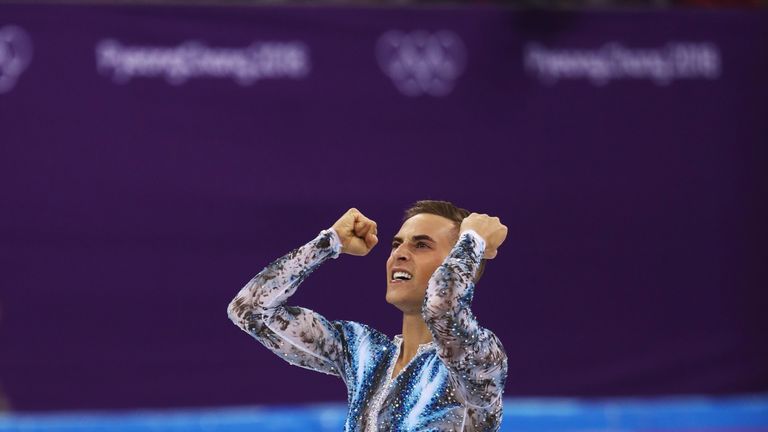 This visibility carries on from the 2016 Summer Games in Rio, where 56 athletes were out - including nine from Team GB - in a total of over 11,000 athletes from 205 nations.
Among the high-profile LGBT Winter Olympians in Korea is the USA's Gus Kenworthy, who won slopestyle silver in freestyle skiing in Sochi four years ago and goes for gold on Saturday.
He told the media: "I've taken a step into a sort of leadership role for the LGBT community because there isn't a ton of representation at the Games, it's also just me... I'm just being myself."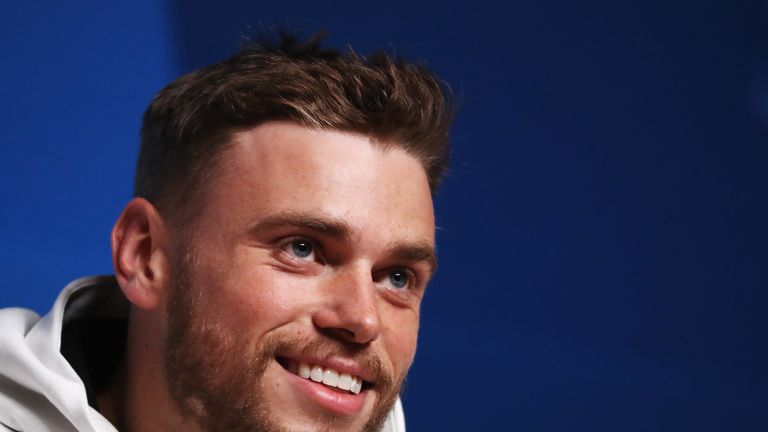 Due to Russian legislation, there was barely any mention of LGBT inclusion at the Sochi Olympics, and also no Pride House - the temporary location set up at major sporting events designated as a welcoming space for all, regardless of sexual orientation or gender identity, which had first been established at Vancouver 2010.
At these Winter Games, Pride House is back and this time being hosted by Team Canada - it's also the first to be open at a sporting event in Asia.
"We do need the overseeing bodies, the organisations, to make the entire safe space," one of the organisers, Keph Senett, told SSN. After the Sochi controversy, an anti-discrimination clause was written into the Olympic Charter, with IOC spokesperson Mark Adams noting it is "really important" for the organisation to recognise and support LGBT athletes in order to send a strong message around the world.
Much of the Pride House activity in South Korea - a deeply conservative country, where homosexuality is still considered by many to be culturally taboo - has been undertaken by the Korean Sexual Minority and Culture and Rights Centre (KSCRC), who are seeking to establish protective legislation in their homeland.
Several of the group's banners welcoming foreign athletes and visitors who are LGBT to Korea were removed by local authorities at the start of the Games - but with athletes who are out speaking up, and allies like Yarnold voicing their support too, the forecast looks brighter.
Watch the Sky Sports News report from Pyeongchang in the video at the top of this article.