Russia Winter Olympics doping cases cast 'serious shadow', says IOC president
By Richard Cooke
Last Updated: 25/02/18 11:27pm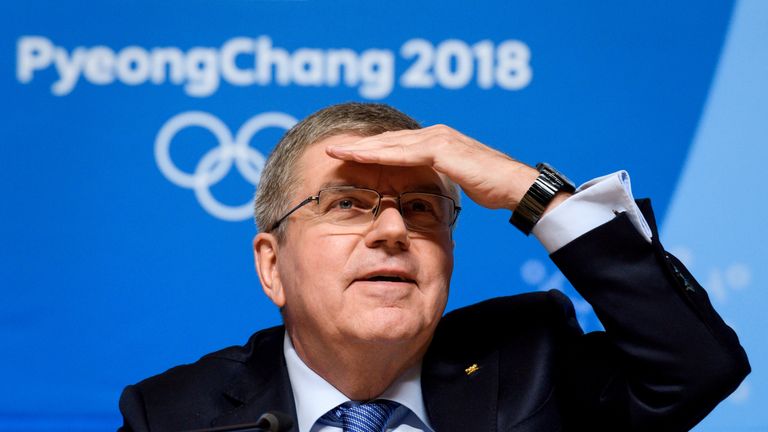 The doping cases of two Russian athletes at the Winter Olympics "have cast a serious shadow", International Olympic Committee president Thomas Bach has admitted.
Bach says the cases involving two athletes representing the Olympic Athletes of Russia delegation stopped the IOC from lifting its suspension of Russia in time for Sunday's closing ceremony of the Winter Olympics in Pyeongchang.
The decision means Russian athletes will parade under the Olympic flag and not their own. However, the IOC say the Russian Olympic Committee will be reinstated in the near future, so long as there are no new doping cases involving the remaining 166 OAR athletes.
"We recognise these two cases have cast a serious shadow over the OAR delegation and this is why we did not lift the suspension," Bach said.
The ban will be lifted automatically if there are no more positive tests, Bach said.
The suspension was imposed in December for the Sochi 2014 scandal, when Russian athletes and officials were found to be involved in systemic use of performance-enhancing drugs.
The IOC did invite Russian athletes to Pyeongchang who had met specific criteria and been rigorously tested prior to the Games.
Still there were two positive drug tests. But Bach insisted the cases involving curler Alexander Krushelnitsky and bobsledder Nadezhda Sergeeva were isolated.
He added: "There was no indication that these two cases were due to a systematic approach or that the delegation was trying to assist or cover up. These are cases of negligence. "The OAR delegation was very proactive. In the case of the mixed curlers they gave the medal back right away."
Krushelnitsky won mixed doubles curling bronze with his wife, Anastasia Bryzgalova, but the medal was reallocated after his positive test for meldonium and subsequent disqualification.
Bobsleigh pilot Sergeeva, who finished 12th in the women's two-person bobsleigh with her brakewoman Anastasia Kocherzhova, was thrown out of the Games after testing positive for heart drug trimetazidine.