The Fall: Zola Budd v Mary Decker duel at 1984 Olympics subject of Sky Atlantic documentary
By Stephen Turner
Last Updated: 01/08/16 9:29am
New Sky Atlantic film The Fall tells the tale of Zola Budd and Mary Decker at the 1984 Olympic Games. Ahead of the film's release, skysports.com remembers one of the sporting decade's most controversial episodes...
August 10, 1984, Los Angeles Memorial Coliseum: Around four laps into the women's 3000m final at the Olympic Games an American athlete loses her stride, clips the heels of the runner in front and hits the track, her medal chances gone.
That woman was Joan Hansen, but nobody tells her story now. Nobody ever did. Even as Hansen staggered to her feet, unfolding ahead was the dramatic conclusion to another story, an ending in keeping with months of controversy that extended far beyond sport's boundaries. The story of Zola Budd and Mary Decker.
Accidents are not uncommon in the hurly-burly of elite distance running - Hansen's fate seconds earlier bears witness to that - and the bare facts are unremarkable enough: Budd's legs became entangled with Decker's once, then again. The American crashed off the track, Budd continued and finished seventh.
But the circumstances surrounding this split-second incident - personal and political, cultural and competitive - mark it out as a tale to be told and retold.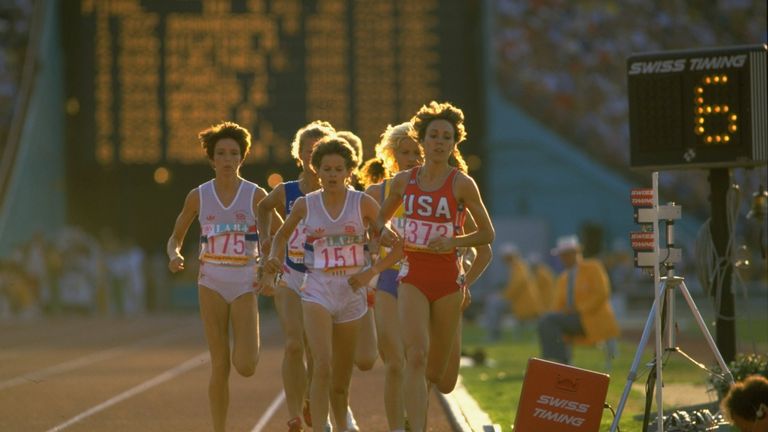 Born in Bloemfontein in the weeks before England's World Cup triumph, Budd was just 17 when word went round the track-and-field world that a girl running barefoot in rural South Africa was challenging some of the sport's most-revered records.
South Africans were banned from international sport as the ruling government continued to pursue its Apartheid policy of racial segregation, so when Budd bettered her idol Decker's 5000m mark by more than six seconds at the start of 1984 the record did not stand.
But her scarcely-believable times had caught the eye of the Daily Mail features editor, and in the 1980s middle-distance running - domain of bona fide British superstars Seb Coe, Steve Ovett and Steve Cram - was a big enough deal to sell newspapers.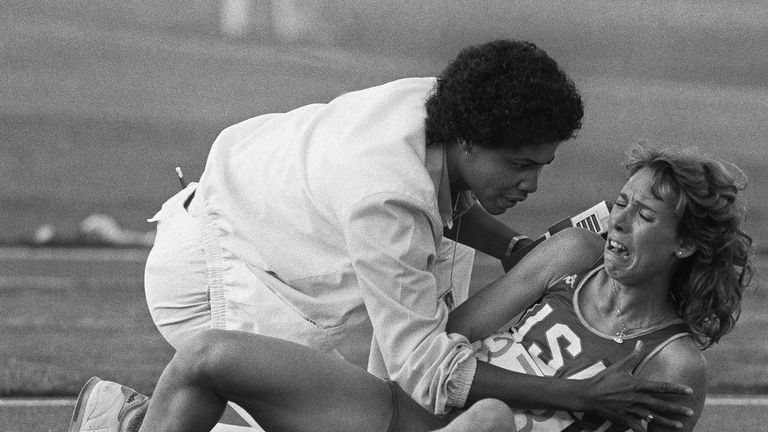 Reporter Ian Wooldridge was despatched halfway across the world to report on the 5ft 2in phenomenon. While there, he discovered something that would change the teenager's life for good: her father Frank was exploring the possibility of getting Zola a British passport through her London-born grandfather.
Before he died in 2007 Wooldridge said he "lived to regret revealing" her ancestry but the cat was out of the bag, and under the enterprising editorship of David English the Mail - the newspaper which years later would campaign against the inclusion of "plastic Brits" in the London 2012 team - set out on a good old-fashioned tabloid crusade to win Budd citizenship.
Applying for UK status could be a tortuous process. To the amazement of the Anti-Apartheid Movement and, documents later revealed, some members of the Government, the campaign succeeded within days. Budd was installed both as Britain's newest Olympic hope and the Mail's latest exclusive columnist. The teenager did not know it, but she had run barefoot from the freedom of the Highveld straight into a minefield.
Whatever the Conservative administration might have been saying to South Africa privately, Prime Minister Margaret Thatcher was opposed to economic sanctions and would later publicly brand Nelson Mandela's African National Congress party "a typical terrorist organisation". Against that backdrop the UK Anti-Apartheid Movement had become a populist political cause that regularly brought numbers onto the streets in protest.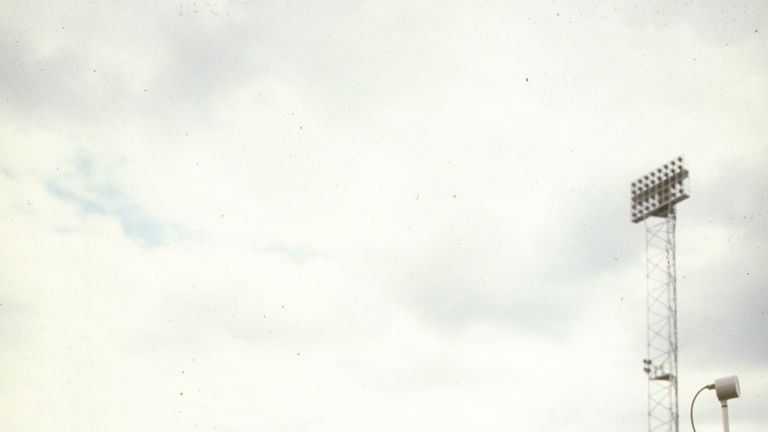 Thousands would march in opposition to the South African president's UK visit in June 1984, but in the meantime Budd was already in the country. At a time when increasing swathes of British people would not even countenance having a Cape pear in their fruit bowl, the country's hasty appropriation of a white Afrikaner for its own ends was an obvious lightning rod.
There was opposition from the word go, although the presence of demonstrators at her hugely-publicised Dartford debut did not stop Budd clocking the Olympic qualifying standard at the first time of asking - on a cinder track. Victory in the Olympic trials followed, and when she broke the world record in the little-raced 2000m famously-excitable BBC commentator David Coleman was sold. "The message will now be flashed around the world," Coleman said. "Zola Budd is no myth."
Still technically a child, Budd became for some protesters the most accessible embodiment of South Africa's ruling class, yet like many of her contemporaries she says she had been deliberately raised ignorant of the Apartheid regime. She claims she had never heard of Nelson Mandela until she set foot in the UK.
She knew who Mary Decker was, though - a poster of American athletics' golden girl was pinned to her bedroom wall. 'Little Mary Decker' had once been a child prodigy herself, and politics had played a part in her story too as the US boycott of the Moscow Games prevented her competing in 1980.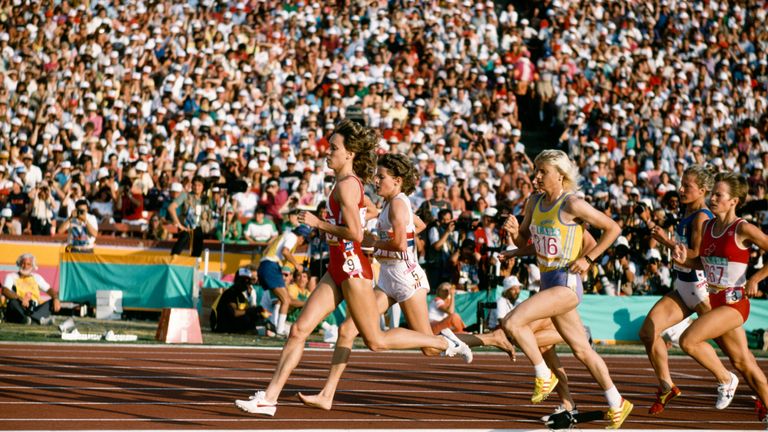 Injury had kept her out in Montreal four years earlier, but an Olympics on home territory represented an ideal opportunity to add a gold medal to her string of world records and victory at 1500m and 3000m in the 1983 World Championships. Decker and Budd came through their heats, ensuring idol and superfan would share a start line on athletics' biggest stage
Decker was the favourite and began the final like one, taking her position at the head of the field, but the pace had dwindled by the time Budd hustled past with her familiar wide-elbowed style. A second or two later Decker was down.
As she was treated trackside, visibly-distressed, the home crowd made their feelings plain: Budd, barracked relentlessly in the country where she had been promised a hero's welcome, was getting the same treatment from the LA locals. Whether subconsciously or, as she later claimed in her autobiography, in a deliberate attempt to sabotage her own race, she slipped down the field.
Romania's Maricica Puica won convincingly ahead of Wendy Sly, another Briton who had objected to Budd's fast-tracking. Sly claimed in the days after the race that Puica - an athlete of rare calibre - would have won regardless. Neither deserved her fate as a footnote to a more enduring story. As for Hansen, she rejoined the race and finished eighth.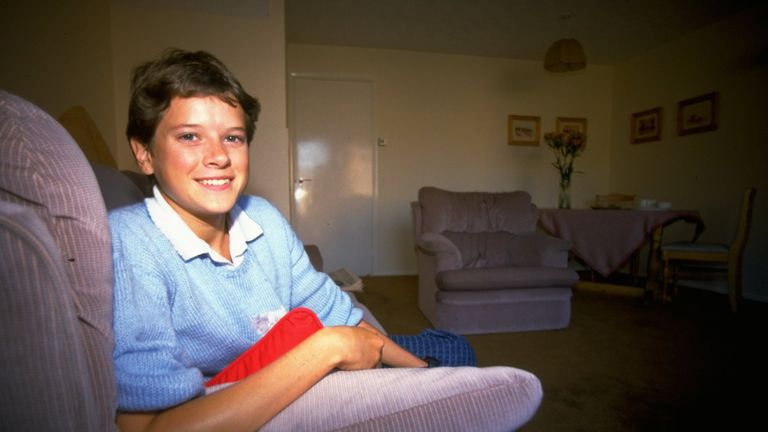 Budd was disqualified then reinstated, but the official verdict cut no ice with Decker, who refused her young admirer's attempt at reconciliation. "Don't bother," Budd was told when she approached Decker afterwards. The pair were well paid to renew their rivalry in 1985, Decker winning comfortably, while Budd set a legitimate world record for the 5000m the same year.
The International Olympic Committee banned Budd from the 1988 Olympics on the grounds she had attended an athletics meeting in South Africa, though she did compete with modest results in her home vest in 1992 after Mandela had been released from prison and sporting sanctions lifted.
Budd's psychological scars lasted longer than Decker's physical damage. In her autobiography she described her move to the UK as "about the worst thing that could have happened", and her relationship with father Frank disintegrated before his murder in 1989.
Decker competed well into her 30s, qualifying for the Atlanta Games in 1996, while for years Budd - now Zola Pieterse - kept her past as an international athlete hidden from her children. Speaking earlier this year about her decision to take part in The Fall, she said: "I knew making this film would be opening up the black box in my mind which I haven't opened since that day. I thought it was time."
The Fall is available to watch On Demand with Sky Go.