Salford coach Ian Watson tips Jackson Hastings for England
By PA Sport
Last Updated: 27/09/18 11:56pm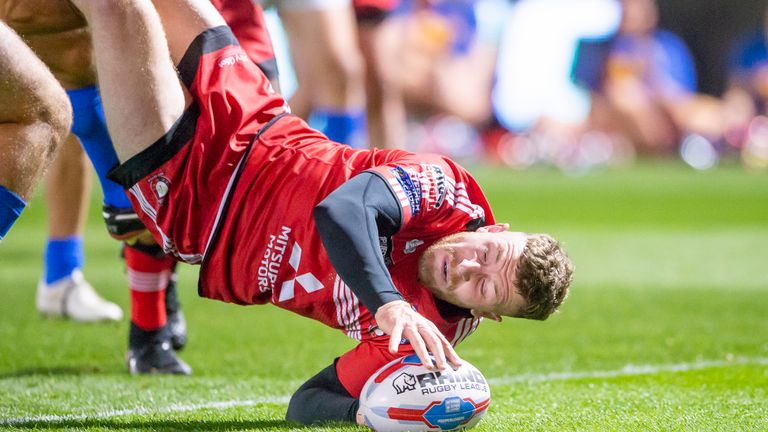 Salford coach Ian Watson says half-back Jackson Hastings should be picked for England after he helped the Red Devils secure their Super League status with a 44-10 win over Toulouse.
Watson's men had put themselves in jeopardy after suffering back-to-back defeats by Leeds and London Broncos while Hastings served a two-match ban for a high tackle.
But the 22-year-old Australian, who has an English grandmother, produced another accomplished performance to make it six wins from six matches for himself in a Salford shirt.
"He's an NRL player and as good a one as I've seen over here," Watson said. "I know he qualifies for England and I'd be knocking on Wayne Bennett's door and saying he's worth a shot.
"You can see the difference he makes to our team. He's brought a new dimension to our team. Niall [Evalds] looks like an England international playing behind him."
Salford's win, which spares them the prospect of fighting for their lives in the Million Pound Game, brought to an end Hastings' short-term stint with the Super League club but Watson is hoping the jubilant reception he received from the fans after the match will help persuade him to stay.
"I hope with us getting the win tonight, he will decide this is the place for him," continued the head coach.
"The spectators have taken to him and, with the amount of love at the end of the game, I would think it would be tough for him to go anywhere else."
Salford led only 14-10 early in the second half but cut loose against a tiring French side to run in five tries in the last 22 minutes.
"We used the pressure to lift us this week and we've got the job done. It's a relief we're not in the Million Pound Game and we need to start looking to next year now, we have to start planning now."
Toulouse claimed the Super League scalps of Widnes and Hull KR to take their promotion fight to the final round of the Qualifiers, but now need Halifax to beat London by 24 points to earn them a place in the Million Pound Game.
"It's not over for us but we are going to need a big score from Halifax in London which will be tough," said Toulouse coach Sylvain Houles.
Tries either side of half-time from Chris Centrone and Stan Robin kept Toulouse in contention before they faded badly.
"I don't think we ran out of energy, we panicked," Houles said. "We wanted to score tries and be in front. We pushed the pass a little bit too much and after that we had too much defending to do.
"We had some ball in good position but we needed to be more clinical, they defended us very well.
"Last year we missed the middle eights by one point and this year we made it. Being in the middle eights has been tremendous, pushing to the last game of the season.
"It has been a huge experience, we have learned so much, and we have to make sure we take the next step next time which is Super League."