Super League: Leeds Rhinos Challenge Cup win caps a great era
Jonathan Doidge says that Saturday's Tetley's Challenge Cup win confirmed this Leeds Rhinos team as one of the greats.
By Jonathan Doidge
Last Updated: 27/08/14 12:21pm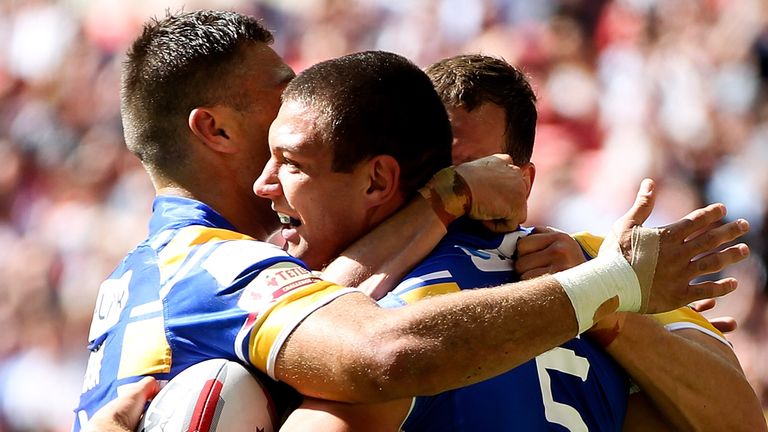 In years to come when they look back on the great teams in the history of rugby league they will talk of the Wigan dominance of the late eighties to the mid-nineties, the 1982 and 1986 Kangaroo tourists and others such as Huddersfield's 'Team of all talents' around 100 years ago.
They will also talk of Leeds Rhinos who, by virtue of Saturday's Tetley's Challenge Cup success, completed the full set of domestic and other honours that it is possible for a rugby league club to achieve.
There will be few, if any, still with us to recall how that Huddersfield team played but on the evidence of what was recorded both at the time and since, they would probably have dominated for longer had the First World War not put paid to that.
Machine
In international terms, those Aussie tourists of 1982 and 1986, nicknamed 'Invicibles' and 'Unbeatables' respectively, carried all before them. Names of players from both those teams such as Wally Lewis, Peter Sterling, Mal Meninga and Eric Grothe will live in the minds of those who watched them until their last breath, as they swept Great Britain and its clubs aside like irresistible machines.
The first of those touring teams was responsible for what was arguably the biggest watershed in the history of the sport to date. Or was that Super League, or perhaps the salary cap?
Only one of those great teams mentioned thus far (St Helens and Bradford fans would probably make strong cases for their own club's inclusion) has been present during the time of the cap. Leeds Rhinos.
No one should ever take anything away from that great Wigan era. Ellery Hanley, Andy Gregory, Shaun Edwards, Joe Lydon, Martin Offiah, Frano Botica, Steve Hampson, Jason Robinson, Denis Betts and Andy Farrell. The names of those great players trip off the tongue. Their brand of rugby league was a joy to watch.
They were the first club to go full-time, they won seven championships during that major period of dominance and set a record of eight successive Challenge Cup wins that surely will never be approached, let alone broken.
They went to Australia in 1994 and won the World Club Challenge on Brisbane Broncos' home ground, a phenomenal achievement and they did it will a wage bill that was reported to be in excess of £2million at the time.
That was 20 years ago. Two years later Super League was introduced in a blaze of glory and by the end of the last millennium the RFL had brought in the salary cap in order to prevent clubs from spending more than they could afford on players' wages.
At the same time it was a clear attempt to avoid another era of total dominance such as Wigan's and make the competition a more level playing field.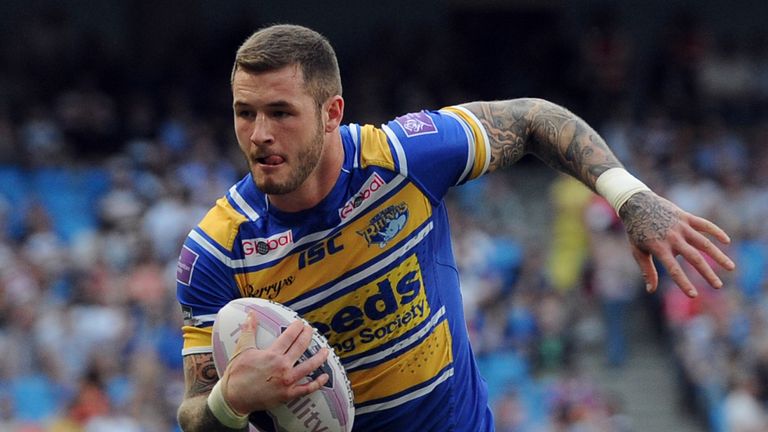 At a maximum of £1.825m under current rules, the Rhinos' wage bill is less than that of Wigan's fully two decades ago. Apart from that being staggering given inflation alone, it underlines the monumental achievement of the club.
While Bradford, Wigan (twice each), Hull FC, Halifax and St Helens have all been found guilty of breaches of salary cap since Wakefield first infringed in 2001, Leeds have enjoyed all of their successes without that cloud hanging over them.
A quick check of values with inflation suggests that Wigan's £2m wage bill from 1994 would be worth £3.56m in 2014. That figure is nigh-on double the amount that the Rhinos are currently allowed to pay out to their players.
Figurehead
Those players have been led throughout by Kevin Sinfield, a remarkable and exemplary figurehead. While in all great teams, some players leave and others join that add different ingredients to the mix, there is always a strong and dependable core. For Leeds it has been their captain together with half-back Danny McGuire, scrum-half-cum-hooker Rob Burrow and forwards Jamie Jones-Buchanan and pantomime villain Ryan Bailey.
That famous five have been present in all of their six Grand Final wins and now this latest Challenge Cup success, dating back to 2004.
Add to that the names of Jamie Peacock and Carl Ablett, who have both been involved in most of that period and you will have a clear picture of how this team has been so successful. Ryan Hall, Saturday's Lance Todd Trophy winner, has imposed himself on the team and inked his name into the annals in recent seasons, while such as Liam Sutcliffe, Kallum Watkins, Tom Briscoe and Zak Hardaker will carry the baton on to the next generation.
Chief executive Gary Hetherington, chairman Paul Caddick and coaches Tony Smith, Brian McLennan and now Brian McDermott also have to be given credit for the parts that they have played in this era, the first-named in particular for how he has helped to give back a club that he took on at its lowest ebb as strong a sense of identity and self-worth as it has ever had.
That before Saturday it had lost its previous six Challenge finals since winning in 1999 should not diminish its greatness. It has been good enough to reach those finals, though not good enough to win them on any of those given days.
Golden
Even so, it has earned three World Club Challenge wins and two League Leaders Shield wins during this golden spell, it has twice climbed the Super League summit from a fifth-placed finish and now the Challenge Cup has given it a full set that is richly deserved.
It is not inflated opinion to suggest that, in terms of success, the Rhinos era of the last decade compares with any in the history of the sport. That they have been limited on splashing the cash on any player that they might have been interested in, or buying up all the stars of the British game (or NRL) makes their achievement utterly remarkable. While they are not multi-millionaires, the players should accept every accolade that they are afforded.
Only one possibility remains before that famous five begin, one by one, to hang up their boots. The Challenge Cup and Super League double. No Leeds team has ever achieved it. I wonder…