Warrington held off Wigan to snatch thriller, says Stevo
Stevo praised Warrington's composure after their late surge sealed victory over Wigan on Monday night.
Last Updated: 25/06/13 11:03am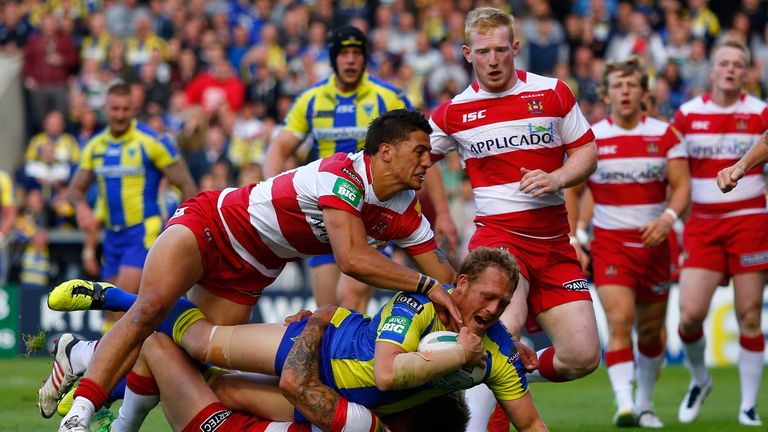 The hosts survived a second-half onslaught from the Super League leaders and sealed a 22-12 win with late scores from Micky Higham and Chris Hill.
The result ended the injury-hit Warrior's 13-match winning streak but left Stevo keenly anticipating a potential post-season encounter between the two sides.
"It's like I've had a 10-course meal, I'm absolutely satisfied with what I've seen," said the Sky Sports pundit.
"If this is the Grand Final then get your tickets now because that was out of the top draw. That was just wonderful to watch. There wasn't a bad player on the field and you don't often get that.
"It was a difficult choice to make the Man of the Match award [Higham] because there were so many great players; I thought [Wigan scrum half] Matty Smith was outstanding and all the young forwards gave everything."
The Wolves' patience in the end proved the difference, according to Stevo, who applauded the way the hosts' defence coped with Wigan's much-lauded attack in the second period.
"The one thing that really impressed me was the way Warrington kept their control," he said.
"They had very little opportunities and they scored two tries. Ok, it was late in the game, but they didn't panic. A lot of teams panic trying to offload and so on but they kept their cool. And that was the difference.
"Warrington made the Grand Final last year and the fact they can control the game, get their defence well organised and, even though Wigan took control in the second half Warrington did everything right in their defence and repelled them; it was superb."
Strength
Former Warrington centre Paul Cullen was also impressed with the performance of his former side but pointed out Wigan - who were missing eight senior players through injury - will be an even more threatening outfit when they are back to full strength.
"That was absolutely breath-taking and I was so impressed with Wigan, even in defeat," he said.
"I'm sure Blake Green, Sean O'Loughlin and Michael McIlorum will make a big difference when these two bang heads again and I'm sure the three or four prop forwards Wigan didn't have available to them will add something, too.
"But you've got to praise coach Shaun Wane and the likes of young prop forward Dominic Crosby, who I thought was huge tonight. He's taken on a brilliant side, being exceptionally well coached here at the Warrington Wolves."