WWE Raw: Kevin Owens attacks Chris Jericho at Festival of Friendship
Owens turns on Jericho after magician and Gillberg appear!
Last Updated: 15/02/17 8:20am
Chris Jericho and Kevin Owens' Festival of Friendship on WWE Raw featured expensive artwork, a magician and the return of Gillberg - and ended when Owens hurled Jericho into the Jeri-tron!
Owens savagely severed his long-time bro-mance with Jericho after becoming increasingly infuriated at the unique array of presents his friend had presented him with during a glitzy ceremony in Las Vegas.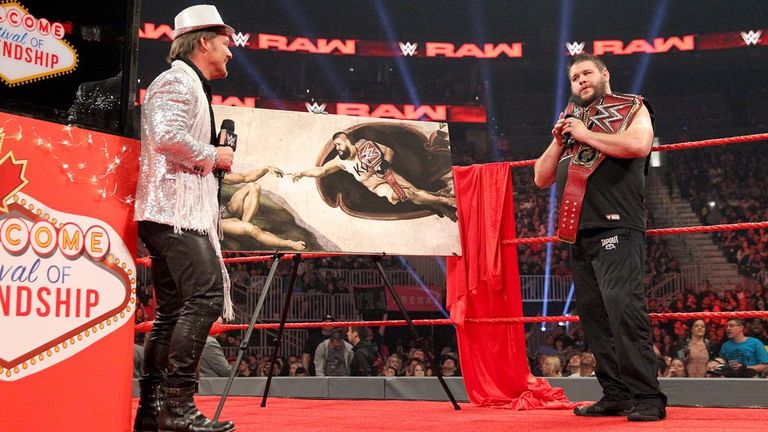 A $7,000 Ralph Guggenheim sculpture - Guggenheim, says Jericho, is the "premier Norwegian minimalist/maximalist artiste" - was bestowed upon Owens, with the piece showing how he and Jericho were "intertwined".
If that wasn't enough - and it seemed more than enough as far as Owens was concerned - Jericho also unveiled a painting in which he and his pal were touching fingertips while, er, in a state of undress.
Next up was the arrival of Friendship the Magician, who turned a clump of paper into a pink flower by setting it alight - but with Y2J and Owens unimpressed, Friendship soon made the List of Jericho!
The trouble for Jericho was that so did he…
Having been festooned with presents by the six-time world champion, Owens handed out one of his own to his fellow Raw Superstar - an updated List of Jericho to replace the fraying original.
As Jericho looked down, though, he noticed his name has been etched onto it and as he lifted up the clipboard, it became apparent this was no List of Jericho but the List of KO instead.
Owens then floored Jericho with a series of punches and kicks, powerbombed him onto the ring apron and rubberstamped the assault by chucking his now ex-pal into the LED screen.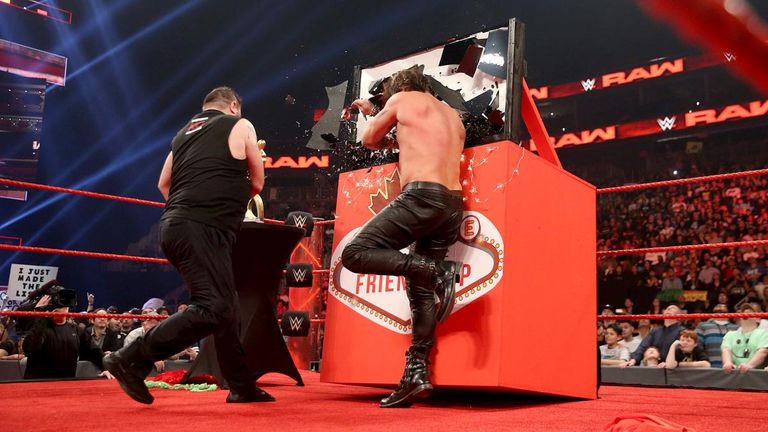 Jericho had earlier insisted that Owens' real gift would be taking out Goldberg ahead of Fastlane on March 5, with The Prizefighter due to defend his Universal Title against the legend at that event.
Y2J ushered Goldberg to the ring and his entrance music duly boomed out - but it was Gillberg, the man who impersonated Goldberg in WWE in the late 1990s and early 2000s, who emerged.
An angry Owens beat him up with ease - but he is unlikely to find Goldberg so accommodating when the two collide at Fastlane in Milwaukee, Wisconsin next month, live on Sky Sports Box Office.
Plus, he could now have a seething Jericho to contend with...