Finn Balor reflects on British 'homecoming' on recent WWE tour
The Demon King has spoken of the "surreal experience" he felt on last week's British tour.
By Jefferson Lake
Last Updated: 13/11/17 5:28pm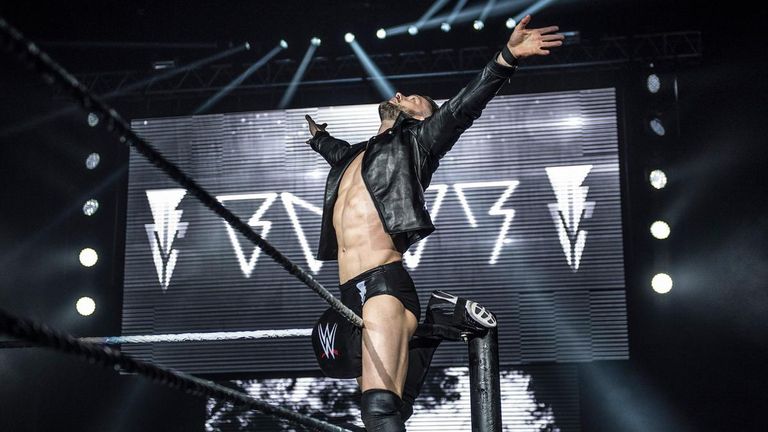 Finn Balor is back in the USA but his recent return to England on tour with WWE was yet another reminder to him of the huge success he has made of his career.
As the current roster completed a 10-date dual-brand visit last week, Balor's role as an unofficial guide of sorts to the members of the Raw roster ended.
For the majority of the crew, trips to Britain are as rare as they are exotic, with the British crowds - and weather - providing challenges and curiosities throughout.
Balor, of course, has seen it all before. He was wrestling in the United Kingdom an incredible 17 years ago and those early days on this side of the Irish Sea were so important to him he regards England as his adopted homeland to this day.
Thing are very different now; on Sunday night he will compete at Survivor Series in front of a vast crowd at the Toyota Center in Houston as part of the Raw team in a 10-man elimination match.
Such huge arenas must make the early days seem like a lifetime ago to Balor - who was simply Fergal Devitt in those simpler times - but the hugely-popular 36-year-old has never forgotten his roots, and feels a special emotion whenever he returns to England.
"I started my career in England and I spent six years travelling around the southern part of the country, so I think these tours mean more to me," he said.
"I was with Hammerlock Pro Wrestling and we'd be in civic halls in front of 200 people and to come back all these years later with the WWE is a very surreal experience.
"Just going down the roads and seeing the signs for Maidstone or Ashford is very cool. It sends a shiver down my spine.
"It really gives me a sense of accomplishment and what I'm doing with my career and it's almost like a homecoming; England became like a second home to me during those years.
"On this tour I saw a lot of the places that we would drive past when I was first starting out and I'd look at the venues the WWE would be at, while we'd be going to the civic hall or the local sports centre.
"Now to come back and be the guy that's going into that hall is a very cool full circle."
Balor's first gym - Clarky's in Sittingbourne - is not exactly a name which resonates with the power of Stu Hart's dungeon or the New Japan dojos but it is no less important to the Demon King.
The old place no longer even exists but its legacy lives on, and not just with Balor.
"I'm very fortunate that I was able to keep in touch with a lot of the guys I came up with at Hammerlock," he said.
"A lot of them are still wrestling - one of them is doing great stuff at the moment, Zack Sabre Jr. And Johnny Moss, who was one of the coaches when I first started, has just been taken on at the Performance Centre.
"At the time we were just a bunch of lads following our dreams and now we're adults, although it still has a very childlike feel.
"We look at each other and wonder how we sneaked in the back door."