Matt Hardy relives his glorious WrestleMania return
By Jefferson Lake, WWE Editor
Last Updated: 09/03/18 1:52pm
A year on from one of the greatest WrestleMania moments in modern times, Matt Hardy continues to feel the adrenaline of he and his brother's shock return to WWE.
When the first beat of the familiar drum intro of the Hardyz' theme music played over the public address system at WrestleMania 33 in Orlando, the reaction from the 75,000-strong crowd was enormous.
It was voted the greatest moment of 2017 in WWE by Sky Sports viewers, and the video clip of it was the most-watched piece of WWE content across all of the Sky Sports platforms last year.
Team Xtreme went on to win the Raw tag-team titles in Florida that night to cap a monumental return to the company for one of its most-loved duos.
"It was quite overwhelming and quite flattering, to be honest with you," Hardy told Sky Sports. "It was quite incredible because it had truly been kept a secret up to that point.
"We had literally just arrived at the building right before we were due to walk down the ramp to the ring, and the adrenaline of being snuck into the building and going up to gorilla (position) and then walking down that ramp was very, very special.
"To get that incredible ovation and see that sea of humanity, all of those people, was one of the top moments of my career."
One of the key factors in the success of the Hardyz' return was the element of surprise. There had been virtually no speculation they would be returning to WWE that night, and they had in fact wrestled at a Ring of Honor event - dropping the tag titles to the Young Bucks - in Lakeland just 24 hours earlier.
"Anything is difficult to keep a secret in this day and age, as far as professional wrestling goes," added Hardy. "Access to information is insane today.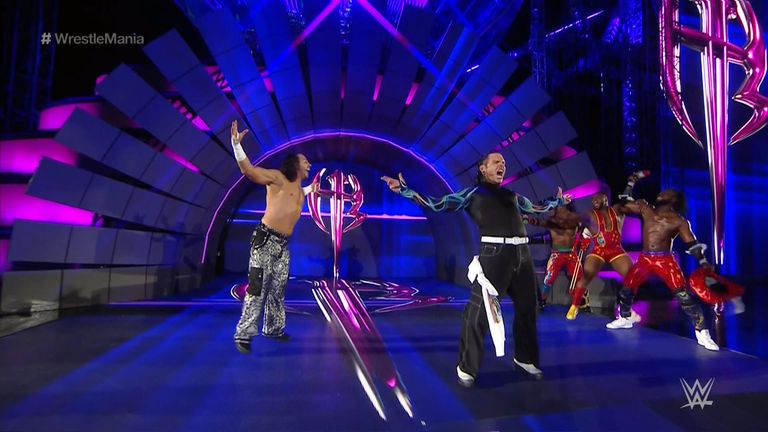 "You can't tell anyone anything if you want something to be kept a secret these days. There was only a very small circle of people who knew and we really worked hard to make it a special moment and a true surprise."
The crowd's reaction might not have been such a surprise, but what it lacked in shock, it more than made up for in volume.
There is no roof on the Camping World Stadium in Orlando but had there been, it might have come off at that point.
"It was extremely humbling and it certainly ranks up there as one of the loudest crowd reactions I've ever heard," he said. "But it was very special too because we knew we were then going to show the WWE fans all of the things we'd been doing while we had been away."
Those 'things' involved the creation of a bizarre new character, a complete reinvention of Hardy into "Broken Matt", an eccentric with a streak of blond dyed into his hair and an obsession with "deleting" opponents.
At this year's WrestleMania, the path is leading towards a collision with the similarly-strange Bray Wyatt. The pair are scheduled to have a 'Final Deletion' between now and then - possibly on this week's Raw - and the Hardy Compound was recently shown on screen for the first time.
There could, however, be a twist. Jeff Hardy is close to a return from surgery on a torn rotator cuff. The aforementioned Young Bucks continue to be linked with a move to WWE. And Wyatt himself is hardly the type to fade into the background, three weeks before the biggest event of the year.
When asked who he expected to see opposite him in the ring in New Orleans, Hardy hesitated before offering the ambiguous response: "I can't say. I don't want to spoil anything."
On April 8, we'll find out.