It's been a great couple of days for English football and we cannot under-estimate what Tottenham and Arsenal did - but there is a long, long way to go yet.
We should all be proud of what they did against top opposition this week but certainly Barcelona and, even AC Milan on their travels, have the players to hurt them and undo all the good work from the first legs.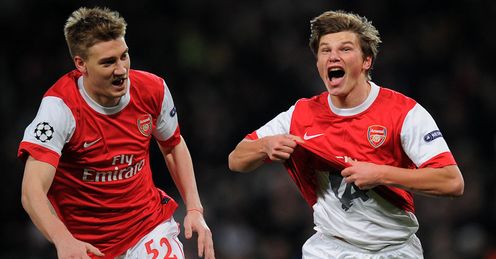 Like Arsene Wenger, I wouldn't make Arsenal favourites. Tottenham are slightly better off, but don't be fooled into thinking it's a case of job done and it will be a formality at White Hart Lane.
I did think they had a chance in the San Siro but I was never as confident as Graeme Souness who, I have to say, had no doubt Spurs would win - and got it spot-on. However, I'm not so sure the second leg will be as easy as people might think.
There is though, thanks to those two wins, a possibility, an outside chance, that all four English sides could be in the quarter-finals.
Jamie Redknapp
Quotes of the week
FC Copenhagen v Chelsea
Tue, 7pm, Sky Sports HD2
JAMIE'S RED HOT TIPS
Every week Sky Sports football pundit Jamie Redknapp highlights the key talking points and also provides in-depth video analysis and also gives his own tips in 'Redknapp Reckons'.

CLAIM YOUR FREE BET
Open a Sky Bet account today and we'll give you a completely free £5 bet.
Find out more
For a start, there will be a hell of a lot of pressure on them. How do they go about the second leg? Do they defend more? Do they sit back on what they've got and see what happens? Being ahead can do funny things to players in a second leg.
Milan are 5/2 with Sky Bet to qualify for the quarter-finals with Spurs 2/7. Bet now
Milan though, know what they have to do. And they should be a different prospect. They have nothing to lose, they will probably have to go with the three up front and if Zlatan Ibrahimovic actually decides to turn up this time, then they can cause Spurs more problems than they managed in the San Siro.
Barca backlash?
You would also expect the same from Barcelona in the second leg at the Camp Nou. I have to say I didn't think Arsenal would lose on Wednesday but you still have to congratulate them on winning that game.
Especially if, like me, you thought they were playing suicide football in the first half! I sat watching that and could not believe my eyes. Everybody had been talking about stopping Barcelona by sitting back and letting them pass that ball around in front of you - like Inter did last year - as being the best way to handle them.
Well I sat and watched Arsenal play off-side with a such a high line, it was ridiculous! Let's be honest, if Lionel Messi's goal had not been ruled out when it should have stood, they would have been 2-0 down and in dire, dire straits.
But in the second half, once they got Samir Nasri more involved, Arsenal showed how you can beat them. Barcelona do press and press very well, but they do it high up the pitch. If you try and play between their midfield and back four they suffocate you, simple as that.
What Arsenal did after the break was get players breaking between those lines. We saw it with that fabulous second goal; Jack Wilshere to Cesc Fabregas and then all of a sudden Nasri was beyond the midfield and attacking the back four. And for all their brilliance, I do think that is one area where Barcelona do have a weakness.
If they don't win that first ball and you are brave, they can be got at - and Gerard Pique will be missing in the second leg which makes them even more susceptible. And I do think they are a better side than 12 months ago.
Arsenal are 2/1 to qualify with Sky Bet, while Barcelona are 4/11. Bet now
But I also think Barcelona are still the favourites to go through. At least Arsenal have something to hold onto, unlike last year when they went to the Nou Camp with the tie at 2-2.
Four through?
There is though, thanks to those two wins, a possibility, an outside chance, that all four English sides could be in the quarter-finals.
Marseille will be no pushover for Manchester United, especially in the home leg, but you would have to fancy them to go through and while FC Copenhagen is a slippery one for Chelsea, I have a funny feeling about them and the Champions League this year.
This is probably their worst season they've had for a good few years and they are not playing that well in the Premier League, but I would not put it past them to go all the way and win the Champions League, which, let's face it, is the one Roman Abramovich wants - and the one they bought Fernando Torres to try and win.
You still can't say that all four teams will be in the quarter-finals but what we have seen this week has confirmed my view that if I could watch football week in, week out, in any country in Europe - and the world - it would be England. The Premier League has the most excitement and the most energy you will find and personally I would choose our football over anyone else's.
Maybe Barcelona against Real Madrid is an exception because that is pure theatre that goes beyond football, but where else in the world can the bottom team beat the top team - who had been unbeaten all season? The purists might say that La Liga is better to watch, but there is a place for Stoke and their long throws in our game and that's what makes it so special.
Sky Bet are offering 4/1 for the Champions League final to be an all English affair
What I would say right now is that I would be reluctant to call the Premier League the best, simply because we lack one thing. Or, in fact, two things. Right now all we are missing is the very best in the world - and when I say best, I do mean by an absolute country mile - in Lionel Messi and Cristiano Ronaldo.
And one of those has got to have a better night in the Camp Nou in three weeks' time...
Comments (22)
Pete Mander (Stoke City fan) says...
i think spurs deserved to win and will win the second leg and play milan off the park with good football, arsenal on the other hand tried to kick barca off the park song should have been sent off 5 times in the first half ( where was there perfect football). barca will not get intimidated at home and win 4-0
Posted 10:50 20th February 2011
Martin Changchun (Celtic fan) says...
Confidence running high as usual but at this moment in time 2 English clubs have a slender advantage, Chelsea have gone pear-shaped since Wilkins left (why? I don't know), and Man utd have blown hot and cold all season - so maybe there will be no English teams in the next stage. Hope I'm wrong as I'm a great fan of the EPL. Arsenal look good for the league though as their run-in features none of their big opponents - whereas Man Utd have many difficult games to face. As for Chelsea, when will people start believing that the wheels have come off - it's been months now - now they are out of the FA Cup - and still pundits are still thinking they will do something this year. Their biggest achievement will be 4th but even that is doubtful as Spurs and City are getting their acts together..
Posted 09:18 20th February 2011
Paul Baker (Arsenal fan) says...
Barcelona love to boss the game,and they did very much that in the first half. But come the turn around Arsenal started to boss the mighty barca ,and they dont look pretty when up against it. We all watch and admire the way they knock it around but watch how they slow it down when under attack with the of the ball incidents!! Arsenal to come out on top and to win at Wembley!!
Posted 21:28 19th February 2011
Adrian Page (Charlton Athletic fan) says...
I get the feeling that Barca and Real Madrid may end a bit like Rangers and Celtic, obvioulsy not as bad as they will always have plenty of money and so will attract top players but, the budgets of some of the smaller la liga teams are just ridiculous, Guillem said today that Levante habe a yearly wage bill of around £210,000 if that's accurate than that would surely mean that they average player in the squad is on 100-200 quid a week, which is around the same as most conference teams, they maybe the smallest club in the league but I don't think it's unreasonable to say that there are 10 teams in la liga living on league1 or lower budgets, so any of their better players could go to the championship or relegation strugglers in the premiership and double maybe treble there wages leaving league 1 or or lower standards of players. Playimg against these qualirt of players every other week is hoing to make Barca and Real struggle when the come up against real world class teams like Arsenal
Posted 14:51 19th February 2011
Luke Towler (Crawley Town fan) says...
I think jamie is 100% right! well played. I think Jack wilshere had a really good game against barca but i think xavi was the best midfielder, the way he started barca's attack every time and completed so many passes! Tottenham played well aswell the way they counter attacked milan to get their goal was really good, tottenham showed they can withstand a lot of pressure and still win a game. Looking forward to a very exciting manchester utd ' vs ' Crawley.. UP THE CRAWLEY
Posted 14:46 18th February 2011
James Fox (Tottenham Hotspur fan) says...
ha ha i'm sorry dean but you need to read more of what sky sports has to offer! I am not denying jack wilshire's promise, its hard to admitt as a spurs fan, that he is the future of english football, but to claim he was the best midfielder on the pitch is way off the mark. you may be not paying full attention to the uses of opta stats. You may think that jack was the best player on the pitch, but Graehme bailey on behalf of sky sports and the use of opta stats points out he only played 19 forward passes in 90 mins, compared to xavis 71, iniestas 53, and even sergio busquetes had 40 forward passes. The reason why everyone goes on about messi, is because he is the best player in the world, remember he scored 4 against arsenal last year?? even the most harden arsenal fan would disagree that if his goal wasn't wrongly disallowed and he had his shooting boots on then barca would have been out of sight. I am still a little confused as to why barca seemed to be content with just the one goal lead, but credit to arsenal they to advantage of barca taking off villa, and road their luck scoring a fortunate equaliser, and a sublime winner. but make no mistake arsenal over 90 minutes where not the better team, and wilshire for however well he did on his biggest test to date, is not yet in the same league as iniesta and xavi, but one day he will be.
Posted 14:28 18th February 2011
Ricky Langstaff (Leeds United fan) says...
Arsenal and Spurs did well this week however Barca will score another 4 past them like last year (different class) but Spurs will hold Milan to a draw and go through, and oh yeah we'll beat Norwich tom!!!
Posted 14:12 18th February 2011
The P (Arsenal fan) says...
It was a fantastic result for both teams. Talking about Arsenal-Barca, Barca did keep the ball very well but they were slow. Passing between Xavi and Iniesta for example, at some instances, were just back and forth with no real penetration. I agree Arsenal rode their luck at times, but this is the Champions League, you need some luck in order to go far. Last season Bayern scored 2 offside goals to go through. Barca, a couple of seasons ago needed the referee to go past Chelsea. My 2nd leg prediction: Barcelona 3 - 2 Arsenal...... and Arsenal go through!!
Posted 13:32 18th February 2011
Charles Odhis obote (Arsenal fan) says...
I think Jamie has to give credit to Arsenal. Some time back, someone said Real have never been beaten at home. Arsenal did beat them. A while ago, it was the same story between Arsenal and AC Milan, that Milan were invincible at San Siro, Arsenal thrashed them. All the Gunners need is swift counter attack from the wings for Walcott and Arshavin and we shall be home and dry. Barca seem to get tired if they do not finish you off in the first half. Go gunners!!!!
Posted 12:50 18th February 2011
Darryl Hockings (Tottenham Hotspur fan) says...
I think Barcelona are still favourites to go through, they have only to win 1-0 and it is theirs, despite the great result for the Gooners. I can see Bale, Van der Vaart, Modric, Lennon and Crouch in the same side causing a lot of problems for Milan, the worry is if Spurs can be solid at the back. I think Sandro has to stay in, Spurs need to be careful at the back early on, 1-1 agg. in the first 20 minutes and it will seem a very different prospect.
Posted 12:43 18th February 2011
V J (Arsenal fan) says...
Greetings Mr.Jamie I am not sure if Lionel Messi's goal should have stood or not.However something I observed is that in 2006 when Arsenal played Barcelona they got a red card which they didn't deserve and an offside goal allowed. This time it seems that Barcelona got a goal ruled for offside and a red card not given (Squillaci's tackle). So I think it is even now.Please correct me if I am wrong.
Posted 12:42 18th February 2011
Chirstopher Kumar (Barcelona fan) says...
Credit must go to Arsenal for their determination, as even without the ball, they did not look like they would lose. This game has to be counted as one of the greatest games Arsenal has played for at least the past five years. All said and done, let's be honest, Barca had an off day at Arsenal. They are way better then the game they played. I would say even if Arsenal can repeat their performance at the Camp Nou, Barca are going to be a lot better then what they played at Arsenal.
Posted 12:01 18th February 2011
Brendan Cosgrave (Aston Villa fan) says...
The reason Mr,Souness said to your Dad that Spurs would win 1-0 was the fact he didn't want to be ' In the chair ' for the bilil at the Italian Restaurant had the night before. Yer gotta watch these Jocks ! Crafty! Great article by the way
Posted 11:19 18th February 2011
Robert Kelly (Blackburn Rovers fan) says...
to Dean Tinsley (Arsenal Fan) who said "yes xavi made 100 odd passes but how many of them were tiny little passes and how many went back" Actually out of Xavi's 114 completed passes, 71 of them went forward! Compare that to Jack wilshere who everyone seems to be raving about who completed 43 passes only 19 of which went forward! Please don't start comparing jack wilsher to xavi!in time he may become great but don't get carried away!
Posted 10:50 18th February 2011
Chibuzor Arihilam (Arsenal fan) says...
Jamie, I have also found you very refreshing honest and bang on on your analysis. I have a hunch you will get it bang on again. Cheers mate.
Posted 23:53 17th February 2011
Dean Tinsley (Arsenal fan) says...
why is everyone going on about barcelona...watch the first 20 minutes and arsenal were the better team and wasn't till barce scored their goal that they kept the ball for that time!! yes xavi made 100 odd passes but how many of them were tiny little passes and how many went back-yes its good to keep ball and their movement is outstanding but arsenal were as good with ball and @ times were better! jack wilshere was astonishing and kosceilny...and djourou for that matter- kos has come from 2nd tier of french league and djourou was out for a year and them 2 av been outstanding of late but never given enough credit!! last night summed the british media up for me....itv analysed messi's performnace but nothing said about a certain english 19 year who was best midfielder on that pitch!!! messi this barcelona that!! so annoying!
Posted 21:37 17th February 2011
Darren Hunter (Liverpool fan) says...
Absolutely fantastic results for both english clubs, everyone seems to be doubting arsenal can progress but why can't they, a 2-1 lead to take to the nou camp of course Barcelona will come at them but arsenal are well capable of doing Barca especially with them having to open up and get an equaliser. as for totenham for me it has to be an even better result than arsenals, 1 nil in the san siro and the way Milan have been playing in the league it was a cracking result. i honestly see both clubs progresing and with barca then out it's wide open but i bet there a few left in not quite fancing a draw against spurs in the next round.
Posted 21:37 17th February 2011
Geoffrey Hallster (Arsenal fan) says...
Well put Jamie- Arsenal will pull through in a draw I reckon. It's all we need, and Tottenham can hold their own as long as they keep the defense tight on the crosses. Ibrahamovic can be stopped, we see it now!
Posted 21:22 17th February 2011
Jonathan Parsons (Tottenham Hotspur fan) says...
Jamie,I've got to say..and I may be being slightly biased being a huge Spurs fan but I love reading your columns & watching you on Sky Sports.Like your old man you just talk so much sense & I'm backing you to become the new Andy Gray on Sky Sports if you dont decide to follow in the footsteps of Harry in management as I also beleive you'd be a superb manager.Great result for Spurs on tuesday,we've never known it so good,happy days.COYS.
Posted 21:01 17th February 2011
Mutale Musonda (Arsenal fan) says...
Well done to Gunners but lets not get carried as story would have been different if Messi's goal was not wrongly ruled offside and if Messi had not wasted his 1 on 1 chance against Gunner's keeper. Promises to be a cracking match in Camp Nou and can not wait for 8 March.
Posted 19:12 17th February 2011