The Premier League is back as part of Sky Sports' biggest season ever!
That means the return of Super Sunday and every week on skysports.com, in association with Sky Bet, Jamie Redknapp will be giving his take on the big games and burning issues.
But before a ball has been kicked, the former Liverpool and Tottenham midfielder runs the rule over all 20 top-flight clubs.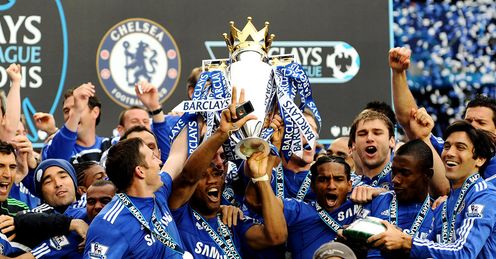 Here he assesses their strengths, weakness, their key players and tells what you can expect this season.
Click on the link to go straight to YOUR club...
Arsenal | Aston Villa | Birmingham| Blackburn | Blackpool | Bolton | Chelsea | Everton | Fulham | Liverpool | Man City | Man Utd | Newcastle | Stoke | Sunderland | Tottenham |
West Brom | West Ham | Wigan | Wolves
THE DEAL: I think they've got a real chance this year - and I've not really felt that in the past couple of seasons. I think Cesc Fabregas staying is such a huge lift for everyone around the Emirates and while some players do stay on too long at a club, this lad is so bright, that won't be the case. I can really see him having the same impact Cristiano Ronaldo had in his last season at Manchester United. Of course, there are the usual questions about the defence and it will be interesting to see what Laurent Koscielny is all about, but I really do think they should be put in the same bracket as United and Chelsea this season. I like the signing of Marouane Chamakh up front and if they can get one last year out of Fabregas, they will always have a chance simply because of the amount of opportunities they make.
ACE IN THE PACK: Robin van Persie - It seems a long time since he's started the season fresh and fit and if you think they were only 11 points shy of winning the title without a striker last year, he could make all the difference.
IN THE BLACK: Keeping Cesc Fabregas is obvious, but they had to. Yes we all know he wants to go to Barcelona and probably will, but if they can get one final season out of him at his best, he might just leave with a medal.
RED ALERT: I don't think Manual Almunia and Lucas Fabianksi are that bad, but if they had a top, top goalkeeper it might gel that back four better. Teams don't win the title with an 'alright' keeper.
THE VERDICT: For the first time in a while I think Arsenal are in with a real shout of the title, not least because Chelsea and Man United have not gone out and spent big, but also because they have to deliver.
THE DEAL: Losing Martin O'Neill so close to the start of the season has to have an impact. He has yet to confirm his reasons but even reading the reports this week, I have to say I was surprised. If it was over James Milner, I don't see the problem, especially if they get Stephen Ireland as part of the deal. But O'Neill has gone and Randy Lerner and his people have to get a new guy in fast; the only problem is pretty much everyone is in a job. It might hit the dressing room hard but it might also give one or two who were out of favour under O'Neill a lift so it is not always bad news across the board. The timing is what worries me; it leaves the new manager no time to get his ideas across and Villa need a good start, just to calm the place down a bit.
ACE IN THE PACK: Gabriel Agbonlahor - He is their main goal threat and the one that carries that abundance of pace down the middle. Always a great out-ball and if he can get among the goals early, that will help.
IN THE BLACK: I like Villa defensively. If they can keep hold of Brad Friedel, then he, Richard Dunne, James Collins, Curtis Davies, Stephen Warnock, Carlos Cueller and Luke Young are as good a defensive choice as any around.
RED ALERT: It has to be O'Neill's departure because it has put them on the back foot before a ball has been kicked. Even if they do get a replacement in for the kick-off what time will he have had to work with the players?
THE VERDICT: The top six was the best Villa could've hoped for before this, now I am not so sure. They really needed to kick on, not spend the start of the season bedding a new manager in.
Sky Bet's Aston Villa specials
THE DEAL: They were one of the success stories of last year, so it is going to be hard to match that, or go better, this time around. But they do have the experience of that season under their belts and for players like Cameron Jerome that can make a big difference. Their home form was exceptional last year and will be key to how they get on this year because it gives them that little extra bit of freedom when they're playing away. St Andrews has never been an easy place to go and play - even back in my day - because the fans are right on you and you know you're in for a tough time of it. Alex McLeish will have to manage expectations as much as anything this year which will be tough. He could've done with not losing Kevin Phillips.
ACE IN THE PACK: Nikola Zigic - I think he might have a big year, if you'll pardon the pun. At 6ft 8in he will be such a handful and will give Birmingham another option.
IN THE BLACK: They have so many experienced old heads to call on; Lee Bowyer, Stephen Carr, Barry Ferguson, James McFadden... they all know what it's about and will keep the younger players on an even keel.
RED ALERT: Expectation will be the watchword at St Andrews, simply because of what they achieved last season. Fans will expect better straight away, but that is not always possible.
THE VERDICT: Birmingham will expect to move onto the next level, but what is that for a club like them? Survival first, then top 10 and maybe a decent cup run? I'm sure they'd take that.
THE DEAL: You have to admire the Sam Allardyce and the job he has done since going there. They might not play the most expansive game, but Sam makes no bones about it; they play to their strengths. They get the ball forward quickly, are a big strong side and with Christopher Samba and Ryan Nelsen at the back, they know how to defend and do it properly. There are also one or two young players like Steven N'Zonzi and Phil Jones coming through to go with the experienced performers and while they won't change their gameplan they do have players who can do something different, like Morten Gamst Pedersen and David Dunn. It is never an easy place to go either.
ACE IN THE PACK: Nikola Kalinic - I thought he started to look the part towards the end of last season and I think we could see a big year from him.
IN THE BLACK: Sheer strength and organisation will always be the backbone for an Allardyce side and Blackburn will bring just that to the table again. Hard to play against, hard to break down, they are just hard opposition all round.
RED ALERT: I do worry about the strength in depth, particularly up front. Yes they have a handful of young players, but if I look beyond that first team, I don't see much to worry other teams.
THE VERDICT: Getting 40 points as quickly as possible is the aim and I think they will do that comfortably. A top 10 finish would be a major success - and might be in their reach.
THE DEAL: I hope they have a good season, I really do - but it's going to be very, very tough for them. They and their supporters are going to have to get used to losing far more games than they win and it is how they deal with that that will be the difference between staying up and going straight back down. I think everyone wants Ian Holloway to do well and he will be crucial in keeping spirits up; if his players see his head drop, they could be in trouble. We will get a lot of soundbites and gems from Ollie this year but this guy is not a clown. He will love being the underdog and upsetting the bigger clubs and from time to time he might.
ACE IN THE PACK: Charlie Adam - He is the one man who makes them tick. He has a great left foot, gets goals and if they can keep him fit, they might have half a chance.
IN THE BLACK: Ian Holloway will have to hold the club together. The players look to him, the fans look to him and he will be the one that reflects the mood of the club, even when it's not going their way.
RED ALERT: Have they got enough experience for the Premier League? It is such a tough place to learn, to find your feet and any mistakes will be punished straight away
THE VERDICT: I fear for Blackpool I really do. It's always tough coming up and the manager seems frustrated already. It is going to be a long, long season I'm afraid.
THE DEAL: This is an interesting season at Bolton because Owen Coyle has had a pre-season to get his ideas across. We know he likes to play football and pass the ball, but he would be foolish to abandon the tried-and-trusted formula of being direct, hitting Kevin Davies early and getting those knockdowns. Coyle knows they have to live within their means and he will do just that, on and off the pitch, and I think Bolton fans can expect decent things this year. Davies is still their main man, Matt Taylor will chip in and I was impressed with Chung-Yong Lee last season, even if he didn't have the best World Cup. And in Martin Petrov, on a free, I think they might just have pulled off the signing of the summer; it's hard to think of a better left foot in the Premier League, he can get goals and he will provide a steady supply for Davies.
ACE IN THE PACK: Martin Petrov - Like I say he could be the signing of the summer. Ok, his wages might be high but to get him for nothing is great business. All they have to do now is keep him fit.
IN THE BLACK: Bolton can mix it up now. They know how to go direct but I expect Coyle to get them playing football and having that variation means so much when you're scrapping away every week.
RED ALERT: I am not so sure they are as solid at the back as we are used to and they have to keep hold of Gary Cahill. Lose him in the window and I wonder...
THE VERDICT: I think any progression will do and I think they are capable of mid-table and a good Carling Cup run or something like that. I'm sure Owen Coyle would take that.
THE DEAL: For some reason I don't see Chelsea being as strong as they were last season - but I can't quite put my finger on what it is. I don't think we've seen a team finish a Premier League season as strongly as they did and there is no way I can see them continuing in that form. That said, anyone who finishes above them will more than likely be champions and I did pick them as my champions a couple of weeks back, so have to stick with that. They have let some of the older players go, which was right, but it remains to be seen whether Ramires and the other new faces will fill those gaps. I guess having Michael Essien fit again will make a big, big difference, but then they look like losing Ricardo Carvalho to Real Madrid. They'll be battling for the title either way.
ACE IN THE PACK: Didier Drogba - He says he's fit for the first time in six years, which can't be good news for Premier League defenders! He's an absolute beast when he's on form and so important to that dressing room as well.
IN THE BLACK: Drogba, Nicolas Anelka, Frank Lampard, Florent Malouda, Ashley Cole, John Terry... need I go on? These are top players who know what it takes to win the Premier League and have that winning mentality etched into them.
RED ALERT: With Carvalho going, I do worry about that defence. They are not blessed with pace down the middle and all they need is Petr Cech's injury problems to continue and they could be in trouble back there.
THE VERDICT: Anyone who gets more points than Chelsea will be champions. They won it last year and will be the benchmark again.
THE DEAL: If you want a lesson in the art of management than look no further than David Moyes. Year after year he gets the best out of the players he's got and makes good players even better, improves them. On top of that he is so tactically astute and sets his side up so well that they are always hard to beat. He knows they can't afford to spend extortionate fees on players, so works within those limitations - Jermaine Beckford didn't cost anything in terms of transfer fees, but is a gamble that might pay off. They should have Phil Jagielka fit and signing Mikel Arteta on a new deal and keeping Steven Pienaar and possibly Yakubu, shows Everton are as well-run and organised as ever.
ACE IN THE PACK: Tim Cahill - we say it year after year, yet he still keeps producing. He's like a magnet for the ball and his spring is incredible. You know what you are going to get from him - goals.
IN THE BLACK: Everton will be Everton and a David Moyes side; that means solid, hard to beat and hard to play against. That goes a long way in the Premier League.
RED ALERT: They need to avoid those horrible injuries that have plagued them for the past couple of seasons. If they can keep Louis Saha in particular fit, then they should be in for a very good season.
THE VERDICT: They have nothing to fear from the so-called big six and if there is one side that is capable of shaking things up in the race for the Champions League, it's Everton.
THE DEAL: This is a tricky one. Not only because Mark Hughes has just come in and as yet, hasn't made any signings of his own, but also because of what constitutes success for Fulham. For a start Roy Hodgson is a very tough act to follow but given the budget and their crowds, what more can Hughes really do? I guess a top-half finish would be a starting point but before that they need to make sure that the likes of Brede Hangeland and Mark Schwarzer are still at Craven Cottage once the transfer window has closed. If Andy Johnson can get back playing again they will be much better going forward, but even without him, you'd expect Hughes to follow Hodgson's lead and get them playing football and working hard for one another.
ACE IN THE PACK: Bobby Zamora - getting into the England squad will have given him a great lift and he has now become a top centre-forward. I like the fact that they can hit him long as well because that does help ease the pressure.
IN THE BLACK: Fulham will always be Fulham. They won't get carried away with last season's European exploits and they will set out with the same target as always, which is to reach 40 points.
RED ALERT: They need to keep hold of Mark Schwarzer because he won them plenty of points last season. If he goes, you fear for that defensive stability, which allows the likes of Danny Murphy, Damien Duff and the rest to go and play.
THE VERDICT: A new manager always brings new expectations, but top-half should be the starting point. Anything else would be a bonus - which isn't to say they aren't capable of it.
THE DEAL: Roy Hodgson is the right man to take this club forward and this season is all about stability - on and off the pitch. Forget talk of the title, the first priority needs to be the top four because Liverpool need to re-establish themselves in the Champions League. But that is going to be harder than ever this year, so Roy needs to hit the ground running and get it right from the very start. I do think at times Rafa Benitez hid behind the boardroom problems but I can't see Roy doing that, although the quicker it all gets sorted the better. Signing Joe Cole was a masterstroke, to which I can't see a downside. He is talented, keen to prove a point and still hungry - just what Liverpool need. Steven Gerrard is staying, Jamie Carragher has got at least another year left and that spine of the side is good. All they have to do now is keep you-know-who fit...
ACE IN THE PACK: Fernando Torres - they have to have him fit if they are going to get amongst the top four. He will get you 15 goals in 20 games but what Liverpool need from him this year is 20 goals in 38 games. That could be the difference.
IN THE BLACK: Having a calming influence in the dugout in Hodgson and that spine of the side in Pepe Reina, Carragher, Gerrard, Cole and Torres is what they need to have a drama-free season.
RED ALERT: I think there's a lack of quality in-depth. Yes the first XI is a match for most, but a couple of injuries to key players and then you wonder if the back-up is good enough. They hardly put the fear of God into sides.
THE VERDICT: Forget the title, Liverpool must just aim for that top four. But with Manchester City and Spurs now in the mix, possibly Everton, it will be a huge feather in Hodgson's cap if he can get it.
THE DEAL: Amazing! Look at the signings City have made and it is just incredible again. That said, they are not necessarily real head-turners that jump out of the page, despite the money they might have paid. I think the one all eyes will be on is Yaya Toure; not just because of the wages he is on, but because I think they are hoping he will be the catalyst, the one that knits it all together, a bit like when Claude Makelele was at Chelsea. I think he's a decent player but with all those central midfielders in there, I do wonder how Roberto Mancini is going to handle it. That goes for City in general because there are so many big names, so many egos to keep happy - and that's without the new squad rules. And are some of those big names really going to be happy playing the odd Europa League game? You have to wonder...
ACE IN THE PACK: Carlos Tevez - City are top-heavy with defensive midfielders and you would think Roberto Mancini will go about things the Italian way, so they will need players who can provide a bit of magic. Tevez brings a touch of stardust.
IN THE BLACK: Options. Ok, it might be a bad thing, but City have got at least two class players in every position - at least sat here now. Injuries and suspensions shouldn't be an issue.
RED ALERT: Gareth Barry, Patrick Vieira, Nigel de Jong, Yaya Toure - that's four defensive midfielders off the top of my head. How are they all going to play enough to keep them happy? The same goes for his goalkeepers. And his strikers. I'm glad I'm not Roberto Mancini!
THE VERDICT: The top four has to be the minimum for City because the Champions League means they can actually start attracting the very top players on the basis of their football, not their pay cheques.
Sky Bet's Manchester City specials
THE DEAL: If anyone was worried about Manchester United, I think the Community Shield might have put those fears to bed! I know a lot has been made of the older players and there is no way Paul Scholes will play like that for 38 games all season, but I do think Sir Alex Ferguson is got a very exciting blend to work with. Scholes, Ryan Giggs, Gary Neville and Edwin van der Sar are getting on, but they have Javier Hernandez, Nani, Johnny Evans, Fabio Da Silva and Rafael Da Silva at the start of their careers and the likes of Antonio Valencia and Wayne Rooney aren't exactly past it, are they? Just training with those older statesman will rub off on the youngsters in terms of just what it means to play for the club. It might be a season of transition at Old Trafford in some respects, but it will be a smooth and swift one, I'm sure. Of course United are going to be challenging Chelsea and the rest and you just know Sir Alex wants that Premier League trophy back!
ACE IN THE PACK: Nani - I think this year might be his year. He is no longer in Cristiano Ronaldo's shadow, he seemed to mature towards the back end of last season and his final product has improved. He could well be the man.
IN THE BLACK: That blend of experience and wisdom and what it means to be a Manchester United player rubbing off on the youngsters at the club is priceless, it really is.
RED ALERT: I still think United need a real driving force in midfield. I like Michael Carrick, but he's not quite that man, the one to grab them by scruff of the neck and push his team on when the going gets tough.
THE VERDICT: It might be a time of change at United to an extent but I still expect them to be right up there - and it will take a very, very good side to beat them.
Sky Bet's Manchester United specials
THE DEAL: This is going to be a tough season on Tyneside. Yes, they will all be delighted to be back in the Premier League and I am sure most of us are happy to have them back, but I am sure Chris Hughton and his players are under no illusion. The fact that Mike Ashley hasn't exactly given him too many gifts since going up suggests it is going to be a tough, tough season for them - and they will do really well to stay up. I have to say I am looking forward to going up there to work as well, because when St James' Park is full and rocking there are few places like it in English football. Those fans are a huge asset but by the same token, if things start going wrong they can get edgy and that really gives away teams a lift. I suspect though, given what they've been through in the past couple of years, they will realise they are not going to win every week and they will have to be realistic.
ACE IN THE PACK: Andy Carroll - He is the one I am looking forward to watching. He's big, strong, faster than people think and great in the air. He's been given the famous number nine shirt, which shows how much they think of him.
IN THE BLACK: That crowd can be worth a goal start, providing Newcastle make a decent start to games - and the season itself - and it will be great to go there again.
RED ALERT: They have decent players in Steven Taylor, Kevin Nolan, Alan Smith and Sol Campbell (who has always been big, by the way) but given the lack of funds this summer, do they have enough in the squad? That's the big question for me.
THE VERDICT: I think they are going to be in for an uncomfortable season, but I think they will stay up. And after the recent problems, that should be enough reason for the Toon Army to celebrate.
THE DEAL: I played with Tony Pulis back at Bournemouth and it's no surprise to see him doing a really good job. He was always going to be a manager and although the long throws and set-pieces get all the headlines, this is a guy who has always paid great attention to detail and will always have his side prepared properly. You know they are going to rough teams up a bit and play direct football; there's no point in me trying to dress it up - and no point Tony pretending otherwise. But, with Matthew Etherington, Ricardo Fuller and Tuncay, you can see he is trying to make them more of a footballing side too. I'm not sure Stoke need to change too much though because the way the play has worked for two seasons in the Premier League, so why not a third?
ACE IN THE PACK: Ricardo Fuller - If they can keep him fit and happy he can play the physical stuff but also produce that something extra. If they can get more out of him, they can improve on last year.
IN THE BLACK: The Britannia was the noisiest stadium in England last season and you can expect the same again. The whole stadium gets behind the team and no-one likes going up there to play, because they know it will be tough.
RED ALERT: For me, they do lack firepower. It's no surprise to see Tony signing Kenwyne Jones because he seems to have fallen out with James Beattie, while Dave Kitson hasn't really worked out. They do need to get more goals and Jones is big and strong and can finish.
THE VERDICT: They have finished comfortably in mid-table for the last two years and I think that might be the case again - although they do need to improve their scoring record.
THE DEAL: I think Sunderland are ready to kick on this season. Steve Bruce looks like he's got everything in place and I am sure he has to be aiming for the top 10 again. I actually think Titus Bramble is a decent addition; he's 100 per cent improved from his Newcastle days and there's no better manager to improve his defending and his concentration. That Sunderland defence will be the backbone again and they will be hoping John Mensah continues where he left off in the World Cup. But they need Lee Cattermole to stay fit because they lost him last season and they went on a rotten run, it just fell apart. He is the one that keeps them ticking, while Darren Bent gets the goals.
ACE IN THE PACK: Darren Bent - He's a banker to get another 15 or 16 goals for them this season - he can't help it, it's what he does and what he does well.
IN THE BLACK: Defensively they look very sound, they have a decent keeper in Craig Gordon (although he's injured) and some experienced players back there. They are never going to score bundles so they need to keep it tight again - and can.
RED ALERT: They need goals from elsewhere, just a couple of players to chip in a bit more. Bent will do it again, but if he gets injured, have they got enough players capable of scoring at this level on a regular basis.
THE VERDICT: A top 10 finish will probably be the least they are expecting and I think Steve has everything in place to achieve that.
THE DEAL: Well, I know my dad's excited this year, but he's also a little nervous about what lies ahead. I think expectation might be the biggest problem at Spurs this year, because the fans there always demand so much. But they have got good reason: they have a great manager (not just because he's my dad), they have a great squad and a mix of youth and pace and experience and know-how. They also have players that are getting better, like Gareth Bale, like Aaron Lennon, like Tom Huddlestone and some that have improved since arriving, like Luka Modric. But it is going to be even harder to get into that top four this season because Manchester City have spent again, Liverpool are a little more stable and Arsenal, Chelsea and Manchester United are not really any weaker. They do have a big squad but last year they didn't have European football to contend with - that will bring a whole different set of questions and answers.
ACE IN THE PACK: Gareth Bale - I think this lad is frightening. He has pace, energy to burn, a great cross and his awareness is superb. I really do think he could become the best left-sided player in the world, which is praise indeed.
IN THE BLACK: They have so many options all over the park, but it is hard to think of an attacking quartet that is better, or more varied, than Jermain Defoe, Robbie Keane, Roman Pavlyuchenko and Peter Crouch.
RED ALERT: Last season they did so well because they kept Ledley King fit; but they had less games to contend with. Who knows how many games they can get out of him this season? You worry for them at the back without him.
THE VERDICT: I think the biggest thing for Spurs is to get into that Champions League proper and set a tempo. That will help ease the pressure in the league, but the last thing they want is to crash out of Europe early on. That would be a disaster.
THE DEAL: West Brom have a reputation for playing good football and being a yo-yo club but the former might have to change if the latter is going to. There is nothing wrong with passing the ball of course but West Brom sides in the past have lacked that cutting edge; they will need to find more end product if they are going to survive this time. That means Roman Bednar finding the back of the net and finding it fast because looking through the rest of the squad, it is hard to see guys who can get goals at this level. That said, in Roberto di Matteo they have a manager that knows all about the Premier League and what it takes to survive. They will play the game the right way, but I think he knows the first port of call is to tighten up at the back because where they might have got away with it in the Championship, they will get punished for any lapses in the Premier League.
ACE IN THE PACK: Chris Brunt - Always a player I've liked. He's got a sweet left foot, can pick a pass and delivers a decent set-piece which, at this level, can prove the difference when games are tight.
IN THE BLACK: Much like Ian Holloway at Blackpool, Di Matteo will be vital to his club as a whole. He knows they won't have as many good Saturday nights as last year, but he should keep everyone calm and together, even when they can't buy a win.
RED ALERT: If Bednar doesn't get goals - and his Premier League record is not the best - do they have the firepower? I am not convinced they have what it takes to grind out 1-0 wins and stay up, so goals are going to be crucial.
THE VERDICT: If they can stay out of that bottom three it will be a massive achievement, especially as they've hardly made a splash in the transfer window. They will be alright at home, which might just see them safe.
THE DEAL: What West Ham really want is a peaceful season, without drama. Will they get it? I'm not sure about part of that! For a start, Avram Grant is a decent man and a good football manager who loves the game. But he has a tough job on his hands, just because of what has gone on there the past couple of years. He has made an encouraging start though; it looks like they are going to keep hold of Scott Parker and I like the signing of Frederic Piquionne. He showed in patches what he can do for Portsmouth and I think Grant has realised they couldn't rely on Carlton Cole and the odd loan signing here and there again. He is a firm 4-5-1 man, so whether we see Piquionne and Cole together remains to be seen, but it shows he will address the problems he inherited. But it's another case of back to square one for West Ham, which seems to be the same story every year. And as ever, he will have to produce the football they are used to seeing.
ACE IN THE PACK: Scott Parker - Everyone at West Ham will be counting down the days to the window closing, because keeping hold of Parker will not only make them a better side, but show the fans they mean business.
IN THE BLACK: One man rarely makes a difference but I like the fact they now have a second striker with Premier League experience and goals to count on. It's a blend that should improve them.
RED ALERT: At times their defending was laughable last year and I do think they paid the price for letting James Collins go. They have the players, but if they don't get it right at the back from the word go, life won't get any easier at Upton Park.
THE VERDICT: I love West Ham, it was my club as a boy and I loved going back there as a player and now with Sky Sports, but I do think they are in for another long, hard season. I don't think they'll go down, but they will have some tough times to contend with.
THE DEAL: Another side who are in for a difficult season, I think. I do like Roberto Martinez as a manager though; I think he has got something about him that might just see them alright. The biggest thing for me was keeping hold of Hugo Rodellaga, because he really started to look the part towards the end of last season. It looks like Charles N'Zogbia is on his way, so it might fall to the likes of Jordi Gomez and Victor Moses to step up and show that they are good enough at this level. But that said, something about Wigan tells me they are better than a lot of the sides you'd expect to be down there at the wrong end of things. I think now Martinez has a full season there, I am expecting a little bit more - and maybe a touch of that Spanish influence. I like the pace they have in the side, too.
ACE IN THE PACK: Hugo Rodallega - The goalscoring responsibility lies entirely on his shoulders, which is tough for the lad. But I like his attitude, he will worry defenders and he is capable of something special now and then.
IN THE BLACK: They have a lot of players, who aren't major names yet, but known they can make a name for themselves in the Premier League - just like Wilson Palacios did. That means hunger - and any manager would love that from his players.
RED ALERT: I think inconsistency, like so many sides, will be their biggest problem. That and the fact that they are always going to find it hard to attract big-name players.
THE VERDICT: I have sneaky feeling Wigan will surprise a few this season. They have players from South and Central America who will be keen to impress and no-one really knows what to expect.
THE DEAL: It's hard to believe but right now Wolves are the second-highest spenders in the Premier League. That shows you Mick McCarthy and the club's owner are more than aware of the dreaded second-season syndrome and are planning to kick on this year. I like Steven Fletcher as a signing I really do. He and Kevin Doyle will give them bundles of movement, won't stop running and will get goals, which is where they struggled last season. I also thought young David Jones really came on towards the end of last season and if they can keep hold of him, they might have a decent player on their hands. I just hope that Mick enjoys it more this season because every time I saw him last year he had a face like thunder. Still, if they can stay up as comfortably as they did I am sure he will be smiling soon enough. And I guess it's one way of making sure the supporters don't get carried away!
ACE IN THE PACK: Kevin Doyle - I think it was massive keeping holding of him, given that Arsenal were linked with him. He gets goals, works hard and might just have the perfect foil in Fletcher.
IN THE BLACK: You know if Mick McCarthy has signed a player he is going to be a grafter. There will be times when Wolves don't have it all their own way but they will never stop working, making life difficult for the opposition.
RED ALERT: I think they half expect to get bashed up away from home now and then, but they need to sort their home form out. Only Portsmouth lost more than them at home last season, so if they can turn Molineux into a bit of a fortress, that will be a major plus.
THE VERDICT: I would be amazed if they ended up in a relegation battle, but it's such a tight league, you never know. I just think with that work ethic and added firepower, they should be able to improve on last year
Comments (93)
James Harles (Arsenal fan) says...
1- Chelsea 2- Man Utd 3- Arsenal 4- Liverpool 5- Tottenham 6- Man City 7- Everton 8- Aston Villa 9- Fulham 10- Blackburn 11- Sunderland 12- Birmingham 13- Bolton 14- Stoke 15- West Ham 16- Newcastle 17- Wolves 18- Wigan 19- Blackpool 20- WBA
Posted 22:53 15th August 2010
Darren Coventry (Arsenal fan) says...
I believe that the title will be between chelsea and Man Utd again this year,with the focus on who will finish 3rd and 4th.Although i''m a strong Arsenal supporter you have to question our strength in depth of how we approach teams.Of late teams know how to play us so perhaps we need to become a bit more ruthless in our approach and kill teams off quickly.I do feel its between Arsenal,Liverpool,Tottenham,Man City and maybe Villa for the 3rd and 4th.Good luck Blackpool this season
Posted 21:06 15th August 2010
James Goldsmith (Liverpool fan) says...
i tink everybody is underestimating spurs... they have a better chance of winning the league than arsenal , villa and unfortunately liverpool. liverpool will struggle to get into top four.. dead right jamie it is a year to steady the ship..next season will be liverpool season ..
Posted 20:17 15th August 2010
Bharani Bharadwaj (Arsenal fan) says...
i don''t agree with jamie about arsenal in one case he might say we have a chance of winning this year just because cesc is going to stay but what if he had an injury prone season again?will we not win the title?i don''t think so.sameer nasri has got all what it takes to replace cesc.infact titles are never won by one man or two men teams if arsenal have to win this season they must first get rid of getting frightened on important ocassions they might say it is inexperience but losing 5 years in a row is an experience enough to call arsenal young gunners experienced i just hope the title doesn''t fall to chelsea or united again the time has come for the gunners......
Posted 13:31 15th August 2010
Ken Woodison (Fulham fan) says...
I am a avid Fulham fan and as much as i would like to say we will improve on are fantastic 2 seasons under Roy i dont think Mark Hughes is the right man for Fulham unless he can snag Bellamy as he is a name who excites me. I think him and Bobby Z would link well with Bellamys pace and Bobbys abiliaty to holdup the ball. Hope Mark dosent leave between the sticks hes the best keeper Fulham have had since Edwin. I also think we should cut are losses with AJ although i rate him hes in the same fold as Michael Owen, Will get goals if Fit but Andy always seems to be injured. I think Hughes should try and bring in some faces from city who wont make there 25 man squad like Roque Santa Cruz, Craig Bellamy, Stephen Ireland and Shay Given if Schwarzer leaves. Would like to see a new RB at the Cottage Paintsils good but there are much better RB out there like Luke Young of Villa. Heres How i believe the Premiership Table will finish 1.Manchester United 2.Chelsea 3.Arsenal 4.Manchester City 5.Liverpool 6.Tottenham Hotspurs 7.Everton 8.Aston Villa 9.Fulham 10.Sunderland 11.Stoke City 12.Birmingham City 13.West Ham United 14.Newcastle United 15.Blackburn 16.Bolton Wanderers 17.Blackpool 18.West Brom Albion 19.Wigan Athletic 20.Wolverhampton Wanderers League Cup:Arsenal F.A. Cup: Fulham :D:D Champions League: Manchester United Europa League: Manchester City Come On you WHITES!!!!!!!!!!!
Posted 01:42 15th August 2010
Matthew Follis (Everton fan) says...
1. Arsenal 2. Chelsea 3. Man U 4. Everton 5. Man city 6. Liverpool 7. Tottenham 8. Aston Villa
Posted 21:37 14th August 2010
Darren Hook (Newcastle United fan) says...
In Regards to your views on Newcastle, i think they are very fair. however, i''ve seen Jamie and Andy Gray flag up how little money has been spent. this team were promoted as champions with 102 points and i understand that it''s virtually the same team which was relegated but you cannot underestimate how important it was for some of them players. in the season we were relegated, Collocini, Jonas and Jose Enrique were still settling into life in England, and Andy Carrol had not yet burst on to the scene. Now, the four players above are reeping the rewards of having a good season under their belts you can''t underestimate how much good that has done for them. i really think Newcastle will finish between 13-9. also, although we haven''t spent money, we have three great signings.
Posted 21:03 14th August 2010
Ben Ledson (Liverpool fan) says...
I agree with quite a lot of Jamie''s predictions yet I think there could be quite a few surprises this season. I think Chelsea are strong enough to claim the title again with Man.Utd coming close. Arsenal and Man.CIty will join them in the top four but I think City will not be in the title race this season even with their many signings. Liverpool will improve thanks to Roy Hodgson but will just miss out along with Spurs. The relegation battle will involve quite a few teams this season and the three going down will be Wigan(18th), Blackpool(19th) and West Brom(20th). I think once again it will be a really exciting season.
Posted 20:57 14th August 2010
Joash Naidoo (Liverpool fan) says...
The simple fact of the matter is that Liverpool have improved their squad and manager. This being said, however, a challenge for the title may be a little too far this season. But I have a sneaky feeling that if they manage to win their first two games(Arsenal at home and Man. City away) they may very well prove my earlier statement incorrect. As for the winner of the title, well this season is going to be the most closely contested one ever. Truth being told, Man. Utd. do not have the sort of squad that has the ability to run away with the title and neither do Chelsea or Arsenal. As for big spenders Man. City, they are looking a lot like the original La Galaticos: a great number of superstars under an average manager who will struggle to rotate them and get them to gel as a unit. I do not expect them to finish in the top 4 this season. As a prediction of how this season will end well this is what I think: 1. Chelsea 2. Liverpool 3.Man. Utd. 4. Arsenal 5.Man. City 6. Everton 7.Tottenham
Posted 20:35 14th August 2010
Steve Smith (Sunderland fan) says...
Very good and unbiased comments, personally i feel sunderland are going to have a good season with the likes of Riveros, Ali Muhammod, Welbeck and mensah in our squad, we should be fighting for around 6-10 place, i also got a feeling its going to be a very good year for frazier campbell he was brillant towards the end of last seaon and had a very good pre season and with Danny Welbeck there and the possiblilty of Bellamy or Gyan coming in we should have no problems firing in some goals this season without having the compeletly rely on Darrent Bent, But i believe its going to be a quite a hard seaon for Newcastle, Blackpool and West Brom (No of which have spent or bought it any real class) I do believe newcastle will stay up but i think its going to be a battle for the bottom place between blackpool and westbrom.
Posted 17:50 14th August 2010
Paul Wright (West Bromwich Albion fan) says...
I think this season is very difficult to call you''ve got six genuine contenders for the title, Man U, Man City, Chelsea, Liverpool, Arsenal & tottenham... in what order is anyones guess... I think the likes of villa and everton are the only other clubs that i would bet on being safe from relegation... but for everyone else relegation is a possibilty. Jamies comments are all correct... albion will need at least one quality composed striker... defensively we are as strong as i''ve ever seen them to be, midfield we also have some quality players... we also have 2 quality keepers... but need to strengthen our striking options, bednar, miller and cox are decent but we could do with offloading luke moore and use his wages to fund a real quality strkier
Posted 14:59 14th August 2010
Martyn Crimmins (Manchester United fan) says...
Not sure about Chelsea this year, can anyone say that letting Joe Cole go to Liverpool on a free and paying £6m for Benayoun was good bussiness?, and how about not replacing Ballack or Deco. Ramires is a good player and can beat his man and inject pace in to attack, but i feel they lack creative flair and may struggle for goals, especially when having to break teams down. Arsenal need natural leaders and born winners in their spine to tople Utd and Chelsea. Liverpool will get 4th but are 4 players short of title, Man City have to develop as a team and it will not happen overnight, does Mancini know his formation and best team?. Utd looked strong in Community Shield and our bench told the difference between us and Chelsea, we had Berbatov, Giggs, Nani, Fletcher starting on the bench with Rio, Wes Brown, Anderson, Hargreaves, Rafael and Obertan injured. Compared to Chelsea we are the superior squad and what happens if Lampard gets injured, suddenly midfield is paper thin.
Posted 14:04 14th August 2010
Martyn A (West Ham United fan) says...
I think your comments are quite evenly balanced and 2 things surprised me, they were your appreciation for West Ham & your honesty regarding your dads club. As an ardent hammers fan i am, for the first time in years happy with the way things are progressing and looking forward to the season''s kick off. I am under no illusions that we will be aiming for mid table mediocricy, but people have to realise that after last season this will be considered an achievement & something to build on in following seasons, which i believe we will do, even though i realise Gold & Sullivan are hated, especially in the midlands, they have so far, put their money on the table and seem committed to stabilising my beloved clubs future, somethin which has been neglected for many a year. My predictions are; 1. Man utd, 2.Chelsea, 3rd Arsenal & 4th Liverpool, Relegated Blackpool, West Brom & Wigan.
Posted 10:36 14th August 2010
Martyn A (West Ham United fan) says...
I think your comments are quite evenly balanced and 2 things surprised me, they were your appreciation for West Ham & your honesty regarding your dads club. As an ardent hammers fan i am, for the first time in years happy to with the way things are progressing and looking forward to the seaeson''s kick off. I am under no illusions that we will be aiming for mid table mediocricy, but people have to realise that after last season this will be considered an achievement & something to build on next season, which i believe we will do, even though i realise Gold & Sullivan are hated, especially in the midlands, they have, so far, put their money on the table and seem committed to stabilising my beloved clubs future, somethin which has been neglected for many a year. My predictions are; 1. Man utd, 2.Chelsea, 3rd Arsenal & 4th Liverpool, Relegated Blackpool, West Brom & Wigan.
Posted 10:33 14th August 2010
Brian Summers (Manchester United fan) says...
I do believe we seriously lack that driving force in midfield only when i think about keano for what he did for us (especially in the build up of the treble in 99'') and scholes during his prime scores some vital goal and become our 2nd or 3rd top scorer but do we really need an attacking midfield? i like the idea, but united will always play the same football, with width. what we always need is a quality and consistent winger. it doesn'' mean we have to nurture or buy another ronaldo, if we have wide man that has other qualities like crossing and consistently shows that quality, we''ll never lack sparks in midfield. valencia is good with his crossing, and fairly consistent that means united finally get the best out of rooney, who benefits in the supplies made by valencia, nani and giggs too. most of the time, it''s 4-4-2. when attacks, it''s almost 4-2-4 because two of our midfielder will hold back and dictates the play. nani only performs well during the second half of last season. driving force in midfield? i believe having an attacking midfielder might be good, but we''ll have to play with the modern 4-2-3-1 formation which means there could be no place for the likes of owen, berbatov, and young hernandez. i predict a tough season for us, i see liverpool and man city can do better than last season, if they can maintain consistent form. chelsea will be weaker than everyone expect, unless they recruit one utility defender and a good cover goalkeeper for the cech. arsenal too, need one defender, hopefully a centreback. it will be top 5, chelsea, united, arsenal, liverpool, man city, and below them are spurs, everton, villa. i like to spurs continues to do well, but their effort has been disappointing in the market-they need to add more quality and experience. villa are slightly weaker but everton are slightly in better shape this season.
Posted 05:16 14th August 2010
Nay Bull (Liverpool fan) says...
Ha, excellent comments from some people on here! Banter is what really helps football! Anyway - Chelsea are looking just as strong as last season. They are gonna be tough and consistent throughout the whole season (maybe just dipping the goal count when Drogba is unavailable). They''ll be fighting for the title no doubt. Man U are begining to suffer, but I dont think badly enough to sink from the race. They''ll continue to mash out 1-0 boring wins throughout the season and be close to chelsea. Arsenal... Sorry guys but something about a large proportion of your fans and their niave, arrogant nature pulling you into blind hope of silverware still alludes you. Arsenal are a solid side, but lack the ''beautiful play'' that over half your supporters blabber on about. Arsenal have had their peak, and the team isn''t stong or mature enough to keep up with the consistenty of Chelsea or United. Have fun battling with... Liverpool. Ha, we''re in for a potential treat this season. Its make or break for us to be honest. If hodgison is a flop then the club is dropping down the table from a well cemented ''big four'' position. Or we could pull out the suprise season and be somewhat in the running. Although I dont believe we have any chance of winning... its gonna be either good times or bad times for us over this season. What better way to start the season off with game against the Gunners at the Kop. Excellent. Can''t wait! Man C aren''t even on my radar this season to be honest. I expect headlining problems at the club, pressure on the gaffa and players if they slop for a game and in general need to develop an effective team. They''re not quite Real Madrid, and they''re in a tougher league. Tottenham are gonna stuggle I reckon. CL will be short lived. Hope amung the fans that''ll be destroyed when the realised last season was a great strech. Good thing spurs have level-headed fans! AV wont perform either.
Posted 03:38 14th August 2010
Jordan Cronin (Newcastle United fan) says...
i think it will be a hard season for newcastle, im afraid i dont think we''ll stay up but if we do it will be JUST. Hughton done a great job at newcastle last season but a dont see him giving newcastle premiership status come the end of the season, if mike ashley had of give hughton money to spend i would of been sitting here now saying we''ll stay up but mr ashley is running the club as a business and wants nothing but money and doesnt care what happens with newcastle. I hope im wrong about my comments and hopefully ill be celebrating premiership status come end of the season.
Posted 01:51 14th August 2010
Jamie Fox (Arsenal fan) says...
I''m sorry, but did Ian Lovelady''s prediction put Arsenal 6th? And Liverpool 3rd? ... No I''m sorry, that''s not what will happen in reference to his reckoning on what "will" happen. I don''t think Man City will get a top 4 spot because, they can buy all the players they want, but they can''t buy a "team", they''ll have to work an extreme amount. Liverpool I believe will make too many mistakes, to finish top 4. As for Arsenal, who ever knows with them, the signing of Koscielny could help now that 3 of our defenders have gone. I believe that the Community Shield showed that Chelsea can be made to look an "ordinary" team at times, and I believe Man U have the edge.
Posted 01:32 14th August 2010
Sandra Howson (Blackpool fan) says...
Well Jamie all I can say just lets wait and see, I believe that I will be commenting again this time next year with the biggest grin on my face when Blackpool FC are still in the Premier League.
Posted 00:45 14th August 2010
Charles Crook (Newcastle United fan) says...
That is a fair assessment on our hopes and expectations for the upcoming season. We are not going to instantly bounce into the top 3 like we did in 1994 and we know that. The simple aspiration is remaining in this league - 17th at the least, anything above is a bonus. As for the rest, Blackpool are definetley in trouble and a number of teams (I must concede, potentially including is if we dont be careful) while Chelsea, Man U, Arsenal and Man City or Liverpool for top 4 - I reckon it''ll go down to the wire for 4th like it did last season. Maybe the same will be said of the title race... either way this should be a good season.
Posted 23:11 13th August 2010