Pakistan's victory over England at the Oval was one of the great team performances of recent years.
Ridiculed - and rightly so - for their batting and catching after the opening two Tests of the series, it was a significant achievement for this group of largely inexperienced players to turn things around so quickly.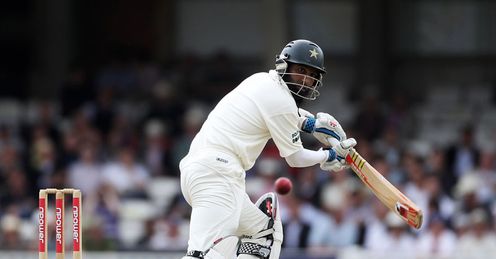 Perhaps it was not as surprising, though, as some have made out. The truth is that Pakistan have created problems for England throughout this series and had they taken their catches at Trent Bridge and Edgbaston the home side would have found things far more difficult.
I've been fascinated by this series, it's been a good one to watch and with the final Test coming up at Lord's, Australia and the Ashes can wait as far as I'm concerned.
Collapses are like viruses that spread quickly. If you have the feeling that if one wicket goes then a cluster might, you are always batting with a certain nervous tension.
Michael Atherton
Quotes of the week
LIVE ON SKY SPORTS
England v Pakistan
Fourth Test
10.30am, Thu, Sky Sports HD1
Watch online with
Sky Player
How to
remote record
The pitch is going to be one of the most under-prepared at Lord's in recent years; Mick Hunt the groundsman said earlier this week that it hasn't seen the sun for 12 days so expect the toss to play a significant part.
Touch
It's been clear from the start that bowling is not the issue for Pakistan and England will no doubt have taken note that they bowled Australia out for 253 in their first innings at Lord's earlier this summer.
The attack possesses plenty of variation and to that end I'm not certain it matters a great deal if Umar Gul is fit or not to play this week, although Pakistan would clearly welcome his experience in the side.
One or two of England's batsmen clearly struggled against the left-arm angle created by Gul's replacement at Edgbaston, Wahab Riaz, who proved himself a pretty decent back-up bowler to Mohammad Amir and Mohammad Asif.
But I still fear for Pakistan's batting line-up, even though Mohammad Yousuf's return has stiffened that middle order, because it is hard to see England getting rolled over twice at Lord's as they did second time round at the Oval.
Let's not forget that despite England's dramatic collapse, Pakistan only just scraped to victory in the third Test. They were really twitchy in that post-lunch session on the fourth day and struggled past the 148-mark.
It wasn't surprising to see Yousuf scratching around early on in his comeback for Pakistan - he looked like a batsman playing from memory and understandably so given his previous Test outing was in January.
But when he got to 20 or 30 things started to flow and he looked as though he had remembered the mechanics of his game.
He still has got a lovely touch - that hasn't gone missing at all. Some of the late dabs and late cuts through backward of point were played with such finesse that it was a surprise when he became Graeme Swann's 100th Test victim.
Yousuf will feel all-the-better for his time spent in the middle and England will again have a job dismissing him at Lord's although not for the first time Jimmy Anderson removed him with a very full swinging delivery and that could be the way to go.
Tension
England will be particularly disappointed with the manner of their batting collapse last week as the pitch was good and the ball wasn't moving around a great deal.
It will be a concern for Andy Flower because we've now seen his side stutter twice at Trent Bridge, once at Edgbaston and they slumped twice at the Oval.
Batsmen build up a sense of confidence over time and collapses are like viruses that spread quickly. If you have the feeling that if one wicket goes then a cluster might, you are always batting with a certain nervous tension.
That installs a note of caution in the side whereas this England team are at their best when the likes of Kevin Pietersen and Eoin Morgan are trying to play fluently and aggressively. You never want either of them in particular to feel like they can't get out in case there is a collapse.
While it was encouraging to see Alastair Cook find some form at the Oval, it worries me that he had to be taken right to the wire to produce his best; you shouldn't have to be on the edge of being dropped before you perform.
That said, it was good to see the way he played; his footwork was much improved and in the second innings he got a stride into the ball in a way that he just hadn't been able to before. It spoke volumes for his character and toughness.
Matt Prior, though, is in many ways England's in-form player for me; he'd probably get in the top six on merit at the moment because he's as likely to get as many as anybody else.
It's a reflection on how well he is doing and a reflection on some of the others as well too. His driving is excellent, he's hitting through midwicket and mid-on more often, and he looks to have plenty of runs in him.
Given Pakistan's recent recovery, England might just need them.
Comments (5)
Mirza Baig says...
Pakistan team is one of the Best team in the World..Yes, ''''Brazil'''' of the cricket world ....
Posted 10:40 1st September 2010
David Buttle says...
Mike, its a great day for England Cricket to see the back of the show pony, Mr KP. After Trotts knock, Carberry left in the wings,.. a Number 9 , well done Stuart Broad score a maiden century and we still have KP in the team, its great to see the "Andys" make a positive decision and get rid of him. We need a full on England Team to whip that Tassie Australian Captain into early retirement. With the determination of Truman , DB Close,Sir Len Hutton, Statham,Boycott, Willis,Sir IT Botham, Gower, Gatting. Hussian, Atherton, and the current England team minus KP, PLUS M.A.Carberry.
Posted 15:33 31st August 2010
Rohail Rafi says...
its true that England are stronger as a team than Pakistan, especially with Younis Khan out of the team but they won the third test match on merit, they were simply better than England in all departments and if this is the team they are taking to Australia, they are in for a long winter and a 5-0 scoreline in favour to Australia is possible, though unlikely.
Posted 12:40 28th August 2010
Kevin Stephenson says...
Flair doesn''t create consistency and I expect (and we will see) a 3-1 victory for this series too England. A minor ''blip'' doesn''t make a bad side and pound for pound England are stronger than Pakistan. As for the comment that Pakistan are the ''Brazil'' of world cricket....have you ever actually been number 1 in the world at Test level? If their supporters are happy to win 1 in 4 then so be it but believe me when I say that England have a sound tradition based on an achievement over time. If I had to merge the two sides I would probably only select two Pakistani players...Aamer and Yousuf. I''d raher stick with what we have. Cheers Kevin S
Posted 08:58 26th August 2010
Ishtiaq Khan says...
Throughout their colourful history, Pakistan have lost a high percentage of matches which they should have easily won. Some say down to match fixing, others may say down to atrocious fielding and low fitness levels. Whatever the case may be when the pheonix rises from the flames Pakistan miraculously become the ''Brazilians'' of world cricket. It doesn''t seem to matter who is in the team, as long as there are a few good men to carry them through, it might as well be 5 against 11. If you look at both Pakistan and England then as far a experience and pedigree is concerned, England should be winning atleast 4-0. England have to sort their batting combinations out if they are to succeed in Australia who apparently are there for the taking. Also, they need to find a way to swing the ball in Australia, which is possible as bowlers such as Ian Flemming, Akram and Waqar have demonstrated, then they have more of a chance. Australia, who don''t have the greats in their team anymore, have also shown a weakness to swing bowling as Pakistan have recently shown. On a final point, it is unbelievable to see how Broad is being attacked for his ''spoil brat'' behaviour. Do we not want to see any type of characters in Test cricket? He is a highly talented player and that aggression is part of his weaponary. Just look at the Australians, at that level it all counts in contributing towards winning.
Posted 12:46 25th August 2010