Australia's upcoming series in India should be cracking in more ways than one.
The two big powerhouses in one-day cricket have produced some wonderful cricket in recent years full of incident, drama and controversy and I'm sure we can expect more of the same over the next seven matches.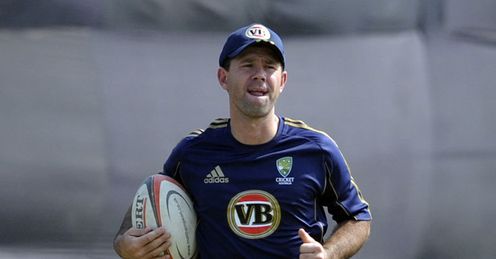 There are some fantastic match-ups to look forward to. Take Harbhajan Singh against Ricky Ponting, for example. Harbhajan loves playing against Australia and always has done since he first started playing international cricket.
He'll relish the chance to target what is a fairly inexperienced Australian middle-order - a weakness Ponting knows has to be addressed if India's spin threat is to be nullified.
Pressure
Ponting has to take the lead because he is by far and away Australia's best player and this time he doesn't have back-up from Michael Clarke, who has delayed his departure to India because of a back problem.
LIVE ON SKY SPORTS
India v Australia, First ODI
2.55am, Sun, Sky Sports 3
Australia will certainly miss Clarke's poise at the crease (remember the 130 he scored in Bangalore in 2007) and the variety his slow left-arm offers.
His absence increases the pressure on the spinner Nathan Hauritz, who now has 32 ODI caps to his name. I've spoken at length about Hauritz to Graham Thorpe, who was out coaching New South Wales, and he says this bloke is no mug.
I'm not sure, though, that Ponting trusts him 100 percent. In fact, Ponting doesn't strike me as a captain who overly trusts spin which is obviously a problem when you tour India.
Should Australia go in with Hauritz and left-armer Jon Holland, who is completely un-tried?
I agree with Stuart MacGill on this one; the Victorian has only made six one-day appearances in his career so far so it's a big call to throw him in and Australia will want to have runs on the board to ease his passage.
Questions
Aside from Ponting, where are those runs going to come from? Callum Ferguson's knee injury is a big blow for Australia.
On the plus side, Shaun Marsh is back in contention but that raises the question of who goes in at the top of the order. Do they stick with Tim Paine, who has done pretty well so far, or does Marsh go straight back in now he is over his hamstring problem?
There are also question marks over India's batting order and it will be fascinating to see the top-four that each side puts forward come the toss on Sunday.
Virender Sehwag's return gives India's top-order an explosive dimension it lacked in the Champions Trophy but should he open with Gautam Gambhir or Sachin Tendulkar?
Competition for places is fierce and Rahul Dravid misses out this time around - even though he was India's top-scorer in South Africa - but Yuvraj Singh's return is massive.
We'll wait to see if he is fit enough to play in all the games but if he does it's a massive tick for India in the spin department - both in terms of playing it and sending down some healthy overs.
Insight
If India have the edge when it comes to spin, on paper Australia hold the upper hand when it comes to seam - so long as they can deliver in Indian conditions against a daunting batting line-up.
Brett Lee has been sensational since his comeback from injury in England and is absolutely devastating if the ball reverse swings, while Mitchell Johnson is a handful too.
Peter Siddle has an interesting tour ahead of him, particularly if he can cash in on his time with Victoria in the Champions League, which should have given him a clear insight into what is required in this series.
Zaheer Khan's absence will hamper India but they still possess an attack that is very adept in home conditions and it will be interesting to see how Sudeep Thyagi goes.
So who will come out on top? Well, Australia have the big momentum going into this series. They thumped England before winning the Champions Trophy and are playing some outstanding one-day cricket.
But going to India is a completely different challenge and India at home are a formidable force.
For their part, India were knocked out early on in the World Twenty20 and the Champions Trophy so it's not as though they will take any real confidence or form into the series.
So Mahendra Singh Dhoni has a big job on his hands. His side has got to hit Australia hard early because if they were to go 2-0 down, they'll find it's a long way back.
Comments (3)
Rizwan Hussain says...
I think India will have their hands full against this on form world number one ranked ODI team, even with the return of Yuvraj Singh. Their batting will not be able to deal with the likes of Brett Lee and Mitchell Johnson, if it does, Ponting and his solid batting lineup even without Clarke will have no problems setting targets of 300 or chasing them down. I want to see a 7-0 thrashing and them down in the ranks cause judging from their CT 09 they certainly are not World Number 2.
Posted 21:42 25th October 2009
Andy Kay says...
Is he playing? I don't know. If Cameron White is playing, he would be my dark horse to follow.
Posted 22:55 23rd October 2009
Bruce Lee says...
india is sooo overated. when was the last time they won a meaningfull match. they were poor in the icc 20/20 and also the icc champion trophy. they are not the big powerhouse team that they are often reffered as, they are powerless team. only coz of the big money they generate they are considered powerhouses.
Posted 21:23 23rd October 2009