Love them or loathe them, as the old saying goes, there's no game without referees.
I always attempt to talk about the players and the game, as I don't feel qualified to speak with any authority on the match officials, and yet they seem to receive more air-time in sport than the game itself.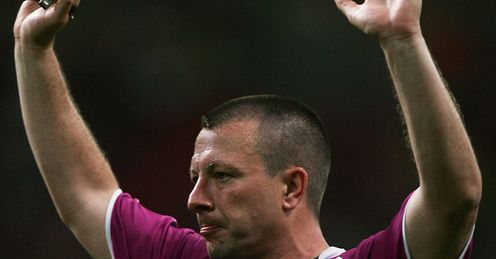 "Ger 'em onside" is an almost constant appeal by some supporters when their team is in possession. It's not just in Rugby League either. The post-match analysis of a Sky Sports football match often includes the opinion of a recently retired referee and his verdict on the major decisions made in the match.
Professionalism
In my opinion, the referees in Super League put as much effort into their profession as the players. Physically they attempt to maximise their potential and have taken advantage of the benefits of sports science more than most teams.
I'd back Ian Smith to win a 60 metre race over 50% of the players in Super League, even though he's almost old enough to be their dad!
Phil Clarke
Quotes of the week
Their training is specific to the demands of their job and I'd back Ian Smith to win a 60 metre race over 50% of the players in Super League, even though he's almost old enough to be their dad!
Penalty counts
The simplistic argument about a 'good referee' is one that you don't notice, but I can't agree with that. Some people claim that a very low penalty count means that the man in the middle has had a good game, but has he? Was he watching the right thing at the right moment? Did he keep a count of the number of tackles in a set?
Just for the record, an average Super League game has 14 penalties in it over the course of the 80 minutes. If we take two referees as an example we'll see that Steven Ganson awards 11 per match on average, whilst Ian Smith blows for 15.3. All of the others fall in between that range.
So, is Ganson the best, or does he just miss more of the things that Smith sees? If you take a detailed look at exactly what Smith penalises, you'll see that he is prepared to penalise players for being offside, both within 10 metres of the play-the-ball, and at Marker Defender i.e. no square. Perhaps he just has better listening skills than Mr Ganson and is able to hear the crowd and their cries for offside!
It is also interesting to note that a typical Guinness Premiership Rugby Union game has around 22 or 23 penalties in it, plus one or two blood bins!
Comments (7)
Ian Silver says...
What makes a good referee? One who misses nothing but has the common sense to differentiate between a malicious act and one that has no bearing on the game.As a player I remember Billy Thompson saying to many a player ( I saw that don't do it again) If you were stupid and did it again you were the first in the bath.Referees have the hardest job in rugby league(and in all other sports for that matter) and by and large do a good job.As a spectator I shout and bawl over the performance of the referees and occasionall if the match is on tv I watch it over a few times and as a rule my opinion of the ref. is usually very different.Try it some time.
Posted 11:30 3rd April 2010
Sally Walters-thomas says...
In response to Rob Marsh, although Phil Bentham has a Warrington post code he is from Leigh is that not neutral?
Posted 12:59 4th September 2009
Gary Beggs says...
reply to Barrie Thomas: thanks for your clarification Barrie - interesting to hear from 'the inside' as it were. However, whilst I'm sure the physical training is intense and task-specific, I was specifically asking 2 questions: first, it is the mental decision-making which is typically under scrutiny from players, coaches and spectators; their physical fitness is taken as read, yet as the game wears on, the split-second decisions they will be called upon to make, particularly in the absence of the Sky cameras, will become all the more difficult as they fatigue. I wonder is this taken into account in referee training patterns, that is, not simply to adapt their physical training (eg. emphasizing backwards/sideways movements, which seems highly sensible and practical, given the GPS data), but having them make cognitive/perceptual decisions at different points in their fitness curve, and monitoring for any interaction between the two (i.e impaired cognitive performance under anaerobic conditions). The second point was whether this is monitored by the RFL, and if not, if this would be desirable: a referee will have to take exams to reach superleague grade; and I presume this will involve both written and practical assessments - but I wonder whether it would be useful to assess the referee's decision-making capacity under physical stress, and whether this should be continually monitored each season, as a fitness to practice, to ensure the ref's fitness levels do not impact on their decision making towards the end of the game when they become fatigued. The essential point is, it's the interaction between physical fitness and mental function that should be trained for (and perhaps tested), but I imagine these two things are probably treated quite separately at present. I'd be interested to hear what you think.
Posted 02:58 4th September 2009
Michael Mcgloin says...
by far the worst thing thats happned to refs in rl is the miking up so that every sound he makes comes right into your living room.who after every tackle wants to hear GRUNT.MOVE.HOLD.GO.1.2 3.4.5.I turned my sound off on sat.and its just the same on sky.its a big turn off. mike mcgloin somerset
Posted 14:46 2nd September 2009
Bob Bamber says...
I agree with your comments. We demand honesty and consistency from our refs. I think we receive the former, but the latter is questionable. I would like to see more penalties given for, offside, markers not square, lying on the tackled player and yellow cards for persistant offenders.
Posted 07:21 2nd September 2009
Gary Beggs says...
Phil - is any formal physical testing carried out on refs? If not, perhaps this could be introduced prior to each season? I'm not referring to the usual calls from the terraces for their eyesight/parentage to be tested!! Fatigue critically affects decision making, yet studies in football (eg. Catagna et al. (2007) Sports Med, 37; 625-'46) report referees cover 9-13 km attaining approximately 85-90% and 70-80% of maximal heart rate and maximal oxygen uptake, respectively. Blood lactate concentration has been reported to be as high as 14 mmol/L in competitive matches, paralleling that observed in midfield players, despite being 15-20 years older. It would be interesting to compare the physical demands of refereeing across different sports - the demands on RL refs may be greater, since there is a greater requirement for them to be close to the ball to witness infringements, than would typically be necessary in football. If we go down the Australian route of 2 refs, perhaps such research could be taken into account, and have the roles of each referee differ in some way and alternated between them across the 2 halves of the game, such that, particularly at what can be the crucial latter part of the game, the ref's decision-making capacity is not compromised by his increasing fatigue in a high energy game. Back to testing of refs, more targetted testing has been proposed, such as the Yo-Yo Intermittent Recovery Test - a revised 'bleep' test with intermittent short recovery periods - I propose this could be further adapted to incorporate perceptual/cognitive tasks to mirror the considerable mental demands and split-second decisions required, which undoubtedly suffer as physical demands increase. If a ref is shown to be unable to make decisions under fatigue, should he be allowed to take charge of a Superleague game? I should say though, I do think present refereeing standards are reasonably high for such a thankless task!
Posted 23:02 1st September 2009
Dave Lockyer says...
Hi Phil, I love both codes of Rugby.......but League drives me mad with the inconsistency in refereeing. In my opinion, if RL refs could get to the same level as RU for consistency, the game would benefit as a whole. Kind regards, Dave PS: I ignored the RU jibe - don't forget we're not all a one code audience, nor do we all dance a gig when Wigan score! All the best
Posted 17:43 1st September 2009