If England want to drown their sorrows I'd recommend my new ale, 'Leave the Car'.
Let me explain...
I've been dipping in and out of the cricket this week, making the most of the unbelievable weather, and brewing my own beer.
The town of Blackburn is dominated by the Thwaites brewery - it is right slap-bang in the centre - and they invited me along to open their new micro-brewery.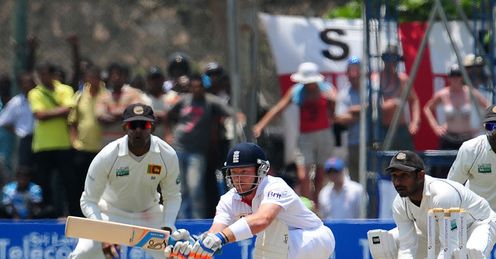 I was fascinated to see how it all worked because there are loads and loads of micro-breweries attached to pubs these days.
Anyway, if you go to their website you can brew your own perfect virtual pint. It's a lovely concept. The difference in my case is that they actually went and brewed mine!
I can't think of anybody in world cricket right now - and I'm talking about the best players in the world - who are noted as sweepers. But we seem to be obsessed by it in England.
Bumble
Quotes of the week
LIVE ON SKY SPORTS
Sri Lanka v England
Second Test

5.25am, Tue, Sky Sports 1 HD
Watch on the move with
Sky Go
How to
remote record
I wanted a flavoursome beer (which means the percentage has to be quite high), so it comes in at 4.5 per cent; I also wanted it to have a golden colour, rather than a dark one, and I wanted it to have a nutty flavour.
Now, I know I'm biased, but I've sampled a tipple and I have to say it's absolutely superb! We produced around 29 gallon barrels of the stuff so we'll see how it goes down.
You can call your beer whatever you want (within reason!) and it just so happened I was thinking sensibly. My book was called 'Start the Car', but in this situation 'Leave the Car' seemed much more appropriate!
Damage
Back to the cricket, and it's clear England still have plenty of work to do against spin.
The real damage was done in the first innings, which lasted all of 46.4 overs! That's not going to win you many Tests anywhere in the world.
I'm staggered by how many of our batsmen continue to play the sweep shot when it's pretty obvious that it makes them vulnerable.
The sweep is ok if you can play it, but if you don't you should leave it well alone.
I agree whole-heartedly with Messrs Botham and Willis, who said on the coverage that it's too risky a shot to play in relation to how many runs it scores. Play the percentages instead.
The bat's only allowed to be a certain width and the majority of people try to use as much of it as possible!
I went to a batting seminar years and years ago with Colin Cowdrey (that gives you an idea of how long ago it was) and when we asked him about the sweep shot, he simply said: 'I didn't play it because I was no good at it'.
I can't think of anybody in world cricket right now - and I'm talking about the best players in the world - who are noted as sweepers.
But we seem to be obsessed by it in England. It's time we got away from saying 'this guy is a great player of spin in domestic cricket'. At Test level, that's neither here nor there.
I'm sorry to say it but the majority of county spinners don't spin the ball!
Technique
Now Rangana Herath isn't the biggest spinner either, but when you face him in those types of conditions when the odd one will spin now and again you've got to be tight in technique and play with the spin, and your hips come into that big time.
If the ball is spinning away from you and your hips are pointing down the pitch, you are in massive trouble. You've got to play with the spin and with relaxed hands, just as the likes of Javed Miandad and Inzamam-ul-Haq used to do.
Once again I've absolutely no problem with the way England's bowlers performed in those conditions. Mahela Jayawardene scored a massive 180 in the first innings and that's what England do not do - get big first innings runs.
In that heat, the batsmen need to do their job so that the bowlers have plenty of time to put their feet up and recover.
Talking of weather, I'm off now to enjoy what's left of the sunshine as I'm told it's going to be sleet and snow on Monday, so wrap up warm!
Comments (2)
Fred Boycott says...
The batsmen, in this match, clearly were not playing to the match situation. They had all the time in the world to knock off the runs. All they needed to do was dig in and knock off 1 or 2 and over and victory would come. All risky shots, not just the sweep should have been eliminated completely. Occupy the crease reduce shot risk percentage. The Sri Lankan bowlers were ordinary and the pitch was playing well. The biggest danger was in the heads of the batsmen. I do not believe they have the concentration and application these days to sustain a long occupation of the crease. ODI and T20 cricket has seen to this. Back to basics needed, get in and stay in. It's common sense.
Posted 11:43 30th March 2012
Matthew Richards says...
Good comment about sweeping. It seems to be symptomatic of England that it takes them a while to adapt to 'local oonditions' and start playing in an appropriate manner - despite having time to prepare in advance for a tour, doing lots of practice and (for example) sending a bunch of players to Sri Lanka (in this case) to prepare for the series. Can they not get it more right from the start then, in a Test series? Is it really the case that it is not obvious before the first actual Test what kind of tactics are going to be best suited to the conditions? if it is not obvious then England have an excuse but you'd think - as you point out here - that we could better prepare by taking on board tactics like not using the sweep shot, in advance. How much is 'only revealed on the day' about the opposition we'll be facing? I actually have little doubt that - like in the UAE - we will acclimatise and start winning (but probably/possibly after the test series), you just wonder why it can't happen from the off. Maybe they are trying to prepare in advance but the coaching staff are actually making errors (you never know, maybe it is a simple case of having two players from a different era leading the team - Flower and Gooch - for whom things like the sweep shot were fine, as it suited them as individuals...if so, they are to blame for taking the team in the wrong direction!!). With all their will to succeed, and application, you'd think England could better get to grips with the problem of adapting to local conditions *in time for the start of the series* - not after it is over or half way through it. It doesn't help that the so-called series is only 2 tests long though, either.
Posted 09:59 30th March 2012