Forget about Inter Milan and Bayern Munich... in terms of riches then Saturday's big game is between Blackpool and Cardiff City.
The Champions League Final carries massive kudos, but when you look at the millions on offer then the Championship Play-Off Final is arguably a more important fixture.
We all know how much teams have stood to gain from promotion to the Premier League, but this year it's more important than ever. From next season, teams relegated from the Premier League will receive bigger parachute payments and they will be spread over four years, so it's imperative that one of these two teams grabs their opportunity on Saturday - and for different reasons.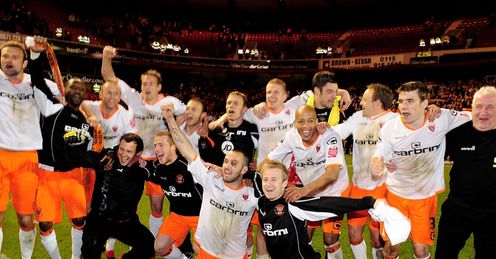 From a romantic point of view then "little old" Blackpool could follow in the footsteps of recent underdog Play-Off winners like Burnley. They have some seriously talented players, but when you look at their budget then this has been a season of massive overachievement for Ian Holloway's men.
That contrasts with Cardiff, who have an amazing infrastructure and a fine new stadium. They have potential new investors, but they still have a huge tax bill to pay and promotion would be an incredible shot in the arm.
Call me a romantic, call me a fool, call me whatever you like, but I've tipped them for a few weeks and I can't desert them now.
Peter Beagrie
Quotes of the week
Given the financial problems at Cardiff, there will perhaps be more pressure on their players to win this game. They will no doubt be aware of the value of promotion because a win on Saturday could secure the club's long-term future.
However, the players will be thinking about the here-and-now and many of them know that they will be rewarded with new contracts if they get into the Premier League.
A few of the players might not get a chance in the top division, but you can guarantee that the starting XI of both sides will be focused when the opening whistle blows on Saturday.
Tactical talk
We can expect to see Cardiff's 4-4-2 to set up against Blackpool's 4-3-3 at Wembley.
Cardiff will have numerical advantage in midfield, but Blackpool's young right-back Seamus Coleman, who is on loan from Everton, always pushes forward into space to even the numbers up.
Even though DJ Campbell scored a hat-trick against Nottingham Forest in the semi-final, I still felt Coleman - playing as an old-fashioned wing-back - was the best player on show in those games.
He epitomises what Blackpool are all about; fearlessness, motivation, hunger and self-belief.
Meanwhile, Cardiff will be hoping Peter Whittingham is fit after an outstanding season.
They moved him over to the left wing with Joe Ledley taking over in the central position and the former Aston Villa player has had an unbelievable season; providing a real goal threat from both set pieces and open play.
The twin strike force of Michael Chopra and Jay Bothroyd has been tremendous and they've benefitted from good service from Chris Burke on the right-hand side.
With those players on show, I think we can expect an open and attacking game - as the Championship Play-offs have historically tended to be.
In the dugout
I have a tremendous amount of time for both managers, even though they take different approaches to the game.
Ian Holloway is a great character, but also a very astute talent-spotter. He may have a lack of resources at Blackpool, but he has the motivational skills to get the best out of what he's got.
I saw Ollie in the tunnel before the game against Bristol City on the last day of the season and he wasn't his usual self that day. He looked more nervous than the players because they hadn't achieved anything - but he proved against Forest that the pressure has now eased.
Dave Jones is a much more understated guy and goes about his work in a very unspectacular way. He carries some baggage with him and he puts so much into the game. He's a real football man.
Cardiff have had financial problems, but Dave has never moaned or looked for excuses - and if anything he's used it to his advantage.
Peter's call
I tipped both of these sides to make it to Wembley and now they have everything to play for. Whatever happens, both sets of players can be tremendously proud of themselves.
There's definitely going to be goals in this game and it's a difficult one to call. Because both sides are capable of scoring lots of goals, I think the side that defends the best will emerge victorious.
It may sound simple, but the team that concedes the fewest goals will win at Wembley.
If I was to pick a winner I would go for Blackpool. They've performed well under pressure all season and I think they might just edge it. I tipped them six or seven weeks ago, so I'm going to stand by my prediction.
Call me a romantic, call me a fool, call me whatever you like, but I've tipped them for a few weeks and I can't desert them now.
Blackpool in the Premier League? How amazing does that sound!
Comments (63)
Robert Blair (Leicester City fan) says...
Good luck Ian and DJ ,sorry it was not with Leicester sometimes crowds can be very short sighted always want instant results-
Posted 19:56 22nd May 2010
Russ B (Nottingham Forest fan) says...
well done blackpool, im glad that we dont have to face you next season. good luck playing arsnel, man u, liverpool and chelsea, apparently they only teams in prem. good game today just like against us you was the better team.
Posted 17:03 22nd May 2010
Tom Bailey (AFC Telford United fan) says...
Blackpool have done great this season and deserve to be in the prem because they were on the brink on relegation and now theyre on the brink of goin into the prem
Posted 15:10 22nd May 2010
Dean Jenkinson (Wolverhampton Wanderers fan) says...
I like Blackpool and the manager like to see them down the molineux again in the prem good luck today 2-1 blackpool
Posted 14:52 22nd May 2010
Julie Richardson (Blackpool fan) says...
Come on you pool!!!!! You can do it.......Good luck boys.......
Posted 14:04 22nd May 2010
Sid Longley (Bradford City fan) says...
good luck blackpool , if you do go to the promise land dont make the same mistake as us....... ouch its bleak down here
Posted 13:37 22nd May 2010
John King (Oldham Athletic fan) says...
good luck blackpool, it will be great to see you in the premiership.. i have spent many happy times in your town. have a great day.
Posted 12:59 22nd May 2010
Dave Mort (Cardiff City fan) says...
reall disapointed at the amount of people saying cardiff shouldnt win as they arent english ,what happend to lets kick racism out of football .live and let live bluebirds for the win
Posted 12:50 22nd May 2010
Marion Mcbride (Blackburn Rovers fan) says...
Come on Blackpool one final push you can do it, give your all today. Another local away game for us. Prediction 2-1 to Blackpool what a Great manager Ian Holloway is,
Posted 12:15 22nd May 2010
Emanuel Farrugia (Blackpool fan) says...
Come on Blackpool. You can do it. The Blackpool supporters want it, the Board of Directors want it, the Coach wants it. Please do it for the memory of Sir Stanley Matthews and Sir Stanley Mortensen.
Posted 12:01 22nd May 2010
Dave M (Leeds United fan) says...
Cardiff fans .. the reason everybody hates you is because you`re welsh .. and shouldn`t be playing in english league .. plus your chairman Slimy Grimsdale .. He shouldn`t be allowed to be the tea lady at any club never mind chairman .. He ripped off Leeds and Barnsley .. and nearly did it to you .. Come On Pool .. Marching On Together
Posted 11:57 22nd May 2010
Seth Ryden (Blackburn Rovers fan) says...
Come on Blackpool! if you get promoted, you will be my second team!! Although, i also think it would be a good thing to have a welsh team in the prem, and maybe the big two from scotland..it would be like the home nations cup every week!!
Posted 11:31 22nd May 2010
Wayne Mailer (Newcastle United fan) says...
Will be a huge game for both sets of players, however the famous Wembley pitch could give a huge swing in Blackpools favour as they have a pretty poor pitch at home too.
Posted 10:33 22nd May 2010
Ally Grange (Everton fan) says...
Good luck for today, just make sure you give us Coleman back haha
Posted 10:02 22nd May 2010
Steve Wright (Chelsea fan) says...
2 things to consider here,blackpool deserve to be in the final on merit by what theyve achieved with little income...on the plus side,theyll enjoy the premiership experience and the extra revenue next season should they win.on the flip side,teams will be licking their lips to play them next season,and passionate as any home supporters are, an average home gate of 8 thousand wont save them.cardiff have a new stadium,and the welsh will get behind them alot more,although swansea fans would obviously say otherwise.finally although theplay offs are fun.forest should of gone up on merit.the 3rd place team rarely ever goes up after all their efforts over a season.
Posted 10:01 22nd May 2010
Tom Thomas (Swansea City fan) says...
Good Luck Blackpool - all of Swansea is behind you!
Posted 09:21 22nd May 2010
Kinkladze Danny (Manchester City fan) says...
Come on you pool. You have nothing to loose and all the pressure is on the welsh boys. good to see you in the prem and will be a cracking day out.
Posted 09:07 22nd May 2010
Dave Mort (Cardiff City fan) says...
its going to be a fantastic day i wish blackpool the best of luck but today is cardiff's day. bluebirds to win
Posted 09:04 22nd May 2010
Sparky Parkinson (Burnley fan) says...
Good luck Blackpool hope you take your chance. We Dared to Dream last season & lived the Dream (albeit for a season). We the Dingles know you can do it. Go Pool!!!!!!! Just think how sick our neighbours at Deepdale will be if you do it.
Posted 08:27 22nd May 2010
Scott Mcclymont (Manchester United fan) says...
Come on the Tangerine Army! The town is buzzing and what a fantastic season Holloway and his lads have had. To think they have only spent £850,000 + juggled with loan players and look where they are...simply amazing. 3-1 to the mighty pool !
Posted 08:25 22nd May 2010