In early January I spent a day with the British men's team pursuit squad on their training camp in the cycling paradise of Mallorca.
At 9am they set out on their road bikes, with Shane Sutton, British Cycling's head coach, tagging along, and their coach, Dan Hunt, following in the car. Off they pedalled, chatting and joking, on tarmac roads almost as smooth as the wooden boards of a velodrome, as the sun climbed into a cloudless sky. It was idyllic. It also seemed a trillion miles from a sub-four minute team pursuit.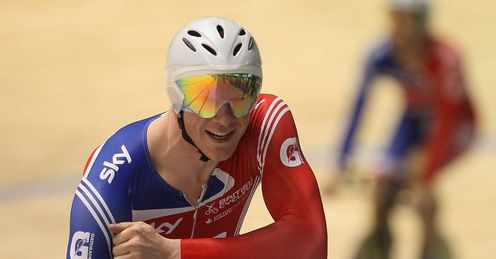 Yet at the world championships in Melbourne on Wednesday, three months to the day since that training ride in Mallorca, they rode the greatest team pursuit of all time, beating Australia in a thrilling, nip-and-tuck race, and breaking the world record they - or at least two survivors from the last Olympics - set in Beijing.
The two survivors are Ed Clancy and Geraint Thomas. Thomas was missing in Mallorca, having opted for the Tour Down Under, but Clancy was there, "putting in the hard yards," as Sutton described the twice-a-day training: road in the morning, track in the afternoon.
Clancy is an unusual rider: he might be described as a pure team pursuiter, since it is what he does almost to the exclusion of everything else.
Richard Moore
Quotes of the week
In the track centre in early January, between efforts, Clancy offered some insights into the art of team pursuiting, while also dismissing any possibility of the world record falling before the Olympics: "Well, not by us," he laughed. Which suggests they are ahead of schedule.
Hybrid
Clancy is an unusual rider: he might be described as a pure team pursuiter, since it is what he does almost to the exclusion of everything else. Thomas and Peter Kennaugh, another member of the team in Melbourne, will now - as Thomas put it in his post-race interview with the BBC - head off for "a lap of Italy." He means the Giro d'Italia.
Clancy has never quite cracked the road, partly because of his physiological make-up: he is on the cusp between sprint and endurance athlete. It makes him perfect for the team pursuit, and he has, in his own way, revolutionised the event.
It was the squad's former coach, Matt Parker, who reckoned that Clancy's speed could be best utilised if he put in an extended turn - of pace-setting - at the start. Bradley Wiggins explained the thinking: "For forty years everyone had their start rider doing three-quarters of a lap, but when we put Ed on the front and added a half-lap, we saved six tenths of a second."
He had the blistering acceleration to get them up to speed, and the endurance to maintain it for a full lap-and-a-quarter.
Tactics
And yet, back in January, Clancy told me that team pursuit strategies are similar to football formations: overrated. "It can make a little bit of difference, but the team with the strongest riders will probably still win," he said.
"You have to get 100% out of the riders: that's the key thing. In terms of strategy, I don't think it makes a fat lot of difference. The strongest team will come through in the third or fourth kilometre. They'll make it count at the back end of the race, and that's what pursuiting's all about. It's easy to rattle out a quick 2k. But after that it's about hanging on."
In Beijing, the first thing that Thomas said to Clancy after their gold-winning, world record-breaking, ride, was: "We could've gone quicker."
"I think I got everything out," said Clancy of that performance, "and I think Paul [Manning] and Brad [Wiggins] did, but I think G [Thomas] finished with fresh legs. He was probably the strongest guy we had that day. And literally the first thing he said as we got off our bikes was: 'We could've gone quicker.'"
They shaved a tiny fraction off that time on Wednesday, reducing it to 3min 53.295 seconds, and the long-term aim has been to take the record down to 3.50 in London. Melbourne suggests it could be do-able: not only by the Britain, but also by Australia, who were only a tenth of a second slower.
The 'lap of Italy' should see some members of the British squad arrive in London with greater strength and reserves of endurance. For Clancy, the only laps he will be doing are those he knows best: around the track.
Twitter.com/richardmoore73