We're lucky in life if we get the chance to watch the sport we love in person once a year.
But skysports.com blogger Alex Ferguson spent TWO days of last week at magnificent stadia - and would you believe that one of them is for those who haven't even played for a university yet?
And in part one of his column, our college football expert Alex - who returns to our shores a little sunburnt from 100 degree Texan temperatures - has more on what was truly a story of Friday Night Lights...
FRIDAY
It's Friday, and already my host David Rogers, is like a cat on a hot tin roof. Not only is it Labour Day weekend - meaning that he gets a long weekend to spend with the family he loves so dearly - but it's the first Friday of the middle and high school football season - the former which will feature his son, Ryan in as a quarterback at some shape or form.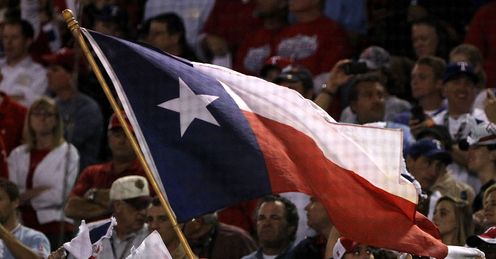 To cut a long story short, Ryan took over as quarterback after about three possessions, played well enough - we hope - to make the starting job next week - but the team still lost to a far quicker and more organised side. There's a lot of growing to do on Ryan's team - both physically and mentally - but if they can get it together - they can be special.
We got to see Allen's band, which is the biggest in the country at 700 members, and, of course, a beautiful view of the Texas night.
Alex Ferguson
Quotes of the week
This first game of the season - rather like Queens Park Rangers' first effort in the Premier League against Bolton last season (and Swansea this one) - sent a message to me that the team has a lot of learning to do before it can be really competitive. As a QPR fan, it's not the first time I've thought that in my sports-supporting life!
Anyway, David and I leave the game (a little sad, it must be said!), to go to Allen, for the Eagles' first high school football game of the season. And although we'd love to tell you that we researched Dallas high school football and thought that Allen might be a good place to visit, that's not entirely true.
We're going for one major reason: The Stadium. Why? Because in a world of recession, we're going to a stadium that cost $60m to make. That's right: 60. Million. Dollars. And the Allen Eagles aren't professional. Or a university. They are a high school (age range 14-18). In other words, the district paid out a lot of money to watch kids play high school football.
But all our budgetary thoughts flew out of the window when we arrived at Eagle Stadium. Why? Because all we could think as we arrived at this magnificent monument to Friday Night Lights was: "There are English Premier League grounds worse than this - and certainly a lot of Championship ones, too". And the attendance was better that some English Premier League games: 22,000.
Anyway, we got to see a very gifted quarterback - Southlake quarterback Kenny Hill - who's got a pro-style arm, and looks like a College Football quarterback in everything but age - outdone by an Allen team high on life, energy, and eager to cause the upset. They beat the Texas state champions 24-0 in a magnificent performance, and everyone went home happy - including this writer, who kept on saying: "I can't just get enough of this stadium."
Not only that, but we got to see Allen's band, which is the biggest in the country at 700 members (they combined with Southlake's for a half-time show of over 1,000 kids (try putting that one together, folks!), a friendly but loud atmosphere, and, of course, a beautiful view of the black Texas night and little bunches of lights poke up around the area... the lights of high school football games going on around a State that puts so much value on the sport.
Check back later in the week for part of Alex's Texan journey.