I'm not sure Darren Bent would be pleased to learn he popped up in my thoughts when reading a book titled 'Everything Bad is Good for You', but he might just hope Fabio Capello has similar literary tastes.
Said book is the type of leftfield snooze fest that makes you look semi-literate on the train, think dark rimmed glasses, but is in fact about as interesting as watching some sweaty old cleaner pull a witchety grub out of her pants using only Jordan's bra.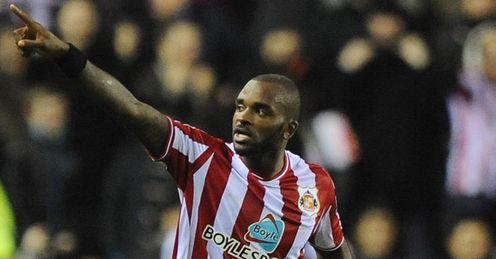 Anyway, it's about how low/popular culture is just as important as its high brow equivalent; Mario Kart is a match for Bronte, The Wire beats Dickens, Banksy spanks Monet, X-Factor is more important that Beethoven, Bent is better than Owen etc...
I guess it's about our perception of what constitutes class and our inherent inclination to sniff at anything without longevity. Which is what got me daydreaming about Darren Bent. The Sunderland striker returned from international exertions last week with a face longer than the offspring of Red Rum and Ruud van Nistelrooy having been adjudged to have no class after his less than efficient display against Brazil.
This very column said Capello would commit the ultimate folly were he to take Bent to South Africa at the expense of Michael Owen. The premise of my colleague's argument was that Owen has class and well, try as he might, Bent just doesn't. Bent is Pamela Anderson to Owen's Audrey Hepburn. It's Monster Munch versus Walkers, Melody Maker to NME, Wings to Beatles, Pukka to Hollands, Henman to Perry, Jamie Callum to Dizzy Gillespie.
Then again, I'd argue Geoff Hurst has class but I wouldn't bet on him to score against the Brazilians either.
To be fair to Capello he appears to be a man that operates in the present rather than bathe in the hot tub of nostalgia, where Owen and David Beckham chew the fat over a time when they were actually effective, rather than emblems of an era now past its sell-by date.
A player like Bent, with his admittedly at times ropey first touch and Achilles heel of snatching at things, is for many an imposter on the international arena. That he has scored nine times in 13 Premier League games, including strikes against Chelsea, Manchester United, Liverpool and now Arsenal (three of which, I'd argue, could win the World Cup were they to enter) matters not an iota to those that champion the old, and worn out adage, 'form is temporary, class is forever'. Bent for England is like Damien Hirst hanging his paintings at the revered Wallace Gallery. It's just not cricket.
While Bent can seemingly do nothing to rid himself of a reputation for being guileless, Owen is treated as if a fossil. A subject to be pored over and deliberated upon as if he isn't actually still here, before men in white coats conclude that despite the fact he's scored just two league goals all season and looks about as sharp as a circle, 'he's still a class act'.
And he's afforded this luxury because of a history the younger and more athletic Bent has yet to acquire and, at this rate, never will while people continue to hanker for the tried and tested. A formulae for success that has delivered precious little of it.
Prior to his move to Old Trafford Owen pottered around Newcastle like Charlie Brown, a look of bewilderment spread all over his face that said 'How the hell did I get here?'. Now look at him. He's turned into Lloyd from X-Factor, just glad to be here. He wears the same bewildered expression and he's still saying 'How the hell did I get here?', but this time it's with a glint in his eye.
Pro-Owen supporters point to his fine scoring record of 40 international goals. Why Bent hasn't scored as many from his four caps is beyond me. That Owen has proved himself on the international scene is without doubt, but why so many critics are happy to throw Bent on a bonfire made up of David Hirst, Brian Deane and David Nugent inspired Guys seems premature to the point of lunacy.
This isn't meant as a diatribe about the current England set-up, indeed Capello seems about as convinced about Owen as I am, but rather a nod in the direction of the likes of Bent, Jimmy Bullard, David Dunn, Tom Huddlestone, Ryan Shawcross and any other player whose performances are perhaps worthy of looking at, but will likely be rejected on the premise they 'just don't have international class'. Such a distinction will be made after the aforementioned fail to shine in the final 27 minutes of a pre-tournament friendly against Slovenia that sees Capello make 11 second half changes.
I'm not for a minute advocating Steven Gerrard and Frank Lampard be ditched for Bullard and Dunn, but rather encouraging judgements to be made on performances present rather than past.
Deluded politicians may argue class wars are dead in this country as any individual has the opportunity to transcend old barriers, but in football they're still rife. Bent is down the pit while Owen sups with the aristocracy.
Comments (46)
Lee Blyth says...
Great Article! Good to see a reasonable arguement being highlighted . In my opinion class means nothing without the performances but a great performance can be achieved with any level of class. Hence the FA cup giant killers. In my opinion Michael Owens club career took a back seat when he discovered he could afford his own racing stable . After that it was nothing but chester races and england football . Call me old fashioned but i think the players who go to work and perform every week deserve to go to the big show . Michael owen sneaking in the back door on past performances after failing to string a 3 month run together is shambolic. Darren Bent has been solid for me and deserves far more of a look in than he gets on his current form.
Posted 18:05 6th April 2010
Ramish Hasan says...
"Pro-Owen supporters point to his fine scoring record of 40 international goals. Why Bent hasn't scored as many from his four caps is beyond me"... nice... lol
Posted 20:06 30th November 2009
Alex Miller says...
Owen will never get in the world cup squad if he isn't playing and isn't scoring but Darren bent surely needs to get in if he scores around 20 goals and is up there with the likes of Drogba Anelka Van Persie e.t.c Rooney,bent, Defoe,Heskey(will but i think shouldn't)and Cole
Posted 21:43 26th November 2009
Bill Calvert says...
i,ve read all the comments ref bent versus owen and all i can say is that if they took the top 4 goal scorers at the end of the season they will not even get in the final of the world cup.why ?,because the players we have cant play with each other as a team as they did when we won aeons ago.tough but thats the way it stands
Posted 20:10 25th November 2009
Nick Daniels says...
and im sorry i missed out defoe he was the 5th
Posted 17:40 25th November 2009
Nick Daniels says...
personally i think we have the perfect striker in wayne rooney and feel we have the 2 best attacking midfielders in the world in gerrard and lampard i dont see why we are playing 4 4 2 wen we simply dont have 2 good strikers we have many good midfileders so i think we shud play gerrard and lampard up the pitch and add another midfielder but if needed a plan B and 2 strikers darren bent in my oppinion is the 2nd best striker england has got and if you look at his goal scoring records for clubs its pretty impressive micheal owen is past it and doesnt have the speed he once did that made him dangerous theres a reason he starts on the bench for manchester united and the reason is because he isnt good enough take bent rooney crouch and agbonlahor there for you have goals (bent) stamina and goals (rooney) some1 with an ariel threat ( crouch ) and some one to threaten slow defenders (agbonlahor)
Posted 17:39 25th November 2009
Sonny Lopez says...
Why the massive debate when were still in November? Which ever 23 players deserve it come the end of may or whenever it is the squad is chosen should go. All these players everyones talking up or down still have over half a season to prove themselves, id like to think capello would pick the best 23 players from august to may. having said all this, rooney is our best player, and we should do whatever it takes to get the best out of him, so if that means picking heskey over an inform striker then so be it. I think all the other strikers should be realistically playing for places in the squad, not the starting line up. As Heskey Rooney works and should be, and will be, kept! Also, Whoever said Beckham is the only option on the right that can cross the ball obviously doesnt watch much football, A.Young for the last 2 seasons has been up there with the best for assists, and he is why villa are considered such a threat from set pieces! Milner has proven in his brief appearances for england that he can cross a ball, while there is no problem with j.cole and gerrard's crossing, and lennon seems to be improving on his so to say no-one else can cross a ball is ridiclious
Posted 17:37 25th November 2009
O C says...
No contest between Bent and Owen - it has to be Bent that goes. Bent is not only the best English striker, but he is the third highest scorer in the Prem since 05/06, only behind Ronaldo and Rooney. It is not just at the moment therefore that he is scoring, he has done so consistently. The bad game against Brazil proved nothing, because on that criteria, none of those that featured in the game would go to SA, as they were all dire. As an Arsenal fan at the game on Saturday, I also (unfortunately) saw first hand how his desire and speed can get him goals in and around the box. For me, Bent has to go...FACT
Posted 15:40 25th November 2009
Josh Galley says...
The people who claim Bent should not go to the World Cup after a poor 55 minutes playing for England reserves v Brazil are clueless. He is rapid, he has a striker's instinct, he is good in the air and makes runs in behind the defence for 90 minutes. Not to mention the fact that at present, he has the best goalscoring ratio of any English striker this season. Heskey is a plank and Owen isn't scoring goals when playing for Utd, his movement is great but he simply isn't the player he was. The people who are arguing Bent's 1st touch and link up play is 'shocking', are clearly people who have probably never seen the lad play apart from 10 minutes snips on MoTD, or Spurs fans jumping on the bandwagon. I would take Rooney, Defoe, Bent, Crouch and Cole. Owen, Heskey and Agbonlahor can have the summer off.
Posted 14:35 25th November 2009
Matt (liverpool fan) A says...
England's first choice centre forward pairing should be rooney and Carlton Cole. Rooney, being Englands most naturally gifted player (maybe with the exception of Joe cole) must start. Carlton Cole is a more mobile peter crouch, who can hold the ball up better, and he can score goals, which is more than can be said for heskey. Defoe should go in the squad, he could make an impact from the bench. Agbonlahor and SWP should start booking summer holidays now, simply being fast won't cut it in the World Cup finals.
Posted 14:04 25th November 2009
Richard Ayton says...
Darren Bent can't be judged on the Brazil game, his performance was that of a striker not receiving any decent service from midfield. This article is very relevant and that game proved it, as I don't think Bent played any worse than Rooney on the day, who also received no service, however it was Bent that was taken off. As someone who regularly watches Bent play I see him as a solid poacher, a good passer of the ball, unselfish and someone who can test the best of goalkeepers multiple times in a game. These are all qualities that the likes of Heskey lack, which is reason enough to put him in the squad.
Posted 13:43 25th November 2009
Keith Irving says...
Owen shouldn't be given even a passing moments thought on this! I'm sick and tired of pundits and 'experts' claiming 'he'll always score goals'! He won't! He's finished at the highest level! Rooney is a dead cert for the trip to SA next year, as should be Crouch - his International record speaks for itself. Defoe for me has put a strong claim to go - natural finisher and pacy. That leaves 1 or at the most 2 spots left for a striker. Carlton Cole has been magnificent, and can be deployed as a touch of class, or as the battering ram that the now antique Heskey used to do. If there's room for a fifth striker - Bent has to be it. His work rate is unreal, he CAN finish as his scoring ratio has indicated this season - against strong opponents. Leave Agbonglahor at home - if you're talking all pace, and no real product - then Gabby typifies this I'm afraid.
Posted 13:38 25th November 2009
Shaun Halliday says...
What the article is getting at is that despite Bent putting in the performances worthy of a place in the national side he is still not considered good enough. Yet Michael Owen is still talked about as a possibility yet he can't score for Man Utd of all teams. Bent scores goals and wins games, FACT. He's done it at Spurs and now Sunderland. If he got a fair chance not against the best national side in the world and alongside a second string England he would do the business. On a side note I saw some comments about his all round game. Anybody who has watched Sunderland this season will see that his all round game is not a problem in the slightest. He worked his socks off up front against Arsenal linking up with the midfield brilliantly. If Bent plays half as well in the second half of the season as he has done in the first he is worthy of a place in the England squad.
Posted 21:25 24th November 2009
Graham Rhodes says...
Look, Darren Bent actually had a good goals to games ratio at WHL... The problem was that he did not fit. The "Tottenham way" has always been pass and move, and as much as I respect Bent for his goalscoring qualities, he needs to be the focal point of every attack, like he is at Sunderland and was at Charlton. There is no way you can rely on this tactic at international level. However I would take him to the world cup if there is the possibility of changing tactics with a substitution, as all the best managers do! Which is why I would take Bent and Crouch (I would never start Crouch for ANY premier league club...) Along with Rooney, Defoe and either Agbonlahor, Owen or Cole. The reason nobody is looking at Davies, Beattie, Philips, Nugent etc. Is because they are all like Heskey, Big fish little pond syndrome...
Posted 20:36 24th November 2009
James Carter says...
I personally can't believe michael owen is being considered, being one of the reasons newcastle were sent down due to peoples past perception of undoubted brilliance, notice past, he struggles to play for Man U now and considering he hasnt been able to gain anywhere near full fitness since joining Real, I would b surprised if he was even fit enough to contend for an England spot near the time of the world cup. If bent keeps up his current form he has to go, whether people rate his goals as easy chances (let us not forget against Man U) or not, he is proving a natural goal scorer who knows where to be when the service is delivered, he didnt get the service against Brazil, but neither did Defoe or Crouch. Although similar players I believe Defoe and Bent should go, they are intelligent players and know where the goal is and know where to be and when. Rooney is untouchable, its ridiculous to even conceive that he may not go. As for the last two places, Cole deserves a shot, and if hes in Crouch shouldnt be, either or, personally I feel Cole offers something with his feet and head, as opposed to Crouch's ability to use his head alone. 5th place is pretty much open IMO, people suggest Walcott, yet people say Bent only has pace to offer, that literally is all Walcott offers, hasnt got as many goals to offer also... Rooney, Defoe, Bent, Cole would be my choices currently, I would consider Agbonglahor but he doesn't offer much more than Bent of Defoe, and isn't scoring the goals they are currently. Either way, Owen, wouldn't waste a seconds thought on him.
Posted 20:06 24th November 2009
Matthew Towner says...
There are a few clear facts here, and these should be based on the judgements of the experts, and by that I mean Harry Redknapp, Sir Alex Ferguson, Carlo Ancelotti, Arsene Wenger and even Mr Benitez....they voted with their wallets and not one of them wanted Bent, neither did cash rich City....opting for the perma-injured Santa-Cruz as back up to Adebayour...what does that tell you, that they don't believe Bent is good enough for their club...clearly then he can't be good enough for England...and all those men know what they are talking about better than you and I. I would add that a fit Michael Owen would be the man I would want to come off then bench in the 85th minute when we needed a big goal at the knockout stages....E.g. Manchester Derby...his movement is what makes him class...he gets into positions other strikers don't...although I think that Mr Capello sees Defoe as that role in the England squad.... As for those saying that Beckham doesn't belong, when another right sided midfield player can actually cross/pass the ball with a completion rate of 70% and above for a sustained period of games then they should be considered...but Lennon is still learning (though improving) SWP never will acheieve this and showed it with his diabolical passing against Brazil...he couldn't even make a five yard pass to Brown...amd Walcott has got to get more than five consecutive first team games under his belt...Lennon to start with Beckham as back-up to see out games or from delivery with set-pieces when Lennon goes missing or tires...
Posted 18:22 24th November 2009
Josh Austin says...
If we don't take bent we won't win the world cup? haha! i really don't rate bent, he scores a few goals yes, he does nothing at all apart from that, his touch is shocking to say the least, he snatches when under pressure, and i wouldn't be confident with him up top. If we are to take 5 forwards? Rooney, Defoe, Carlton Cole, Peter Crouch and Michael Owen/Emile Heskey, NO TO DARREN BENT, he will not create a chance like heskey can, and he will most certainly not put that important chance away like i feel owen could. He's past his best definitely yes, but still, im confident when that quick reaction chance comes, he's more likely to put it away than Bent will ever be!
Posted 18:10 24th November 2009
Patrick Wilson says...
The argument between bent and owen is pointless. Neither should go. Rooney, Owen, Cole (or crouch), and Heskey will go unless somebody gets injured. Think about it, what does Bent offer at international level. He hasn't got much of a touch, and he has no link up play. He's just a runner. Everyone needs tp stop trying to bring the most inform english players, but bring the best team. Goals aren't an issue for england. Rooney scored 10 goals in qualifying with Heskey as his partner, defoe can come off the bench and probably nick some. Then there is Gerrard who'll score some, terry from corners. Need to start concentrating on the fact you don't win have a WC anchorman unless Hargreaves is fit. Also Lennon needs to keep playing at top form or Walcot needs to come back fit, and at his peak. Not like the U21s in the summer. I hope england can do it, it'd be a laugh
Posted 17:53 24th November 2009
Matt Hurley says...
why oh why do we still play heskey or crouch their both horrible crouch being the worse offender -put bent in place of crouch and take Agbonlahor as well put both of them up front they both have pace and also no offence leave beckham and for midfield have joe cole,a.young barry, lampard , gerhard and also lennon and please get rid of lescott he is average if that and put in upson a lot better imo -yes heskye if awful and i'm a villa fan
Posted 16:46 24th November 2009
Chris Brown says...
I can't really understand the arguement for taking Owen to the World Cup, he is 3rd choice behind Ronney and Berbatov and has scored about 2 goals which is why I'm glad we have Capello in charge as he won't be swayed by so called "experts" who still think Owen should eb on the plane to South Africa. Bent has been the leading English scorere in the Premier League for the last 3 seasons (including last year when he was at Spurs and not playing) so how can he be judged on 57 minutes against Brazil in a game where the service was worse then BT customer service. I know football is a game of opinions but sometimes I wonder if people who comment on these articles have ever played or even watched football
Posted 16:26 24th November 2009