In a recent interview, Coventry head coach Paul Thompson was asked who were the best three players he has either coached or coached against. Thompson's answer was a cocktail of truth and loyalty. He picked Theo Fleury, Neal Martin and Dan Carlson. It's difficult to argue against those selections when you look at what each of them have meant to the Elite League and the impact they had in their short/long stay in the UK.
Fleury is without doubt the best player to have ever played in Britain. You could make a strong argument that Neal Martin has been the best defenceman in the UK since the collapse of the Super League, even with the inclusion of some NHLers. But the selection of Dan Carlson, as good as he has been and as successful as he was, left me wondering just a little bit. Here's where Thompson's loyalty crept in. As Thompson said, Carlson never took a night off and his work ethic and longevity are good enough reasons to include him. Although, perhaps on talent alone, there are other players who would possibly just edge him out. And that's where this team comes in - my selections for the very best players of the Elite League era.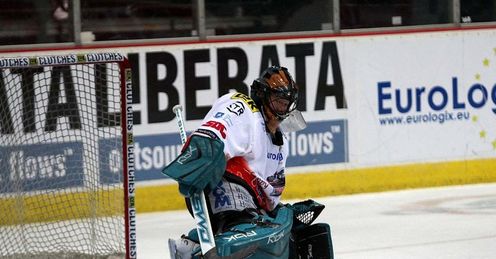 This is based on performance in the Elite League. It doesn't matter how well they played after or how many NHL games they brought with them. It doesn't matter if their careers overlap into the BISL, as long as a player has had at least one shift in the EIHL then they're in the mix.
Here are my picks..... Can you do better?
Goaltender:
My pick is the man who has won more than any other netminder in the Elite League.
Jody Lehman, Coventry Blaze, 2002-2005 & Sheffield Steelers 2005-2009
Jody Lehman is in for one reason and one reason alone. He got in players' heads better than any other goalie in the Elite League. Lehman changed the direction of shots without even moving his glove. He tightened the grip on a forward's stick just by looking at him. If the Blaze or Steelers were up a goal in the third period, he turned off the light. All he did was win. Sure, he had great players and the right systems around him, but he always seemed to step it up in the big games.
Defencemen:
There have been some supremely talented top notch defencemen to have patrolled the blueline and quarterbacked the powerplay in the Elite League. There were the NHLers of the lockout year, including Wade Belak and Nick Boynton. There have been the likes of Rod Sarich, Briane Thompson, Tyson Teplitsky and Reid Simonton. And it's easy to forget how good players like Corey Neilson and Todd Kelman have been because of their other roles and responsibilities.
But as good as these blueliners were, and in Boynton's case as good as they went on to be, only one defenceman has taken over like Craig Weller. And nobody has screamed "Leader" more than Neal Martin.
Craig Weller, Cardiff Devils, 2010-11
Of all the D-men I've seen play in the EIHL, not one of them made the crowd feel like they were watching a magician.... "ooooh, ahhhhh, wowwwwww". Maybe the level of competition was different, or maybe it was the two-way game he brought to the table that made him stand out so much more. I saw Weller play against Coventry last season and at one moment he was stuck in his own end with Greg Owen bearing down on him.
Weller just went past him like he wasn't there. As Owen turned around, you didn't have to be an expert in body language to understand what he was thinking to himself: "Did he just do that?" It turns out Greg, that he did.
Neal Martin, Coventry Blaze 2004-08
Martin scores points for leadership and silverware, but watching him play once is good enough. Equally capable of silently shutting someone down or taking the game by the scruff of the neck, Martin was the straw that stirred the drink in the Skydome. After originally starring for the London Knights in the Super League, Martin was possibly Paul Thompson's MVP throughout the Blaze's dominance.
Forwards:
Theo Fleury, Belfast Giants, 2005-06
When it comes to Theo Fleury, the question isn't: "Does he belong on this EIHL All Star team?" The question is: "Where does he rank all time?"
I don't need to say another word, so here's a great quote on Theo from his then team-mate and current Giants GM Todd Kelman.
"I remember one game when we were playing Edinburgh," Kelman said in a 2009 interview. "And were beating them pretty badly and Ed Courtenay came in and said: 'Hey guys, let's lay up here. We're playing against Tony (Hand) and he helped me get this job, and he's one of my best friends. I don't want to embarrass him in his own rink.' And we all said: 'Yeah, ok.'
"And then he walks out and Theo stands up and says: "Are you kidding me, we're going to embarrass these guys. No-one says we don't embarrass them. I want to score 100 goals against these guys."
Jeff Ulmer, Cardiff Devils, 2003-04
Way back in the first Elite League season, Jeff Ulmer rocked up and people got scared. Coaches started double-teaming him like he was Michael Jordan back in '93. Even if he was on a temporary contract, he still didn't belong. He knew it. We knew it. And everyone else knew it - from the AHL, to Finland and Germany. Ulmer was a fish out of water in the Elite League and it took only 9 games for the hockey world to come to its senses and move him on to his rightful place. Dude was different gravy.
There have been similar cameo appearances. Trevor Gallant is one who stands out for leading the Panthers to the playoff title and Rejean Stringer won a Challenge Cup for Cardiff shortly after clearing customs, but Ulmer was a must-see player.
Ulmer averaged two points a game while he sipped his cup of coffee with the Devils. He has also dominated the DEL since. That's the proof, but this isn't a case of looking at what somebody achieved retroactively beyond their time in the UK. It's about knowing how good he was after seeing him play for one shift.
Like I said, he didn't belong.
Tony Hand, Belfast Giants 2004-05, Edinburgh Capitals 2005-06, Manchester Phoenix 2006-09
Even though he was pushing, and then toppling, 40 years of age during his time in the Elite League, Tony Hand was as good as they come. You don't need to measure Hand's ability by looking at him. Just look at his shadow instead. Joe Tallari - Career year. Johan Molin - Career year. David Beauregard - Career Year.
You could possibly persuade me to take Calder or Carlson here, but they were always playing on better teams with deeper benches. Hand rarely had that. If Tony Hand was Canadian, you would have picked him to this team right away and you know it.
The Honourable Mention Second Team
Goaltender:
Trevor Koenig, Newcastle Vipers 2005-6, Coventry Blaze 2006-08
Defencemen:
Jan Krajicek, Newcastle Vipers 2005-06, Nottingham Panthers 2006-07
Steve Munn, Sheffield Steelers 2007-09, 2010-11
Forwards:
Jason Ruff, Belfast Giants, Four seasons between 2001 and 2007
Dan Carlson, Coventry Blaze 2004-5, 2006-2011
Jeff Szwez, Belfast Giants, 2009-10