I'm just gearing up for Christmas at the moment but there's still hard work to be done, I'm doing some intense training getting ready for competition because the test event is coming up in January.
I get four days off which isn't bad I guess, and I'll be at home with the family, I can't exactly go out drinking and I've also got to cut down on my Christmas Day dinner - I'm gutted! I'll still have the usual turkey and stuff but I won't have as big a portion as you normally do, but I can do that for this year, what's one year out of all the rest when it's the Olympics at the end of it.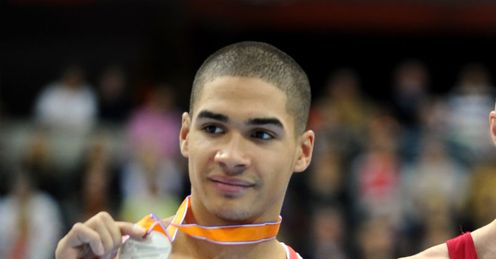 As for presents, I've asked for a new coat from Vivienne Westwood, that's all I've asked for so the family can pull together to get me that! I haven't asked for any games but I think my mum has already got me the new Call Of Duty game so I think I'll be getting that for my Xbox.
I'll be trying to have complete rest over Christmas, it's quite intense training up until then and then straight back into it after Christmas so I'll need to be sharp. I'll have two days off New Year's Eve and New Year's Day then again back into training and getting ready for the test event.
Hibernation
I haven't got anything lined up for New Year's Eve. This is the thing, I've got to be a good boy so I won't tempt myself by finding out what's going on, I'm going to try and hibernate - it's going well up to now so I'll keep that going.
I do like to have a boogie and a bit of a dance and a giggle, but everything in moderation. I haven't got a clue what I'm doing but my friend down the road is having a party, I think a lot of my friends will be there, so I might show up there.
January 9th is the test event so there's no room for partying really and I'll be well behaved, I've got to be strict with myself and it's not a problem with the Olympics coming up, and this time it will actually be 2012!
It's crazy, absolutely crazy, I keep having to pinch myself to believe that 2012 is almost here, it's mad, it really is mad...
I won't have much time to think about it soon though, as I've got competitions in March, the European Championships in May and then come back for the British Championships, Grand Prix then before I know it I'll be preparing for the Olympics so it's going to be a pretty busy year after the test event.
Experience
It's good to do a lot of training which keeps me in good shape and I'm in the zone basically all the way into the Olympic Games, which is perfect for the biggest competition of your life.
The test event will be an advantage to get in there before the rest, see the gym, test out the kit and get a feeling for what the Olympics are going to be like, so I've got to grab the opportunity while I can.
A lot of guys do their research on who will be competing and so on before they go but I just turn up and try to do the best routine that I can.
That's what I try and tell the British boys, all you can do is control what you do, you can't control the judges, you can't control what the other gymnasts do, all you can do is do your routine clean and that's what I think every time I go into a competition.
When I was growing up I was looking up to foreign gymnasts as there weren't too many good British ones around. But I've been to an Olympic Games, I've had that experience and I hope I can help some of the other guys around me now heading into London.
I feel like I can offer quite a lot, I am only young but I've had so much experience in terms of competing in different countries in different competitions and I've got three world medals, four European medals, an Olympic medal and a Commonwealth Games medal.
I've been around the block a few times and I'm only 22, so I feel like I do have something to offer to the team with advice and things like that, hopefully I can help us all achieve great things in 2012, which is almost here!