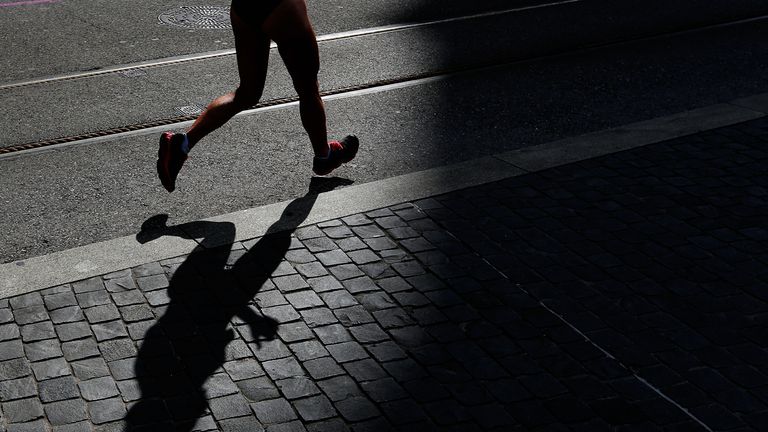 Russian athletics has suffered another blow with their federation revealing a teenage race-walker has been suspended for doping.
Evgeny Pantyushin was sanctioned for nine months, backdated to October 1, after the banned steroid prednisolone was found in his system at the national championships.
The 18-year-old trained under Russia head walking coach Viktor Chegin, who was being investigated by the international sport's governing body IAAF because at least 16 of his other athletes were issued bans in recent years.
More positive tests have come from athletes who trained at a centre under his management.
Last month five Russian walkers who trained under Chegin, three of them Olympic champions, received bans for doping. The head of the athletics federation resigned in response.
A senior official in the Russian Anti-Doping Agency (RUSADA) told Sky Sports News HQ two weeks ago that Russia had started their own investigation into allegations of widespread and systematic doping within the Russian sport.
In November a German documentary ran claims that there was widespread and systematic doping in Russian sports and that 99% of athletes were doping.
It alleged that some sports such as swimming, skiing and weightlifting were never tested. Athletes claimed that anti-doping officials were bribed and that positive drug samples were swopped for clean samples.
Igor Zagorskiy of RUSADA told SSNHQ: "All persons mentioned or taking part in documentary are being questioned and all this information will be gathered and analysed."
The German broadcaster ARD broadcast interviews in December with high profile Russian athletes including Yulia Rusanova and her husband, anti-doping official Vitaly Stepanov, who claimed to ARD that various Russian sports federations "would come to (Russian) doping control officers" offering "extra cash" to hush up positive tests.
He also accused the head of the national doping test laboratory, Grigory Rodchenkov, of falsifying tests and selling banned substances.
In January Russia's Head Athletics Coach Valentin Maslakov, who oversaw the training of Russian team athletics since 2007 resigned from his post within the Russian team.
Sergey Kirdyapkin, who took gold in the 50km walk at London 2012, was banned for three years and two months.