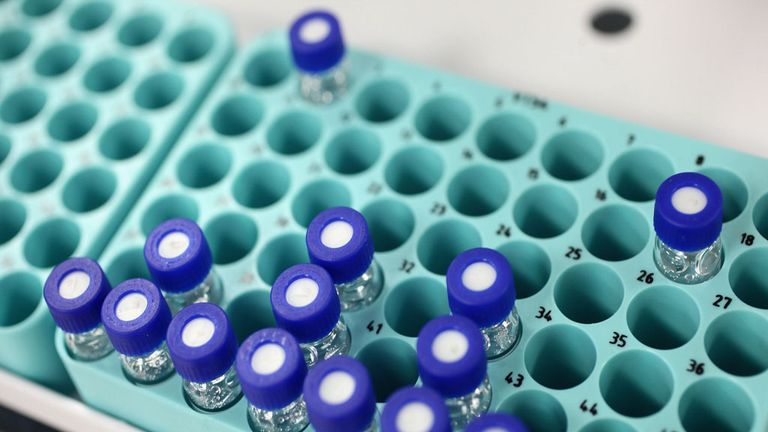 The World Anti-Doping Agency says it is very alarmed by the latest allegations of widespread doping in athletics.
The Sunday Times, along with German broadcaster ARD/WDR, has obtained access to a database containing more than 12,000 blood tests from 5,000 athletes and claims the results show "the extraordinary extent of cheating by athletes at the world's most prestigious events".
It is alleged that a top UK athlete is among seven Britons with "suspicious" blood scores, while 10 medals were won at the London 2012 Olympics by athletes who have reportedly recorded dubious test results.
However, Britain's Mo Farah and Jamaican sprinter Usain Bolt, who have been the subject of whispering campaigns, emerge as clean with no abnormal results.
The data, which belongs to the IAAF but was released by a whistleblower, reveals that a third of medals (146, including 55 golds) in endurance events at the Olympics and World Championships between 2001 and 2012 were won by athletes who have recorded suspicious tests, with the newspaper claiming none of those medals have been taken away.
WADA president Sir Craig Reedie said: "WADA is very disturbed by these new allegations that have been raised by ARD; which will, once again, shake the foundation of clean athletes worldwide.
"These allegations require swift and close scrutiny to determine whether there have in fact been breaches under the World Anti-Doping Code and, if so, what actions are required to be taken by WADA and/or other bodies.
"As always, WADA is committed to doing what's necessary to ensure a level playing field for clean athletes of the world.
"These are wild allegations, wide allegations and we will have to check them out. We will have that done as quickly as possible. 
"I am very surprised at the numbers from the leak from the IAAF. I am equally sure that they will want to look at this very closely to see if they can determine the source. I stress that athletes are innocent until proven guilty."
The IAAF appears angry the data has been published at all and has not ruled out "follow-up action".
"The IAAF is aware of serious allegations made against the integrity and competence of its anti-doping programme," read a statement issued by the organisation on Sunday.
"The relevant allegations were broadcast in Germany yesterday and have been repeated in an article in the Sunday Times newspaper today.
"They are largely based on analysis of an IAAF Data Base of private and confidential medical data which has been obtained without consent. 
"The IAAF is now preparing a detailed response to both media outlets and will reserve the right to take any follow up action necessary to protect the rights of the IAAF and its athletes."
Lord Coe, who is running as a presidential candidate for the IAAF, has backed the federation's response, tweeting: "In response to today's media reports, I know that the IAAF takes these allegations extremely seriously and it will issue a robust and detailed response to them and continue to work closely, as it has always done, with WADA,"  
If we are to stop a few athletes thinking cheating is acceptable, we have to explore all information that comes to light, however damaging it is for the sport as a whole.
Jessica Ennis-Hill
On Saturday, Jessica Ennis-Hill called on the IAAF and WADA to address the problems that the files highlight.
The 29-year-old Olympic heptathlon champion lost out on gold at the 2011 World Championships to a Russian athlete, who had - according to the files - recorded abnormal blood results.
Ennis-Hill said: "It is never good to hear of new possible doping offences in my sport, but if we are to stop a few athletes thinking cheating is acceptable, we have to explore all information that comes to light, however damaging it is for the sport as a whole."
British 800 metres specialist Jenny Meadows believes in the past she has been cheated out of at least three medals.
She told the newspaper: "When I'm training I go down to the track and almost kill myself on a daily basis. It's not pleasant.
"I'm trying to get the most out of my body in a natural way. You really have to have a high pain threshold. People who are blood-doping don't have to go through that the same way. It's a short cut. That is really demoralising.
"It makes you not want to get up in the morning and work so hard. You want to know every time you stand on that line you are competing on a level playing field. You don't want to think that someone hasn't gone through those gruelling sessions and are just out to rob you of your result."
UK Anti-Doping chief executive Nicole Sapstead said in a statement: "UK Anti-Doping (UKAD) welcomes the news that the World Anti-Doping Agency (WADA) will refer the allegations to its Independent Commission for investigation. 
"UKAD fully supports this course of action from the world's independent anti-doping body and has advised WADA that UKAD will fully cooperate and assist with its enquiries. 
"UKAD is committed to protecting clean sport and providing athletes with a level playing field on which to compete, and win, clean."