Raw emotion off BBL Cup final was perfect advert for basketball, says Daniel Routledge
Daniel Routledge says the raw emotion of the BBL Cup final was a perfect advert for basketball.
Last Updated: 15/01/13 8:50am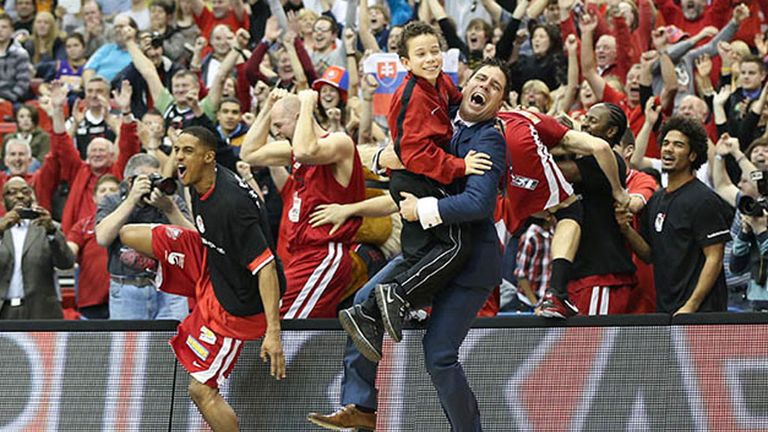 I've no doubt that every one of the 7,500 people at the NIA and all those watching at home on Sky Sports were completely enthralled by a classic match.
All credit to the Leicester Riders for winning and also to the Newcastle Eagles for showing true heart in their fourth quarter comeback which saw them take the lead with a minute to go. As an advert for the game of basketball, they could not have done more.
When it comes to watching sport, my emotional Achilles heel has always been the personal adversity and triumphs. There is nothing that gets to me more than watching someone enjoying their success after a long hard climb to the top, or suffering the agony of defeat when it had look there for the taking. In some ways the actual winning and losing are not that important to me, they are just a by-product of the story it took to get there and what it means to those involved.
For all the thrilling sport last summer, one of my most memorable moments of the Olympics was Felix Sanchez receiving his 400m gold medal. I may not have known a great deal about him before that night, but in that two or three minutes of uncontrollable sobbing I saw all I needed to know about his journey to the podium and how much getting there meant to him. I can't remember the race, but his emotional outburst has stuck with me.
Unbridled joy
Doing my job, sometimes it can be hard to fully appreciate the spectacle when you are working, so as soon as I got home on Sunday night, I watched the game back as a regular BBL fan and it was fantastic.
But the two images I took from that final, the two moments that had me a little choked up if I'm honest, came after the final buzzer had sounded.
The sight of Rob Paternostro dancing on the court with his son Lucas in his arms, the raw emotion and unbridled joy of success as seen through the eyes of a young boy and his father was really moving.
In that moment I didn't see the coach who'd lived and breathed and put everything he had into the Leicester Riders for the last four and a half years, I saw Rob the kid, enjoying victory probably in the same way he had when he was Lucas' age. Forget politics and money and that other guff that goes along with it, in that one special moment, I saw was what sport is really all about. That is why players play, coaches coach and fans get so emotionally attached.
I've known Rob a long time, I consider him a good friend. I knew from the first time I worked with him on a broadcast that he would be a good coach; I even recommended him to the Riders a year before they appointed him, so watching that moment was really special for me.
I'd asked him earlier in the week 'is now the time for the Riders to move from contenders to champions?' He laughed the nervous laugh of someone who'd been asked that question several times that week. He knew the answer was 'yes', but was cautious about saying it, because in their way stood a formidable foe. But now the Riders' most successful coach of all-time has a winners' medal to go with all his club records.
Agony
The other moment that will live with me forever from this final came a few minutes later, but a world away in terms of emotion.
Watching Fab Flournoy fighting back tears as he tried to talk to Mark Woods afterwards, tells you everything you need to know about the man. It was the most compelling interview after a sports event I think I've ever seen and yet part of me felt like I was intruding. It was a little peek into the psyche of a true competitor, a small window into what separates him from the rest of us.
Here is one of the most decorated men in the history of the game, the prototype of what it takes to be a winner in the BBL. Someone who has won so many titles that you may think when the odd one gets away he would just shrug his shoulders and move on to the next. Not a bit of it.
'It was tough to take,' he just about managed to get out in response to the first question, but the pauses, the trying to compose himself, I was not just sat watching, I was with him, sharing his pain and it hurt. As with Rob, I saw Fab the kid, feeling that agony of defeat as if it were the first time, mentally vowing never to let it happen again and making sure he remembered how he felt in this moment so that the next time he faced it, he would stare it down and be victorious, the next success would be fuelled by this perceived failure. An emotional moment which served to elevate the man in my eyes, no wonder he doesn't lose that often.
And there, in the space of a couple of minutes, you got a glimpse into what it is that sport does to us, into what sport truly is. For those lucky enough to play it and those of us who live vicariously through them. The highs, the lows, the very raw, very real emotion that can be brought about by an act as seemly insignificant as one group of people tossing a leather ball into a small metal cylinder a couple of times more than another group over the course of two hours on a cold Sunday afternoon.
That is sport. That is emotion. And that is why we love it.