Sheffield's BJ Holmes made BBL Trophy final MVP a no-contest, says Daniel Routledge
BJ Holmes was in superb form as Sheffield won the BBL Trophy final, says Daniel Routledge.
Last Updated: 12/03/13 4:05pm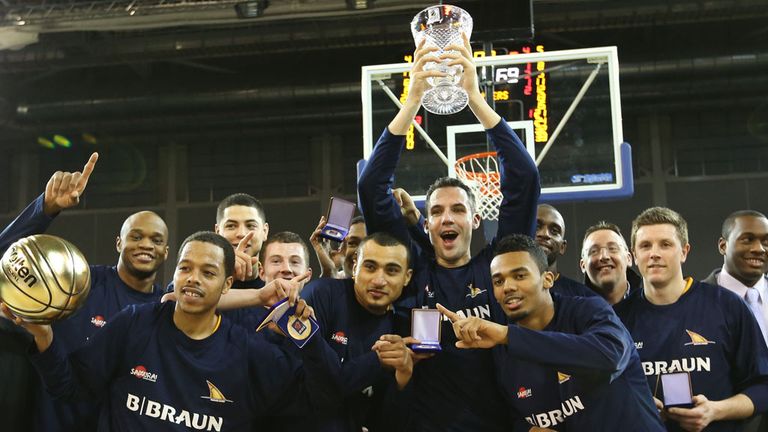 It was a sensational game between the Sheffield Sharks and the Leicester Riders, with the underdogs leading throughout before a late rally by Leicester tied the game putting the result in the balance right until the final horn sounded.
Where to start with a game like that? Well I guess with BJ Holmes who was immense and did what the Sharks have failed to do against the Riders this season - hit the three-ball.
Threat
The MVP award was a no-contest in my mind, yes plenty of Sharks played well, but he stood head and shoulders above them all. His early triples set the tone for Sheffield and showed that even without the injured Micah Williams they were going to be a threat from behind the arc. Holmes equalled the record for most threes in a trophy final and only really missed one long range effort, I'm discounting the halfway line heave on the half-time buzzer.
Every time Sheffield looked like pulling away, Leicester responded. Jay Couisnard and Zaire Taylor came up with big baskets late in the first half to turn a ten-point deficit into a three-point one at the break.
The Sharks looked to have one hand on the trophy with seven minutes to go up 65-53, but Taylor again hit some key buckets as Riders cut it to just one-point.
Jorge Calvo had some unfortunate bounces on his three-pointers, but he hit a clutch one with 80 seconds to go to level the match at 69.
The last minute of that game shows exactly what pressure can do to teams, both sides had looked after the ball well and yet down the stretch both made mistakes. Couisnard's pass to Holmes, Bridge's pass to no-one, offensive rebounds at both ends and then just when Sheffield looked to have won it, they couldn't inbound the ball and turned it over with three seconds to go!
It was a crazy last minute or so, and you could make a case for either team winning it, but I have to say I thought Sheffield edged it over the 40 minutes. Mind you, as I saw at a Sharks game at the end of last season, you get nothing for leading for 39 minutes; it's who is leading at the end that matters.
A special word for Andrew Bridge who claimed a record sixth BBL Trophy and a 19th winners' medal overall, a tremendous achievement for a guy who has always given his all for his team and a long way from his first ever major final. That was the play-off final of 2001 when his Sharks were the favourites who were upset by the underdogs Leicester!
Dramatic
There is no time for the Riders to lick their wounds, however, the next week or so could go a long way to deciding whether or not they will win the league for the first time in their history.
First up is the unfortunate timing of a trip to the EIS on Wednesday. Sheffield parading the trophy is perhaps the last thing they will want to see, but that's the way it's worked out after this game was bumped to here earlier in the season.
This weekend they go to Surrey, who did them a massive favour by beating the Eagles in Newcastle last Friday, then at home to Plymouth, before rounding off their four games in eight days spell with the visit of Newcastle next Wednesday.
Given that the first three in that list have all beaten the Riders this season and the fourth is the champions in a must-win situation, it is a huge week for Leicester that could define their season.
In that time Newcastle's only game is at home to Plymouth in front of our cameras so by the time they meet in middle of next week the two teams will be level in terms of games played, but how will they sit in the table?
Speaking of the Eagles-Heat - what an incredible game that was up at Sports Central! It can't be often in the Fab Flournoy era that Newcastle have given up 55 points in the first half and they looked buried trailing by 19 with a quarter to play. But a 16-0 start to the final ten minutes had it right in the balance.
When teams shoot the same number of free throws, as the Eagles and Heat did, it is unusual to see a team take 13 more field goals than their opponents and lose as was the case with Newcastle.
Even more unusual is to see the Eagles lose three times in a row in Newcastle, something which hasn't happened since November 2004. It is 12 years since the Eagles lost four in a row, but that was split over two seasons, so you have to go back to January-February 2000 to find a worse run than the current one in the same season.
First off that is an epic display of consistency, but more pertinently it is a word of warning for the Raiders heading into this game. With Eagles slugging it out with the Riders and Plymouth right in the thick of their own four-way battle for places, this is a vital game for both teams and one I'm really looking forward to.
Two competitions down, two different winners, still plenty of twists to go in the race for the title and several teams staking their claims for post-season honours. These last few weeks are going to be every bit as dramatic as the two finals we've seen this season.