Leicester on verge of winning BBL title, says Daniel Routledge
Leicester have endured years of toil, says Daniel Routledge, but are now on the verge of BBL glory.
Last Updated: 10/04/13 10:19am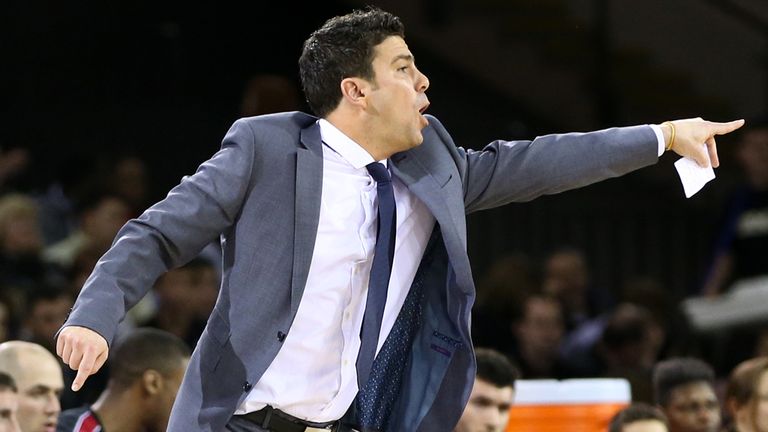 I was at their effective title-winning victory over outgoing champions Newcastle Eagles last Wednesday and, as the clock ticked down, you could almost tell how long their each of their fans had been watching the club from their reaction.
Those celebrating normally have probably been there for five years or less - a period in which Riders been competitive under Rob Paternostro, so winning the league seems like a natural progression.
But those looking bewildered and tearful, well let's just say they've been around long enough to regale you with tales of Gene Waldron, Dave Harris or Steve O'Shea.
There were even a few 'I'm not sure this is really happening' faces from people who could probably tell you about the days of Lonnie Leggette, Kevin King or Carl Olsson in his pomp, when the late Peter Shaw was setting all the records Paternostro has been rewriting in recent times.
Without the context of history, Leicester's title is not that surprising; in five seasons under Paternostro they've won at least 20 league games in four of them and recorded second and third-placed finishes, moving up a place or two is not a massive leap.
But with a bit of history, this is a phenomenal achievement. You don't need to delve too far back either. Six years ago this club almost went bust. Twice. In the space of six months.
Their players, including Paternostro, their captain Barry Lamble and Yorick Williams, played on when they could have walked out in February 2007 after a backer pulled out - and then having limped through to the end of that season, in the summer of 2007 their fans saved them.
You can track the upturn in their fortunes directly back to a supporters' meeting in August that year, when the fans put their hands in their pockets and refused to let basketball's oldest club die.
Everything that has happened since happened only because of them and what they did on that evening. It's a heartening tale, particularly, I'd wager, for fans of Cheshire.
Bubble
Back to 2004 they were homeless and almost extinct, but in the final frantic few weeks of the offseason they turned John Sandford into a venue capable of staging BBL games and recruited a team in double-quick time.
In 2002 they won one game in a calendar year, a record of 1-50, a real test of any fan's support, particularly when you factor in they were playing 15 miles from home late on a Sunday night.
At the turn of the century Granby Halls, their home of 20 years, was knocked down by the local council, it's still never been replaced, and the only option they were left with was a move to Loughborough.
By anyone's standard that is a turbulent 13 years. Before that, they were a bubble team, a sixth-12th team. On a good year they'd scramble into the play-offs in the last few weeks. On an average year they'd just miss out (before Paternostro they'd made only four post-season appearances in 14 years).
There were the occasional high points, but these came only in the knock-out competitions. Their best efforts in the league were the fourth placed finishes of 1972/73, 1988/89 and 1990/91.
So after 46-years of trying, after 38-years of top flight toil, after surviving everything that sport and finance has been able to throw at them, as founder members of both the national league in the 1970s and BBL in the 1980s, who would begrudge the Riders their moment in the sun?
Whatever happens in the future, whether this is the start of a dynasty or an historic blip, they will always have the memories of 2013. All this and they have plans to be in a shiny new home, one befitting of champions, by some stage next season.
They've still some money to raise and there are questions over what they do whilst it is being built, but if history has taught us anything, it is they will find a way, they always have.
Fitting
Their victory at Manchester on Sunday perhaps encapsulates everything you need to know about the Riders this season. Without their two first-choice point guards through injury, with their leading scorer merely a bit-part player because of a back problem, they were in a 20-point hole with 13 minutes to go.
All that and they were 0-for-16 from the three-point line. When lesser teams would quit, champions find a way to pull it out. Trailing by three with a couple of seconds to go, Jay Couisnard hit a triple to force overtime. They were a point behind as time was expiring in overtime too, but Couisnard hit another long range effort on the buzzer to win.
I've lost track of how many times Leicester have been in a massive deficit on the road, but I do know they've almost always turned it around. If ever there was a team that understands what it means to play for the full 40 minutes, or 45 in the case of Sunday, this is it. So this weekend they will get the medals they deserve.
Of course, it could all be over before then, if the Eagles don't win in Worcester on Tuesday, but I'd like to see Newcastle win and give Leicester the opportunity to win the league in their own game in front of their own fans. It would be a fitting finale, but I suspect Paternostro will not be too bothered how the end comes, just that it does.
It reminded me of a conversation I had with Mark Woods a few months ago about the democratic and cyclical nature of the BBL. In the last 10 years, despite the dominance of Newcastle, every team, bar the three most recent additions, have won at least one piece of silverware.
So, however your team has fared this season, take heart from the Leicester story and know that your time is probably not that far away.