Grudge Match: British boxing's best meet Robert De Niro and Sylvester Stallone
The best of British boxing joined Robert De Niro and Sylvester Stallone to promote their new film.
Last Updated: 10/01/14 5:38pm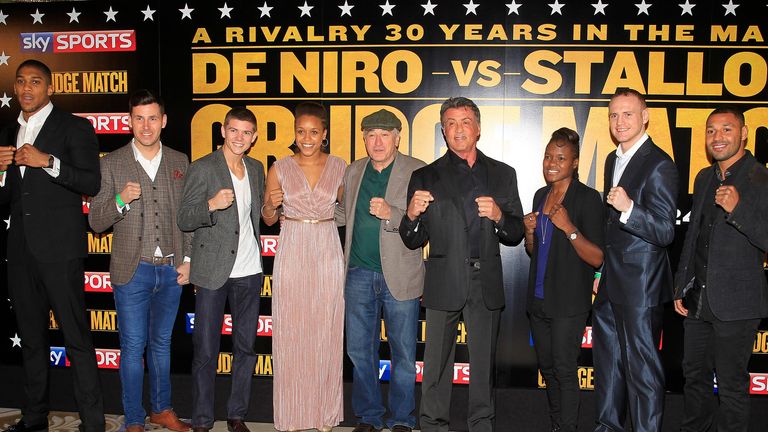 The two legends of the screen were at a special press conference to promote the film and in true boxing style, they were both put under the spotlight.
Stallone and De Niro took questions from seven of Britain's best boxers, not only showing their love for the sport but, of course, also promoting the Warner Bros Pictures comedy.
George Groves, Anthony Joshua, Darren Barker, Luke Campbell, Kell Brook, Natasha Jonas and Nicola Adams each asked a question. Some were about the film Grudge Match but the pair were also asked about boxing in general.
To see what the former world champion, world title hopefuls and Olympic heroes asked two of the most famous actors in the world, tune in to Ringside on 16 January.
Grudge Match is not a remake or a marriage made in heaven of 'Raging Bull' or any 'Rocky' film, but when it comes to boxing and Hollywood box office, Jake La Motta and Rocky Balbao are always a topic of conversation.
Both De Niro and Stallone have put those roles to bed, but both were also happy to take questions from a packed room at The Dorchester, in London, on Thursday.
And although British boxing's young guns led the way with the questions, Sky Sports' own former world champions Glenn McCrory and Johnny Nelson put the stars - as well as director Peter Segal - on the spot...
The questions
McCRORY: Was it easy to play a real boxing legend in shape and out of shape for 'Raging Bull'?
DE NIRO: It was hard. At the end of the day, Martin Scorcese and I had our take on Jake and his life but it was hard. The physical stuff was really hard. Gaining the weight... after 15 or 20 inches it's just work, real drudgery. Losing it all was hard too! I had a doctor who was monitoring the whole thing, all the way through. That's the way I had to do it.
McCRORY: How did you get expelled from school 14 times?
STALLONE: Well you can probably tell right now, I am a bit hyper! And that's exactly what it was! But back then they had no tolerance. You had to march the way they wanted or you were out! If you were outside looking at a girl or flirted with a girl you liked, or even looked at a caterpillar crawling up your arm and you were more interested in that than school, you were off! Finally they just said to me I couldn't come back. Period. Today they call it ADD (Attention Deficit Disorder) but I was ADDAA+A
NELSON: How long had the idea for this movie been in your head because clearly it's inspired by Rocky and Jake?
SEGAL: Well it started off just based on two guys in the 60s, not specifically for these two guys (De Niro and Stallone) but the more we worked on it, we realised it was as much a comedy but the fight had to be taken very seriously. We had to play it very, very real and make it gritty and we could not think of any other people who could play these two characters, other than these two. Of course the added bonus got to bring a lot: their legacies and cinematically as well. But once again, we could not have made this story without these guys.
The story
In Grudge Match De Niro and Stallone play Billy 'The Kid' McDonnan and Henry 'Razor' Sharp, two local Pittsburgh fighters whose fierce rivalry put them in the national spotlight. Each had scored a victory against the other during their heyday, but in 1983, on the eve of their decisive third match, Razor suddenly announced his retirement, refusing to explain why but effectively delivering a knockout punch to both their careers. Thirty years later, boxing promoter Dante Slate Jr - seeing big dollar signs - and makes them an offer they can't refuse: to re-enter the ring and settle the score once and for all.
But they may not have to wait that long: on their first encounter in decades their long-festering feud erupts into an unintentionally hilarious melee that instantly goes viral. The sudden social media frenzy transforms their local grudge match into a must-see HBO event. Now, if they can just survive the training, they might actually live to fight again....
Grudge Match opens nationwide on 24 January, 2014 by Warner Bros. Pictures www.grudgematchmovie.net