Anthony Ogogo to show Germany and the rest of the world how good he is
By Tim Hobbs
Last Updated: 13/07/16 6:10pm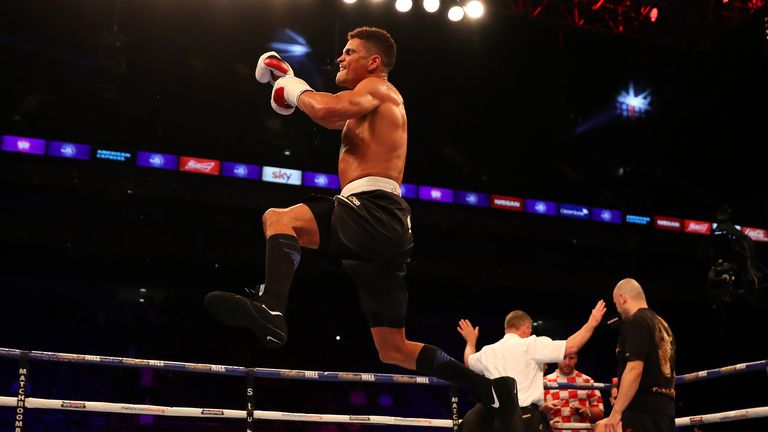 Anthony Ogogo has promised to exorcise his demons and show the world how good he can be when he fights in Germany.
The unbeaten middleweight prospect is taking on experienced Bronislav Kubin in Berlin on the undercard of a super-middleweight world title fight, live on Sky Sports 3, on Saturday night.
Ogogo (10-0-KO6) will be fighting for the third time in just seven weeks after an injury nightmare that included Achilles injuries and a double-dislocation of his shoulder.
The latter happened on his professional debut in Germany in July 2015 and he is looking forward to finally closing a chapter.
"The shoulder injury was basically a year ago to the day - in fact 363 days apart," Ogogo told Sky Sports.
"It wasn't in the same place, but I will be flying back to the same airport and of course it's in Germany again, so there are some demons I need to get rid of. 
"I don't just want to beat Kubin, I am going to put on a show and set the record straight. 
"It is my second fight in Germany and while I am proudly British and really want to make the headlines in this country, but the last time they saw me fight, I did it four-and-a-half rounds with just one arm.
"It was a tepid display because of the shoulder, so I won't to go over there and show them and the rest of the world how good I can be
"I am going to knock Kubin out and look good doing so and then lay my stake on the middleweight division. I will want to know who's next and be asking who wants a piece."
Ogogo, along with British world title challenger Charlie Edwards, will be in action before Giovanni De Carolis defends his WBA super-middleweight strap against Tyron Zeuge. He admits he was "a bit frustrated" when he was handed Kubin (19-20-2-KO12), especially on the back of his explosive first-round knockout of Frane Radnic last month.
The bronze medallist had set out for a three-fight plan to get over his injury problems but has made it clear he wants to climb the middleweight ladder before the end of the year.
"I would love to get another three fights in and I want all three to mean something," he said.
"One of them would be in my home city of Norwich - a long overdue homecoming of sorts - I would also like to fight for and win a title.
"And I want to want to be in the conversations when it comes to the most highly-rated prospects in the middleweight division in the world."
Watch De Carolis v Zeuge live and see the Ogogo and Edwards fights before we bring you live coverage of Wilder v Arreola from America. The coverage starts from 9.00pm, Saturday, Sky Sports 3.