Tony Bellew has the power to pull off a stunning knockout of Oleksandr Usyk, but he needs to follow a tactical master plan, says Sky Sports expert Carl Froch.
The Merseysider has stepped down a division to challenge Ukrainian star Usyk for all the world cruiserweight titles at Manchester Arena on Saturday night, live on Sky Sports Box Office.
Click here to book Usyk vs Bellew
With retirement looming for the 35-year-old, Froch believes the former WBC champion will have pushed his body to the limit during his last camp with trainer David Coldwell.
"I was about 95 per cent sure I was going to retire, and I think he is too, so it will get you through the camp better," said Froch.
"You think to yourself, as hurtful as the strength and conditioning sessions are, as much as the sparring hurts, actually this is the last time I'm going to do it. That makes you train harder, because you think 'I'm not going to do this again, so let's have a good one.'
"Every time you fight you take it seriously, but when you've had a few world title fights, it can get a little bit monotonous. Bellew will be thinking, this is my fight, and I'm going to really go for it and have the best camp."
A London 2012 gold medallist, Usyk has continued to dominate opponents in the pro ranks, and Froch admits Bellew might have to concede early rounds before he begins to implement his own tactics.
"Bellew and trainer David Coldwell need a very strong game-plan," said the former WBA and IBF super-middleweight champion.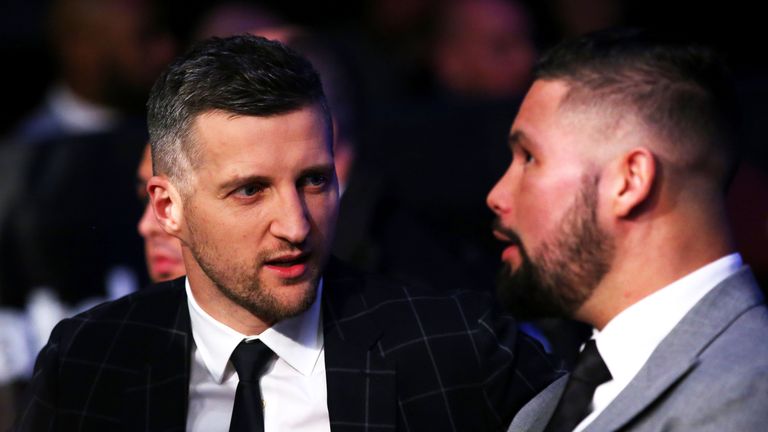 If he lands that left hook, Usyk will be out cold. I know he will, because Bellew is a massive puncher."
"If Tony can work to that game plan, which might be - get your gloves up high, don't get hit with silly shots, and back up Usyk for five or six rounds.
"Put pressure on him by using your feet, get in his face. You might lose the rounds, but you can try to exhaust him for the second half of the fight.
"Bellew has then got that punch, and if he lands that left hook, Usyk will be out cold. I know he will, because Bellew is a massive puncher."
The mental toughness of Bellew was evident in his two upset wins over David Haye at heavyweight, and Froch has urged his friend, and former sparring partner to retain that belief as he pursues a sensational victory.
Froch said: "Whatever is happening early on, if you're getting out-jabbed, if you cannot get to him, don't forget it's a 12-round fight. He's in this fight with a punch for 36 minutes, so never give up, believe.
"Even if you're in the last round, look at me against Jermain Taylor, behind on all the scorecards, I stopped him with 14 seconds to go. He's got to fight until the last second of the last round, and put the pressure on him late.
"You know what, people are underestimating Bellew's boxing ability. If he can use his boxing brain in the early stages, he can get to Usyk with his power later on.
"I'm hopeful that Tony can knock out Usyk, and cause a massive upset that would turn him into a superstar.
"I don't want to say it will be his last fight, because he probably will have to defend them then, that would be amazing."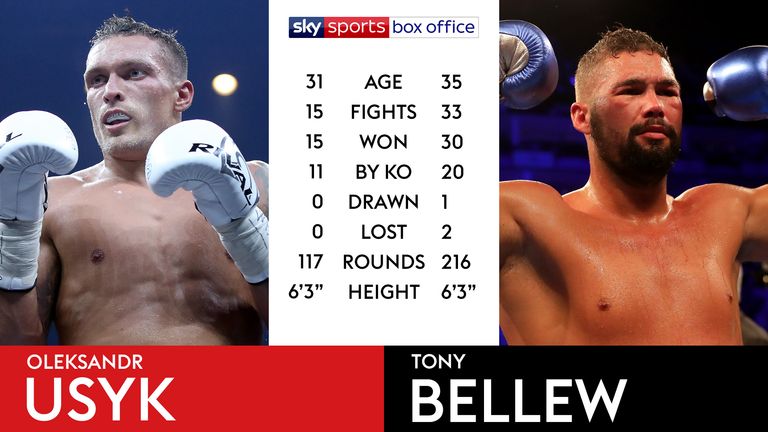 Watch Usyk vs Bellew for the undisputed cruiserweight title, at Manchester Arena, on November 10, live on Sky Sports Box Office, from 6pm. Book it online here.
Even if you aren't a Sky TV subscriber you can book and watch it at skysports.com/boxofficelive.