Treasure hunt
British light-welterweight champion Ashley 'Treasure' Theophane looks to step up to the big time.
Last Updated: 05/12/11 11:26am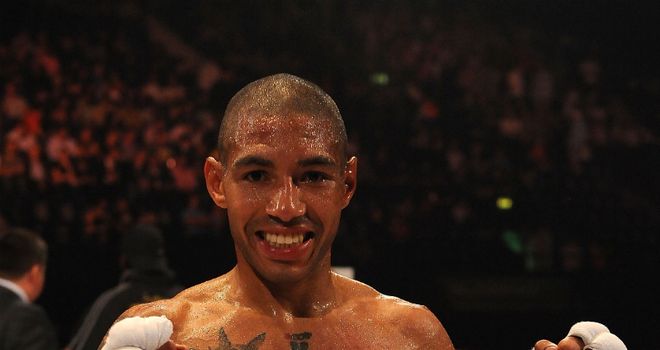 Every boxer needs a break - signing for Hatton Promotions could be the one that Ashley Theophane has been waiting for.
The British light-welterweight champion has been pro for eight years, but fighting for the most part in America means he has yet to become a household name on home soil. Now 'Treasure' has joined Hatton's stable, he has the opportunity to take his career to the next level.
Theophane, 31, takes on Nigel Wright in front of the Sky Sports cameras on Saturday night, but has his eyes on bigger names across the pond where he is no stranger to the scene.
Frustrations in Britain took the London-born fighter to the States six years ago, and during a career which has also seen bouts in Germany and the Caribbean, his record currently stands at won 30, lost four.
"I used to manage myself for six out of the eight years I've been pro," he told skysports.com.
"I was proud of what I did because there's not many British boxers that have fought four times in America, four times in Germany and in the Caribbean. I've done the majority of that on my own. You don't need a promoter to do it big but to go where I want to go on the world scene now I need a promoter, and that is Ricky Hatton.
"I've been offered world title eliminators but they've never actually come about. With Ricky I hope to get the world title shot that I crave, to fight the world's best. With Ricky I believe it is a new chapter, on Sky Sports for the next few years. British boxing fans are going to get to know me."
Despite upping sticks and trying to make a name for himself in America, though, Theophane has never forgotten his roots.
London pride
He said: "People always call me this American Britain; I don't like it! I don't want the public to be against me, I live here! I go over when I have a fight or to train for six weeks, but I'm British, London bred. I couldn't live over there.
"When I was a kid I used to look up to the British boxers that went over to America and got big. I always wanted to go and do it but didn't know if I was good enough.
"In 2005 I took a trip for a month and held my own. I kept taking trips here and there, it was only when I won my British title eliminator against Alan Bosworth (in 2007) and didn't get my title shot that I said: 'I'm going to go over there and see what I can get, because I wasn't get any love over here.'
"I wasn't a standout amateur so I had to do it on my own. I always had the talent but I just needed the break, and when I stopped Bosworth it scared off a lot of the boxers and promoters. But it worked out well because it made me hungrier.
"I think what happens with a lot of boxers, whether they are British or European champions, they go off to America or to Germany to challenge and the whole scenery of everyone being against you, some people get like rabbits in the headlights.
"When I fought DeMarcus Corley the whole crowd was shouting USA, USA! It won't faze me when I have to do it again."
It has not always been plain sailing, however. Growing up in Paddington, Theophane got caught up in criminal activity as a youngster, arrested for armed robbery.
'Treasure' has not forgotten how far he has progressed over the years and claims it is in his nature to learn from mistakes and move forward.
"When I was a teenager I got involved in criminal activities, I got arrested for armed robbery and while I was in prison I saw all of these young guys getting locked up for 10-15 years; I just thought it's a waste of life. I got found not-guilty at trial and that was it, I just focused on my boxing," he added. "Where I'm from it was the norm to be like that.
"I'm human and I make mistakes but I look to learn from my mistakes and keep going forward. If you look at my boxing career, I lost to Ali Oubaali and then went on to beat the former world champion DeMarcus Corley. I lost to Danny Garcia and then beat the world No3."
Indeed, a victory over Delvin Rodriguez last year and beating Lenny Daws for the British title at Wembley Arena means Theophane's stock is rising.
Confidence has never been an issue, and a win on Saturday night against Wright could see him take the next step - going on to challenge the elite band at 140lb in the world.
Step up
He hopes it will not be long before people are mentioning his name in the same breath as Timothy Bradley and Lamont Peterson, and is certain that he can make the step up to the top table.
"You talk to guys in New York and they think I'm there now, they see me sparring with world class guys week-in, week-out," he said.
"Because I've taken a year out to win the Lonsdale belt, in 2012 I want to get back on that scene. I was offered a world title eliminator against Lamont Peterson when Victor Cayo got injured but they gave me a week's notice - I couldn't make the weight. I would beat Peterson any day of the week so Amir Khan will beat him easily.
"These guys, I'm on a lot of their levels now, I'm just looking forward to Ricky getting me these fights for next year."
On the challenge of Wright, whose record stands at 24-6, Theophane said: "I think Nigel is what you would call a good honest pro. He's fit, he comes to win and he has heart but I can't see him giving me any trouble because every time he's stepped up in class he's lost.
"I'm in great form, I've had the best camp I've ever had, sparring with top-class opposition, and I'm ready to take him on in his back yard.
"I still feel fresh because I haven't had any hard fights. The last time I lost was to Danny Garcia and it was controversial."
It is a big night of boxing on Saturday with Britain's Khan fighting Peterson in Washington DC, while Wladimir Klitschko takes on Jean Marc Mormeck.
Theophane says he is worthy of a place among the big names: "It's a big night of boxing, you've got Klitschko and you've got Khan on the same night.
"If you look at the best pound-for-pound fighters in Britain, I'm up there. The only thing I don't have is the world title, I'm going to get my shot, it's just a matter of when it happens."