Floyd Mayweather's long-awaited fight with Manny Pacquiao has finally been confirmed after months of negotiations.
The two biggest names in boxing have been locked in prolonged talks, raising further doubts that the superfight could fall through at any time, but both men have finalised terms for the clash at the MGM Grand in Las Vegas on May 2 – with the purse split 60-40 in favour of Mayweather.
Additional stumbling blocks have been overcome in recent weeks, with both camps reaching an agreement on drug testing and both men able to wear their own gloves – no rematch clause has been included and rival American television networks will share coverage of the bout, expected to be the most lucrative in boxing history.
Pacquiao has spoken openly about his desire to reach a deal, but there had been silence from Mayweather until he announced the news via social media.
"What the world has been waiting for has arrived," said American Mayweather on the social networking website Shots.
"Mayweather vs. Pacquiao on May 2, 2015 is a done deal.
"I promised the fans we would get this done, and we did. We will make history on May 2nd. Don't miss it! This is the signed contract from both fighters.  
"Giving the fans what they want to see is always my main focus. This will be the biggest event in the history of the sport. Boxing fans and sports fans around the world will witness greatness on May 2.
"I am the best ever, TBE, and this fight will be another opportunity to showcase my skills and do what I do best, which is win. Manny is going to try to do what 47 before him failed to do, but he won't be successful. He will be number 48."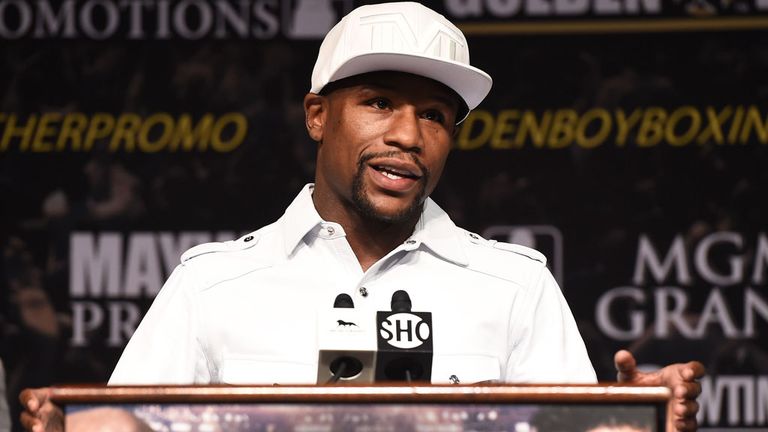 I promised the fans we would get this done, and we did. We will make history on May 2nd. Don't miss it!
The 37-year-old American, nicknamed 'Money' is unbeaten in 47 fights with 26 knockouts, but Pacquiao is considered the biggest threat to his status as the best pound-for-pound fighter on the planet.
Pacquiao was sleeping in the Philippines when the fight was announced, but his camp issued a statement saying the fans deserve the long awaited fight.
"I am very happy that Floyd Mayweather and I can give the fans the fight they have wanted for so many years," Pacquiao later said on Twitter.
"I dedicate this fight to all the fans who willed this fight to happen and, as always, to bring glory to the Philippines."
'Pac Man' suffered back-to-back defeats in 2012, the second a shocking stoppage loss to Juan Manuel Marquez, but he repaired his reputation with three straight victories.
Fight experts have been divided in their predictions for this eagerly anticipated encounter, with some favouring Pacquiao's all-action fighting style, while others back Mayweather to prevail with his slick counter punching.
I am very happy that Floyd Mayweather and I can give the fans the fight they have wanted for so many years.

— Manny Pacquiao (@MannyPacquiao) February 21, 2015
I dedicate this fight to all the fans who willed this fight to happen and, as always, to bring glory to the Philippines.

— Manny Pacquiao (@MannyPacquiao) February 21, 2015