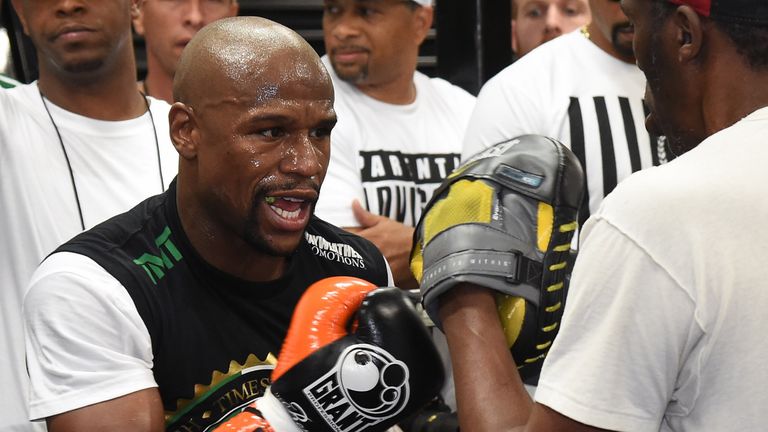 Manny Pacquiao's speed will define next month's meeting with an ageing Floyd Mayweather, according to Freddie Roach.
Pacquiao's trainer claims he has detected signs of wear and tear in the unbeaten Mayweather ahead of boxing's biggest occasion in years, live on Sky Sports Box Office.
And Roach is confident his man can expose the 38-year-old's emerging flaws come fight night on May 2.
"I don't think he moves like he used to," Roach told Sky Sports News HQ at a media open day at his Wild Card Gym. "His legs aren't what they were - that's the first thing to go with a fighter.
"He has a good right hand but i don't think he'll knock Manny out with that right hand. There's nothing I'm really concerned about so much.
"I know he's a good fighter, but I just think I have the better fighter. The hand speed's going to be the big, big difference. Manny's much quicker than he is.
"Mayweather is a good counter-puncher, but Manny has faster hands and his combinations are better than Floyd's.
"Both fighters have great experience, so I don't believe that will be a factor in the fight. The biggest thing is that each fighter comes in with a different style. Floyd is a counter-puncher but Manny must be the one to enforce the fight.
"I believe that Manny being a southpaw will be a factor in this fight. Manny showed me tape of Floyd fighting a southpaw and told me that that is exactly what we are going to do in this fight.
"I can tell how much this fight means to Manny because he has watched tape on Floyd. Manny has never watched tape on any fighter before.
"Since Manny moved to 147 he hasn't knocked many guys out, so getting the knockout in this fight isn't a concern for me. If Manny fights at 140, then he does knock guys out, but at this weight he is fighting guys who are bigger than him.
"Floyd may be a bigger guy, but we will still win the fight.
"This fight is much bigger than when Manny fought Oscar De La Hoya. Manny is a different person going into this fight. He hit me so hard the other day that I believe it's the hardest I've ever been hit by a fighter who I'm training.
"I don't believe that Floyd ever wanted this fight, he was forced to take it by the public and the media. I wouldn't be surprised if Floyd pulled out now." 
Book Mayweather v Pacquiao, Sky Sports Box Office, May 2, via your phone or online now. If you want to record the event, book via your Sky remote from April 25. skysports.com/maypac