Vyacheslav Glazkov knee injury gives Charles Martin IBF title
By Andy Charles
Last Updated: 17/01/16 2:02pm
Charles Martin is the new IBF heavyweight champion after Vyacheslav Glazkov was forced out of their fight by injury in the third round.
The Ukrainian went down twice in the round, neither being caused by a punch, and eventually had to give up his dream of taking the title with what has been reported to be a torn anterior cruciate ligament in his knee.
Martin was given a chance to take on Glazkov (21-1-1, KO13) after Tyson Fury, who was in the crowd at the Barclays Center, was stripped of the belt when he confirmed his next fight would be a rematch against Wladimir Klitschko.
The little-known southpaw went into the fight as underdog, but Glazkov's body would let him down after less than eight minutes in the ring.
His knee appeared to buckle early in the round, and the fight was waved off when it happened again, with Glazkov in obvious pain as a somewhat stunned Martin began to celebrate his unlikely rise to the top.
"He didn't even fight and I'm sorry for him," said Martin (23-0-1, KO21).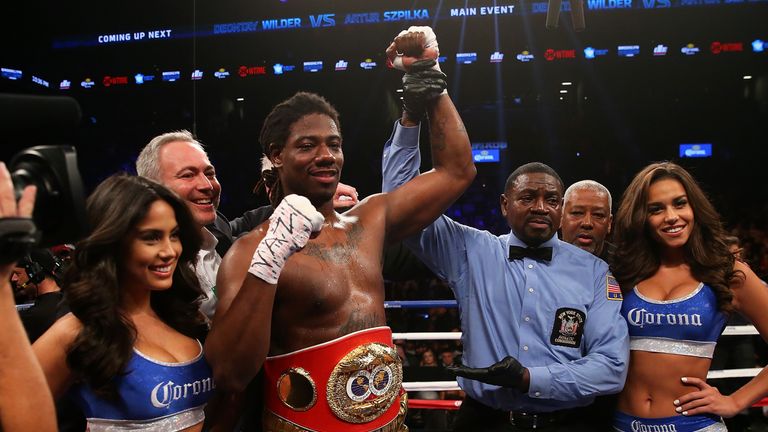 "It was meant to be. We had 12 rounds and I was pacing myself. I was going to pick it up as I went along. I didn't even get what he was doing. He was scared as [heck]. You could see it in his eyes. I still wanted to fight. It's 12 rounds, that's what I trained for."
Glazkov was left to ponder what might have been as he said: "This should have been my belt. I already had him figured out. I slipped and I felt a sharp pain in my right knee and I felt it give out. I'm very upset. I want a rematch when I recover."