Wladimir Klitschko is unsure if and when his rematch with Tyson Fury will take place but is determined to remain focused.
WBA 'Super' and WBO world heavyweight champion Fury, who pulled out of a July 9 rematch due to an ankle injury, recently claimed the bout would now take place on October 29 but the Ukrainian seems less certain the details are finalised.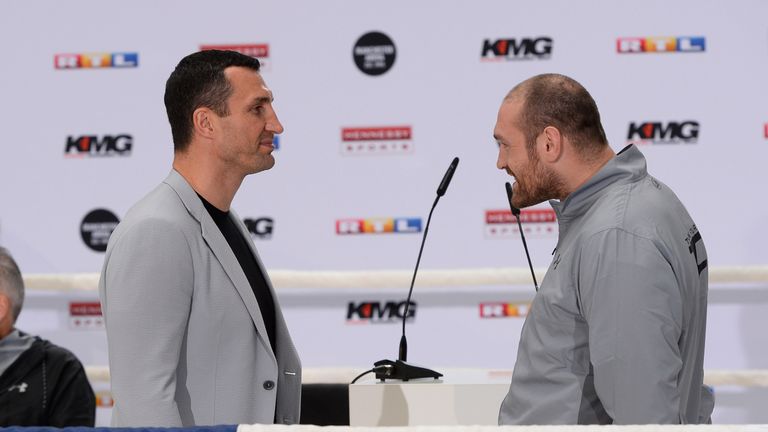 Might there be another reason for calling it off? Is the delay supposed to unsettle me?
Klitschko (64-4-KO53) said via social media: "The first point of business is to clarify the situation and to agree on a new match date. We're working flat out on that.
"Once the date is set, together with my team I'll gear my preparation plan to it and continue where I left off: with optimum preparation for the fight.
"The key - and I'd like to pass this on to you because the same thing is true in sport, in business and in other areas - is that I can't let myself get off track.
"Might there be another reason for calling it off? Is the delay supposed to unsettle me? Or in your case, is it manoeuvring on the part of your negotiating partner that he stands you up twice and then wants to meet you at a late hour?
"We shouldn't care! You want to assert your goal - just like I want the knockout. That's why you insist that the framework conditions work for you, too, grant yourself a breather where you can think about something else, and then you concentrate fully on the matter at hand again. With just as much effort and the same passion as before.
"Mobilise your strength and willpower, and swear in your team. Don't assume that the presentation has long been finished, instead do another dress rehearsal and speak through what the most important negotiations are or what the essential pitch is."
Klitschko lost his titles to Fury via a unanimous points decision in Dusseldorf in November 2015.