Bellew vs Haye: Tony Bellew promises to send David Haye into retirement in their rematch
By Richard Damerell
Last Updated: 29/09/17 6:34pm
Tony Bellew vowed to send David Haye into retirement by warning that the 'Hayemaker show' will end in their rematch.
The British heavyweight rivals will meet again at The O2 on December 17, live on Sky Sports Box Office, after Bellew pulled off a stunning stoppage victory at the same venue in March.
Bellew upset the odds to defeat the former WBA champion and believes the 36-year-old will be forced into retirement if he suffers defeat again in the second fight.
"I'm happy that this is taking place," Bellew told Sky Sports News. "This is what the fans want, this is what everybody is clamouring for. I am going to turn up and prevail once again.
"It's been a long time coming and I'm just happy it's happening now.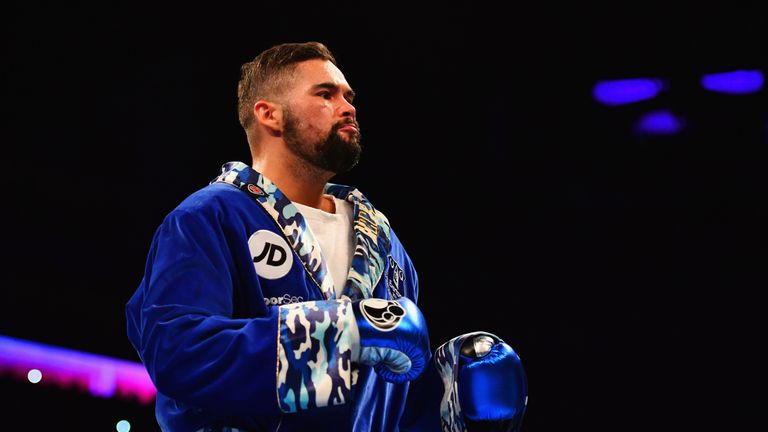 On December 17, the 'Hayemaker' show ends at the hands of me.
Tony Bellew
"No I don't need it, but I said I would do it again. David talks an awful lot and there has been so many things that have gone on in negotiations.
"When it all really comes down to it, December 17, O2 Arena, I will end David Haye's career, because a second loss to me will close the door on his fabulous career.
"A brilliant fighter, a fantastic athlete, but mark my words, my style is all wrong for David Haye. On December 17, the 'Hayemaker' show ends at the hands of me."
'The Bomber' pounded out an 11th round stoppage win in a dramatic first encounter, with Haye enduring a ruptured Achilles earlier in the fight, and Bellew intends to clear up any questions by knocking out his bitter foe even faster.
"David's attributes have never changed," said the Merseysider. "He's electrifying in those first three rounds, extremely dangerous, but once that sting goes out the tail, he has a problem.
"I will see out those first three or four rounds and then I will bring educated pressure. I will stop David Haye, probably quicker than last time also.
"As long as the fight goes, it's going to end badly for him, believe you me when I say it."