Tony Bellew's rematch with David Haye has been rescheduled at The O2 on May 5, live on Sky Sports Box Office.
The British rivals were forced to put back their planned second fight this month after Haye suffered a bicep injury that he described as a "freak accident".
But Bellew remains determined to inflict another humbling defeat on Haye following his stunning stoppage victory at the same London venue in March.
"I'm pleased to get a new date in the diary and I look forward to giving boxing fans a great night on May 5," said Bellew.
"To be honest I was looking forward to a great victory in December and a relaxing family break over Christmas, but my mind is still very much on this fight and I will punish him for that.
"I now have a very clear plan for 2018 and that is to knock out David Haye, and then knock out Tyson 'Stavros Flatley' Fury and end both their careers.
"But first thing's first, I need to rid the sport of David Haye on May 5 and I look forward to doing this in what I believe will be an explosive fight."
Haye was "heartbroken" to miss out on a December showdown with Bellew and admits he is fighting to keep alive his career.
"Tony has boasted that the rematch gives him the opportunity to force me into retirement," said Haye. "Unquestionably, I step into the ring on Saturday May 5, with both my career and legacy on the line.
"After my freak accident down a stairwell last month, I was heartbroken not to give everyone the ending to 2017 I wanted. Since then I had to accept the cards I had been dealt, remain positive and focus on factors which are within my control; rehabilitation and rescheduling the fight.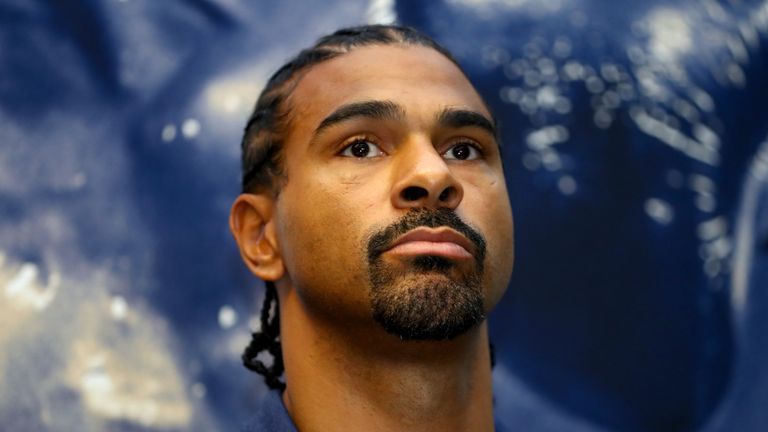 In 2018, 'The Hayemaker' will be back and I will once again give fans the biggest, most explosive, blockbuster fight nights they deserve.
"Over the past five years, I've had a number of challenges to overcome, but learnt often during times of adversity we learn and grow. As a result, come May 5, Tony will be faced with a more experienced and more determined opponent.
"On Saturday May 5, whether you are lucky enough to witness the showcase live, or tune in from home on Sky Sports Box Office, you will not be disappointed. I will give fans the ending I have promised.
Road to recovery is officially underway. My bandages came off yesterday and physio started today!

As the saying goes, 'if you can find a path with no obstacles, it probably doesn't lead anywhere'

6 weeks of focus and rehab - Bring it on 💪🏾 pic.twitter.com/Becv4MJb6v

— David Haye (@mrdavidhaye) November 24, 2017
"In 2018, 'The Hayemaker' will be back and I will once again give fans the biggest, most explosive, blockbuster fight nights they deserve."
Tickets for the original December 17 date are still valid for this event. If you require a refund, please contact your point of purchase.
Any returned tickets will be returned on general sale via www.theO2.co.uk on Thursday 14th December at midday.