Khan vs Lo Greco: Phil Lo Greco determined to ruin Amir Khan's plans after social media dispute
By Richard Damerell
Last Updated: 29/01/18 6:39pm
Phil Lo Greco has branded Amir Khan "mentally weak" after revealing how a social media stunt led to him being named as an opponent for the British star.
The 33-year-old Canadian will discuss his dispute with Khan in person at Tuesday's press conference for their fight at The Echo Arena in Liverpool on April 21, live on Sky Sports.
Lo Greco was blocked by Khan on Twitter after comparing the former world champion to an American reality TV star and then successfully campaigned for the fight on social media.
"It all started for jokes and giggles, but he bit," Lo Greco told Sky Sports News. "He definitely doesn't have thick skin, and now we're here.
"What happened was, I have a TV show called the 'Culinary Fighter'. I tagged him in one of my episodes because I called him a 'Khandashian'.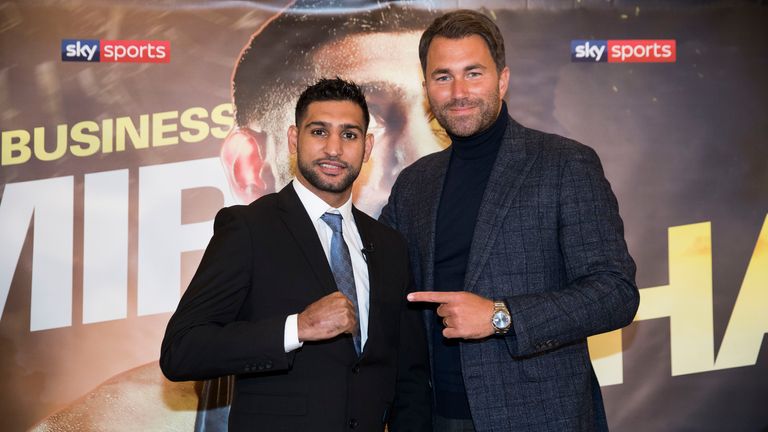 "I tagged him and he blocked me. I didn't think much of it. I'm like whatever, he took it personally, and then when he announced the fight, I called my producer and said hey man, do me a favour, knock up some photos, let's just have some fun.
"But I didn't think he was going to bite. Eddie Hearn, you hired a client named Amir Khan. What does that tell you? Your client is mentally weak."
Khan still holds ambitions of regaining a world title at welterweight, while an all-British battle against Kell Brook is another possible option for the 31-year-old.
But Lo Greco, with 28 victories and just three defeats, is confident he can ruin the home favourite's ambitious plans.
"Stop right there. At 147, he knows everywhere he goes, he gets his butt whooped," he said.
"[Danny] Garcia whooped him, Shawn Porter would beat him, [Errol] Spence beats him. Keith Thurman beats him.
"That's the reason why I'm here. The way 'Canelo' dropped Khan. 'Canelo' sent this guy to Dubai and Khan went bye bye. He was Amir gone.
"What happens after a fighter when he's been knocked out that bad? It only gets worse. History tells us, I'm not making this up guys."
Watch Amir Khan vs Phil Lo Greco, live from the Echo Arena, Liverpool, on April 21, live on Sky Sports.