Conor Benn: In my head I lost against Cedrick Peynaud
"I lose sleep over that night at York Hall. I desperately want a rematch, I need to prove things to myself."
By Matt Horan
Last Updated: 08/02/18 6:04am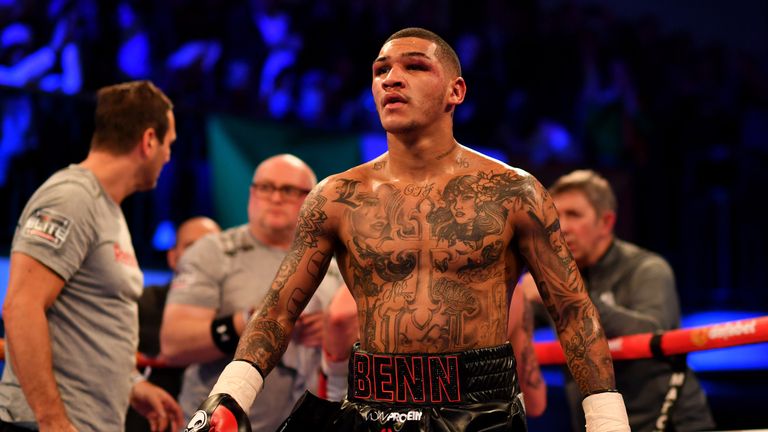 Learning on the job at 21, Conor Benn refuses to let his last "shocking" performance overshadow what had been an "unbelievable" year for him, but as his own harshest critic, 'The Destroyer' concedes that any victory that night felt like a crashing loss.
Benn was pushed all the way and downed twice over six rounds of punishing and explosive warfare by little-known Frenchman Cedrick Peynaud in December, and it proved a stark contrast to the destructive young welterweight that dazzled in his four fights prior.
So what went wrong for the son of legendary two-weight world champion Nigel that night, and why?
Benn, who has just extended his promotional deal with Matchroom Boxing, refuses to make any excuses, now content with the realisation that his fledgling career will be far from plain sailing.
"When you go back to the changing rooms after a fight and start balling your eyes out, you know you haven't performed," Benn recalled in an exclusive interview with Sky Sports.
"I'm my own harshest critic and in my head I lost. I couldn't care less about the win, I wasn't happy, it was a shocking performance.
"I won't sit here and make excuses but I wasn't me on the night. Peynaud brought his A-game and made it a close fight. I do believe I won the fight by one point, not three, and his second scored knockdown was a slip, but nevertheless it wasn't good enough.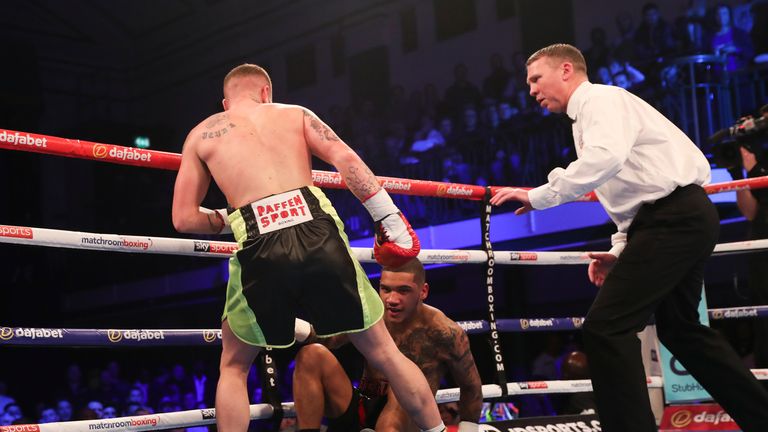 "Looking back now, my mindset and attitude was all wrong. I broke my jaw that year, then had five fights in six months, one coming back from New York after a severe allergic reaction - I was jetlagged and tired.
"In my head I thought, 'It's just one more fight, an extra bit of money', I looked at his record and thought, 'Yeah he will go over'. My previous fights were fine but I was so flat and exhausted at York Hall."
'The Destroyer' is now keen to get back to his best and has made it his priority to honour a rematch sooner rather than later.
"I don't let that last fight overshadow the unbelievable year I had. I'm only 21, I'm learning on the job. It's such an exciting journey and we're all hoping I can make it, but I know it won't be plain sailing, there'll be ups and downs and I'm cool with that.
"I've learnt a lot and the Peynaud fight was a blessing in disguise, but I desperately need the rematch. I lose sleep over it and need to prove things to myself in my head.
"I'm out next in Liverpool on April 21 and you can expect the normal Conor Benn, an explosive, ferocious, rapid fighter who can throw punches from any angle and move out the way. After that I'll look for the rematch."
Having fought in London, Glasgow, Manchester and New York previously, Benn is delighted to now showcase his skills in Liverpool as he looks to improve his 11-fight unbeaten record.
"Liverpool has hardcore boxing fans and I've always wanted to fight there," the Essex favourite continued, "I'm delighted Eddie [Hearn] has got me on the show.
"I want to fight in Newcastle as well and love fighting in Manchester. I just want to bring excitement to the whole country. Every arena/location has been a different atmosphere, even in New York, what an experience, I just want to soak up these places.
"I'm over the moon to have extended my contract with Matchroom, it's the place to be and things can't get much better - it's the best platform for youngsters. I want to stick with who I know, this is only the beginning.
"It's about staying undefeated this year and showing further progress. I won't say I'm going to get this or knock this guy out. I'll take my time and not rush, everything is there for me.
"Honestly, I still don't know myself what will happen in the future, this sport gets harder all the time. We will just have to wait and see where things goes."