Deontay Wilder has promised to to beat Anthony Joshua and unify the heavyweight division, following his 10th round knockout of Luis Ortiz.
The 'Bronze Bomber' will join Sky Sports' punditry team for Joshua's fight against Joseph Park at the Principality Stadium, Cardiff, March 31, live on Sky Sports Box Office, after maintaining his unbeaten record on Sunday.
Eddie Hearn revealed Joshua would be happy to fight the American if they are both successful in their world title fights, and Wilder, having held up his end of the bargain, has once again called out the Olympic gold medallist.
When asked about a potential Joshua bout, he said:"I'm ready now. I've always said that I want to unify, my goal is to unify and I'm ready whenever those guys [Joshua and Parker] are.
"It seems like they aren't in a rush to fight me because I am the most dangerous man in the world, I am the most baddest man on the planet and I proved that tonight [Sunday].
"This [win] solidified my position at the top of the food chain and soon there will be one champion, one face, one name and he goes by the name of Deontay Wilder."
Before a potential fight with the WBC heavyweight world champion, Joshua must overcome Parker and Wilder has backed the New Zealander to cause an upset in Cardiff.
"I think Parker has a 100 per cent chance of winning that fight, he just has to be smart and stick with the game plan," added Wilder.
"In this ring it's not about how much a person weighs, it's not about how big a person's muscles are, it's all about their heart."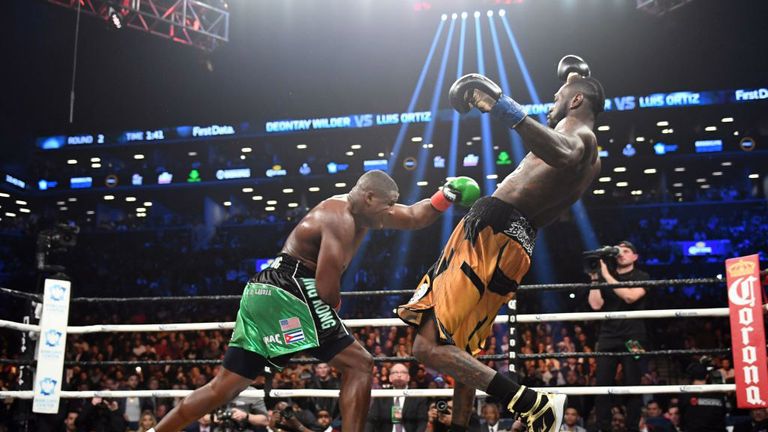 Wilder believes his hard-fought victory over Ortiz will be remembered as a career-defining moment for him and heaped praise on the Cuban for his efforts during the epic bout.
When asked whether this was his signature victory, he said: "Most definitely. Luis Ortiz was one of those fighters that everybody ducked, even champions ducked him.
"I wonder why it took him so long to get a title shot and we know the reason why now. He put up a great fight, he was a great contender and my heart goes out to him."
Watch Anthony Joshua vs Joseph Parker at the Principality Stadium, Cardiff, March 31, live on Sky Sports Box Office.