Deontay Wilder's team set to make a counter offer to Anthony Joshua within next 48 hours
By Richard Damerell
Last Updated: 13/04/18 7:29am
Deontay Wilder's team will make a counter offer to Anthony Joshua within the next 48 hours and have raised doubts about the fight if the unified champion does not accept the revised deal.
The WBC king this week rejected a reported flat fee of $12.5m for a world heavyweight title fight against Joshua, the IBF, WBA and WBO belt holder, but the American's backers will respond with their own offer to the British star's promoter Eddie Hearn.
Joshua suggested on Thursday he would accept a 50-50 split of $100m for the blockbuster bout, with the winner becoming the undisputed champion, but these comments were questioned by Wilder's co-manager Shelly Finkel.
"That's nice, since he offered us 12.5," Finkel exclusively told Sky Sports. "He thinks that we're only 12 and-a-half per cent of it?"
Referring to a counter offer, Finkel confirmed the inclusion of a rematch clause and hinted at a split of around 40 per cent to Wilder.
"It will either be today (Thursday) or at the latest tomorrow (Friday). If he wants the fight, it will happen," said Finkel.
"I would offer him something that gives him both a guarantee and an upside. We are working on how to structure it.
"We believe it's a minimum of 60 [per cent to Joshua], probably closer to a hundred, but who knows?
"Again, even at 60 [per cent], he offered 20 per cent flat [to Wilder], but he wants 50 per cent flat. Come on. If he wants the fight then either don't underprice Deontay and don't overprice yourself."
Finkel denied reports of a 'take it or leave it' offer from Hearn or a possible deadline, although he did raise concerns about negotiations if Joshua dismisses their terms.
He added: "What we're going to offer, if he doesn't take, I don't know where you go. But it will be interesting.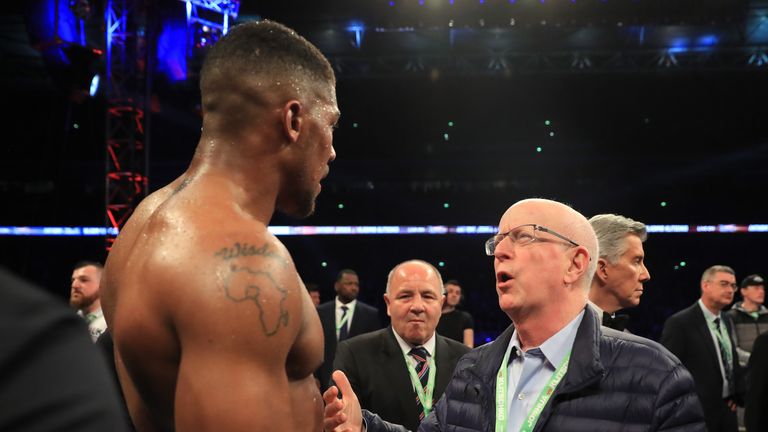 I think the world will look at the counter offer and say: 'If he wants the fight, this should happen'.
Shelly Finkel
"When a manager or a fighter, usually a manager - the fighter usually wants the fight and I want to believe Joshua wants the fight - if you don't want a fight, you ask for so much that you don't get it.
"And you still say 'I would have fought him'. That's one side, or if you don't want the fight you offer the other side so little that they won't take it.
"I think the world will look at the counter offer and say, 'if he wants the fight, this should happen'."
Watch Khan vs Lo Greco from Liverpool, live on Saturday, April 21, on Sky Sports Main Event & Action, from 7.00pm.