Khan vs Lo Greco: Nigel Benn says son Conor would show him the door if he acted like Chris Eubank Sr
By Tim Hobbs
Last Updated: 17/04/18 2:52pm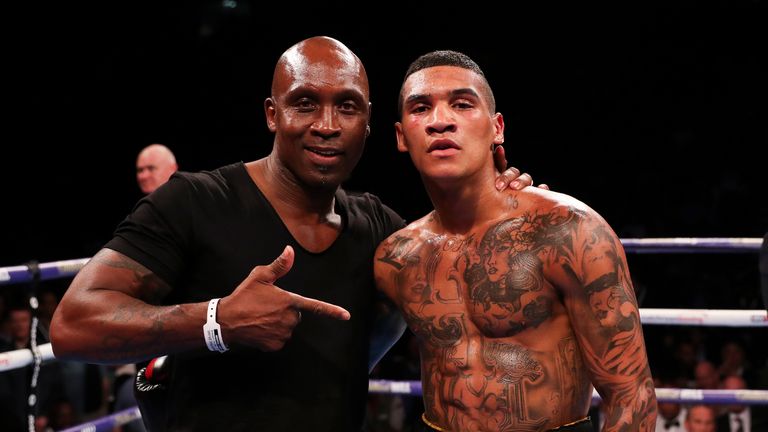 Nigel Benn says his son Conor would show him the door if he acted like arch rival Chris Eubank Sr ahead of this Saturday's fight in Liverpool.
The 'Dark Destroyer' will fly in from Sydney on Wednesday for his annual six-week visit and the former world champion is planning to spend time in Tony Sims' gym with the 21-year-old, who takes on Chris Truman this weekend, live on Sky Sports.
But Benn will not try to share the spotlight with his talented son, whereas former opponent Eubank Sr made his presence known in the build-up to Eubank Jr's points loss to George Groves in February.
"I am not going to be one of those Dads. I won't do that," Nigel Benn told Sky Sports, when asked about the comparison with his old foe.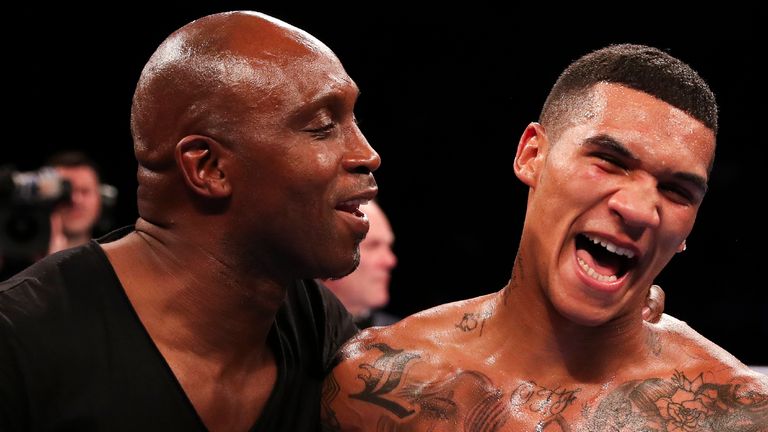 Conor said to me if I'd trained him, how Eubank trained him (his son), he'd just say 'No, it's time for you to go Dad!'
Nigel Benn
"The difference is - Conor knows me and he would just tell me 'Stop it dad, what are you doing?' There is no beating around the bush.
"Conor said to me if I'd trained him, how Eubank trained him (his son), he'd just say 'No, it's time for you to go Dad!' and I would just say 'Don't worry son, I was already ready to go!'
"I know my interest is all about loving my son, loving his trainer, so we work well together. This is not about me, or me and Conor, it's about me, Conor and Tony.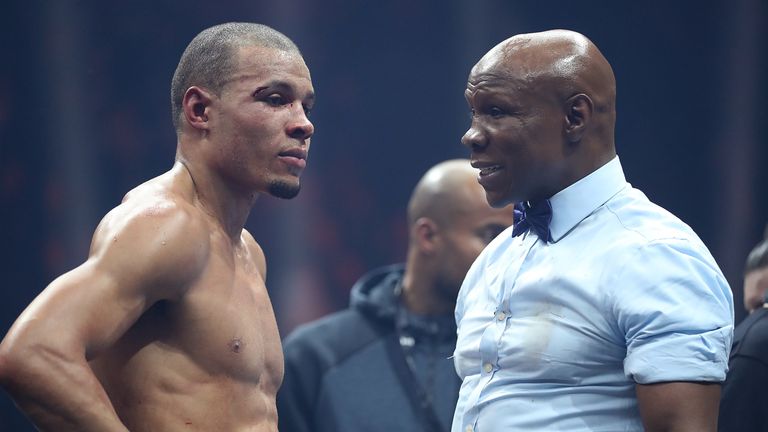 "Don't think for a minute it is just me. I can teach him so much and I want to help Tony, because I know what he (Conor) can do.
"I know what he's got in the tool box and he has got it all, and can have it all, as long as he keeps working and practising."
Benn, who is also back in the UK for an annual public speaking tour, believes the five-month break since Conor's win over Cedrick Peynaud - that saw him knocked down twice - will mean he is a new and improved fighter.
The 54-year-old insists there is no need to "go back to the drawing board," and does not want his son to inherit a reckless fighting style, despite the popularity that he enjoyed in his prime.
Benn said: "There is so much more, what I can teach him, because of what I've been through and now I have retired, I actually 'know' more.
"Conor came back from New York [beat Brandon Sanudo on November 11], didn't even get over the jet lag, went straight into training, and then the fight with that bloke.
"He was just trying to knock people out, 'bring me another one', but he is not me.
"I believe that Conor is going to be a guy that can break people up. He is the sort of guy who should dismantle people. I wasn't one of those kind, I just wanted to take people's heads off."
Watch Conor Benn versus Chris Truman on the Amir Khan-Phil Lo Greco bill in Liverpool, live on Saturday, April 21, on Sky Sports Main Event & Action, from 7.00pm.